oil prices were down just a bit this past week, as a major rally on Friday nearly reversed four days of lower prices...after rising more than 5% to a month high $56.66 a barrel last week on a drop in US crude supplies, a promise of deeper output cuts from OPEC, and hopes for a U.S.-China trade deal, the price of US light sweet crude for December delivery tracked lower for the first time in five days on Monday, falling 85 cents to $55.81 a barrel on weak Chinese industrial data and forecasts for a US crude oil inventory build... oil prices fell a second day on Tuesday ahead of the expected inventory increase, and ended 27 cents lower at $55.54 a barrel, after earlier hitting a low of $54.61 a barrel when Russia said it's too early to talk about deeper output cuts, as expectations for large drops in gasoline and distillates supplies offset concerns about crude supplies...prices were little changed early Wednesday after the API had reported a small build in crude supplies, but then tumbled after the EIA reported a larger than expected increase, with oil prices falling to as low as $54.42 a barrel before recovering to $55.06 a barrel, a loss of 48 cents on the day...oil contracts came under renewed selling pressure on Thursday after reports that Chinese factory activity shrank for a sixth straight month while the country's service sector activity was growing at its slowest pace since February 2016 and continued lower to end down 88 cents at $54.18 a barrel after an oil spill from the Keystone pipeline in North Dakota shut off deliveries of tar sands crude to the Cushing Oklahoma oil depot...oil prices finally moved higher on Friday on stronger-than-expected economic reports from both the US & China, then rallied to finish $2.02 or 3.7% higher at $56.20 a barrel after Chinese state-media said the US and China had reached "consensus on principles" on trade...thus, despite being down more than 5% at one point, oil prices ended down less than 1% for the week, boosted on Friday by strong US jobs data, a fall in the U.S. rig count, and Chinese trade hopes...
natural gas prices, on the other hand, saw their largest weekly gain since January as the long awaited cold arrived and the quoted price switched to the always higher priced December contract... after falling five out of the six prior weeks and ending at $2.300 per mmBTU last Friday, the contract price of natural gas for November delivery rose 14.6 cent Monday and 15.1 cents on Tuesday before trading in that contract expired at $2.597 per mmBTU as the weather models for early November indicated colder than normal temperatures for most of the country east of the Rockies...meanwhile, the natural gas contract for December delivery, which had started the week at $2.459 per mmBTU and risen 9.6 cents on Monday and 8.4 cents on Tuesday, rose another 5.2 cents on Wednesday, before falling back 5.8 cents on Thursday when the weekly storage report indicated more gas had been added to storage than analysts expected...but prices jumped another 8.1 cents on Friday on the early outbreak of November cold to end the week at $2.714 per mmBTU, a gain of 10.4% for the December contract and 41.4 cents or 18% higher than the quoted prices for November gas at the beginning of the week...
the natural gas storage report for the week ending October 25th from the EIA indicated that the quantity of natural gas held in storage in the US increased by 89 billion cubic feet to 3,695 billion cubic feet by the end of the week, which meant our gas supplies were 559 billion cubic feet, or 17.8% more than the 3,136 billion cubic feet that were in storage on October 25th of last year, and 52 billion cubic feet, or 1.4% above the five-year average of 3,643 billion cubic feet of natural gas that have been in storage as of the 25th of October in recent years....this week's 89 billion cubic feet injection into US natural gas storage was 4 billion cubic feet higher than the average forecast for a 85 billion cubic feet injection from analysts surveyed by S&P Global Platts, and it was 24 billion cubic feet above the average 65 billion cubic feet of natural gas that have been added to gas storage during the fourth week of October over the past 5 years, the 31st such average or above average storage build in the last 33 weeks...the 2,519 billion cubic feet of natural gas that have been added to storage over the 31 weeks of this year's injection season is the second most for the same period in the modern record, eclipsed only by the record 2573 billion cubic feet of natural gas that were injected into storage over the same 31 weeks of the 2014 natural gas injection season, a cool summer when there were no injections below 76 billion cubic feet….
with US natural gas supplies now solidly above the 5 year average, in contrast to a year ago, when we were heading into winter with a deficit from normal of more than a 500 billion cubic feet, it seems it would an appropriate time to take a look at how we got here...it so happens that John Kemp of Reuters produced a natural gas chartbook to go with one of his articles this week that will facilitate that...John sends out the articles he publishes on Reuters, along with his daily digest of best in energy news and his research notes, free to those who subscribed to his mailings...if you'd like to be on his list for such mailings, go to this webpage and provide your name and email address: https://twitter.us18.list-manage.com/subscribe?u=92fd2e3ec7962cda008f0732a&id=a5736ab8e1
most of John's Reuters articles include a chartbook with graphics relevant to topic discussed in the article, but since they're usually linked by a small shortened url embedded in the article, it's likely that few readers see them...the natural gas chartbook from which we selected the following graphs opens as a pdf and is here: https://fingfx.thomsonreuters.com/gfx/ce/7/7118/7100/US%20NATURAL%20GAS.pdf and it came with his October 29th article titled U.S. gas market struggles with persistent oversupply...since this article ran before the release of this week's storage report, these graphics do not include this week's data...
the first graph that we're including below shows the quantity of natural gas in storage, in billions of cubic feet, in the lower 48 states over the period from January 2015 up to the week ending October 18th, 2019 as a red line, the quantity of natural gas in storage in the lower 48 states over the "prior year" from the period shown by the red graph as a yellow line, which would thus be from January 2014 up until the end of 2018, and the average of natural gas in storage over the 5 years preceding those same dates shown as a dashed blue line...at the same time, the light blue shaded background on the graph shows us the range of the amount of natural gas in storage for any given time of year for the 5 years prior to the years shown by the red graph…thus the light shaded area on the far left of the graph shows us the five year average from 2010 to 2014, while the light shaded area on the far right of the graph shows us the five year average from 2014 to 2018, with the rest of it between those dates...the graph also shows us the normal range of natural gas in storage as it fluctuates from season to season, with natural gas in storage underground normally building to a maximum by the end of October, falling through the winter, and usually bottoming out at the end of March...
by following the course of the red line, we can see that natural gas supplies began setting record highs in the Fall of 2015, and continued to set seasonal highs until the Fall of 2016, topping out at a record 4,047 billion cubic feet on November 11th of that year...however, by the winter of 2017-18, natural gas supplies were approaching historical lows for the season, as evidenced by the red graph falling to the bottom of the range...that situation was exacerbated during the first week of January 2018, when one cold snap burned 11.5% of our natural gas supplies in a week's time...supplies vis-a-vis the norm recovered a bit from there, but by the end of that winter our natural gas supplies were 38.3% lower than they were the prior year, which you can see in the separation between the red and yellow graphs for 2018 above...then during the summer of 2018, air conditioning demand that was above normal resulted in lower than normal additions to storage, and our supplies dropped well below the norm for the time of year heading into last winter, as evidenced by the red graph tracking far below the normal range...hence, by the time we headed into that winter, natural gas supplies had fallen to a 15 year low; and natural gas prices had hit 4 year high, and by November 26th, 2018, natural gas supplies were at a 16 year low for the season....however, a milder than normal December took the pressure off, and natural gas supplies eventually began the slow climb back towards normal which we've witnessed this year...
this next graph shows​ us​ how much natural gas was added to storage during the main part of ​each annual injection season​ of the past decade​...while the totals on this graph only go up to October 18th of each year, natural gas is normally added to storage up until the first week of November, so this isn't quite a complete picture...also note that John's numbers differ from the injection season totals i have been quoting because the totals i've quoted start with the week ending March 29th, and thus go back to March 23rd.​.​..i​'ve been​ includ​ing that week in my totals because this year that week had an anomalous early injection of 23 billion cubic feet...either way, this year's total to date is the second largest on record...
the next graphic from John's chart booklet below shows monthly US natural gas production from the beginning of 2000 up to August of this year, which is all we have confirmed data for...monthly ​gas ​production is indicated by yellow dots, while the prior 12 month average from any date is tracked by the white linear graph...we can obviously see that US natural gas output has rapidly accelerated over the past two years, after the two year slump precipitated by record low drilling and an associated downturn in completions​ over 2015-2016​...remember that production for each new gas well typically drops by 80% after the first two years and tails off after that, so ​for output ​to rise from this elevated production level, more wells will have to be drilled and completed than are currently being complete​d​...it's been called the red queen syndrome, since frackers have to run faster and faster each year just to stay in the same place...
the next graph we'll include shows the quantity of natural gas used for electric power over the 2006 to 2019 time frame, with the monthly gas usage tracked by yellow dots, while the dashed white linear graph tracks the average annual consumption over the prior year for any given date...the peaks are evidently the annual summer highs for air conditioning demand, while the wintertime base probably reflects the trend more accurately...note that the 12 month moving average has nearly doubled over the time frame this graph shows, as more natural gas generating capacity has been added by US utilities while coal plants have been retired...​in 2018, ​the electric power sector accounted for 35% of domestic natural gas use..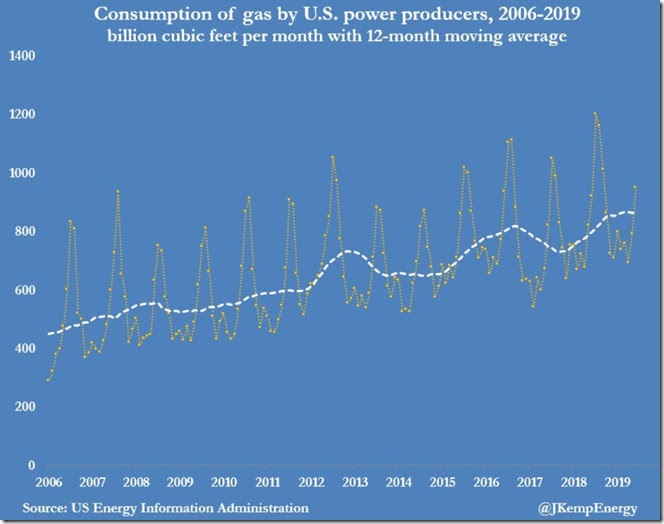 the next graph shows US natural gas imports and exports, in billions of cubic feet per month, over the historical record from 1973 to August of 2019, with imports shown as a dijon yellow graphic above the zero line, and exports shown as a dark brown graphic extending below the zero line....the white linear graph then tracks the difference between the two metrics as a "net imports" figure, which has historically been a positive number, but over recent months has flipped to a negative number as exports have exceeded imports....historically, more than 90% of our natural gas imports have come by pipeline from Canada, while almost all of our exports have gone by pipeline to both Mexico and Canada...our exports of LNG is a relatively recent phenomena, rising from 1% of our total exports in 2014 to nearly 50% of the total in recent months...​as a result , ​our net natural gas exports in the first-half of 2019 doubled the year-ago levels for the second year in a row..
lastly, we'll include John's graph of natural gas rig counts over the past decade....the natural gas rig count low that we hit in ​August ​2016 was the lowest on record; but the fracking era high of 1,606 rigs of September 7th, 2008 preceded this what's shown on this graph...however, natural gas rigs at one time numbered over 4,500, during the natural gas drilling boom of the 70s, when natural gas prices were four times what they are now....this week natural gas rigs fell to a 34 month low​, but there's still 50 more of them now than at the nadir in 2016​...
The Latest US Oil Supply and Disposition Data from the EIA
US oil data from the US Energy Information Administration for the week ending October 25th showed that because of a big jump in our oil imports and a decrease in our oil exports, we had surplus oil to add to our stored supplies for the sixth time in the past seven weeks...our imports of crude oil rose by an average of 840,000 barrels per day to an average of 6,697,000 barrels per day, after falling by an average of 438,000 barrels per day during the prior week, while our exports of crude oil fell by an average of 356,000 barrels per day to an average of 3,327,000 barrels per day during the week, which meant that our effective trade in oil worked out to a net import average of 3,370,000 barrels of per day during the week ending October 25th, 1,196,000 more barrels per day than the net of our imports minus ​our ​exports during the prior week...over the same period, the production of crude oil from US wells was reported to be unchanged at a record 12,600,000 barrels per day, so our daily supply of oil from the net of our trade in oil and from well production totaled an average of 15,970,000 barrels per day during this reporting week..
meanwhile, US oil refineries were reportedly processing 15,998,000 barrels of crude per day during the week ending October 25th, 133,000 more barrels per day than the amount of oil they used during the prior week, while over the same period the EIA reported that a net average of 714,000 barrels of oil per day were being added to the supplies of oil stored in the US....hence, this week's crude oil figures from the EIA appear to indicate that our total working supply of oil from net imports and from oilfield production was 743,000 barrels per day less than what was reportedly added to storage plus what our oil refineries reported they used during the week....to account for that disparity between the apparent supply of oil and the apparent disposition of it, the EIA inserted a (+743,000) barrel per day figure onto line 13 of the weekly U.S. Petroleum Balance Sheet to make the reported data for the daily supply of oil and the consumption of it balance out, essentially a fudge factor that they label in their footnotes as "unaccounted for crude oil"....with that much oil unaccounted for again this week, it means that one or all of the oil metrics that the EIA has reported and that we have just transcribed have to be seriously off the mark...​however, since the media treats these figures as gospel and since they drive oil pricing and hence decisions to drill​ for oil​, we continue to report them ​just ​as they're seen & believed by everyone else (for more on how this weekly oil data is gathered, and the possible reasons for that "unaccounted for" oil, see this EIA explainer)....
further details from the weekly Petroleum Status Report (pdf) indicated that the 4 week average of our oil imports rose to an average of 6,268,000 barrels per day last week, still 16.5% less than the 7,509,000 barrel per day average that we were importing over the same four-week period last year....the 714,000 barrel per day net addition to our total crude inventories included a withdrawal of 100,000 barrels per day from our Strategic Petroleum Reserve, which means that 814,000 barrels per day were added to our commercially available stocks of crude oil....this week's crude oil production was reported to be unchanged at a record 12,600,000 barrels per day because the rounded estimate of the output from wells in the lower 48 states was unchanged at a record 12,100,000 barrels per day, while a 29,000 barrel per day decrease to 456,000 barrels per day in Alaska's oil production was not enough to impact the final rounded total...last year's US crude oil production for the week ending October 26th was rounded to 11,200,000 barrels per day, so this reporting week's rounded oil production figure was 12.5% above that of a year ago, and 49.5% more than the interim low of 8,428,000 barrels per day that US oil production fell to during the last week of June of 2016...
meanwhile, US oil refineries were operating at 87.1% of their capacity in using 15,998,000 barrels of crude per day during the week ending October 25th, up from 85.2% of capacity the prior week, and close to normal for the pre-winter refinery maintenance season...however, the 15,998,000 barrels per day of oil that were refined this week was still 2.6% below the 16,417,000 barrels of crude per day that were being processed during the week ending October 26th, 2018, when US refineries were operating at 89.4% of capacity....
with the increase in the amount of oil being refined, gasoline output from our refineries was also higher, increasing by 86,000 barrels per day to 10,184,000 barrels per day during the week ending October 25th, after our refineries' gasoline output had increased by 100,000 barrels per day the prior week....but even with those increases in gasoline output, this week's gasoline production was 1.7% lower than the 10,364,000 barrels of gasoline that were being produced daily over the same week of last year....at the same time, our refineries' production of distillate fuels (diesel fuel and heat oil) rose by 205,000 barrels per day to 4,970,000 barrels per day, after our distillates output had increased by 77,000 barrels per day over the prior week...but even with those two increases in distillates output, our distillates' production this week was still fractionally below the 4,983,000 barrels of distillates per day that were being produced during the week ending October 26th, 2018....
even with the increase in our gasoline production, our supply of gasoline in storage at the end of the week decreased for the 13th time in 19 weeks and for the 27th time in thirty-four weeks, falling by 3,037,000 barrels to 220,057​,000​ barrels during the week to October 25th, after our gasoline supplies had decreased by 3,107,000 barrels over the prior week....our gasoline supplies were down again this week as the amount of gasoline supplied to US markets increased by 194,000 barrels per day to 9,784,000 barrels per day, while our imports of gasoline fell by 24,000 barrels per day to 673,000 barrels per day and while our exports of gasoline rose by 27,000 barrels per day to 652,000 barrels per day....after this week's decrease, our gasoline supplies were 2.7% lower than last October 26th's inventory level of 226,169,000 barrels, and but remained roughly 2% above the five year average of our gasoline supplies for this time of the year...
likewise, even with the increase in our distillates production, our supplies of distillate fuels fell for the 21st time in the past 31 weeks, decreasing by 1,032,000 barrels to 226,169,000 barrels during the week ending October 25th, after our distillates supplies had decreased by 2,715,000 barrels over the prior week...our distillates supplies fell by less this week even though the amount of distillates supplied to US markets, an indicator of our domestic demand, increased by 187,000 barrels per day to 4,263,000 barrels per day, because our exports of distillates fell by 197,000 barrels per day to 1,012,000 barrels per day while our imports of distillates rose by 25,000 barrels per day to 158,000 barrels per day...after this week's inventory decrease, our distillate supplies were down by 5.2% from the 126,322,000 barrels of distillates that we had stored on October 26th, 2018, but actually increased to around 11% below the five year average of distillates stocks for this time of the year​, as prior years saw greater decreases during the same week ​...
finally, with this week's jump in oil imports coupled with the decrease in our oil exports, our commercial supplies of crude oil in storage rose for the eighth time in twenty weeks and for the eighteenth time in 40 weeks, increasing by 5,702,000 barrels, from 433,151,000 barrels on October 18th to 438,853,000 barrels on October 25th....that increase lifted our crude oil inventories to 1% above the five-year average of crude oil supplies for this time of year, and to more than 30% higher than the prior 5 year (2009 - 2013) average of crude oil stocks as of the last weekend of October, with the disparity between those comparisons arising because it wasn't until early 2015 that our oil inventories first rose above 400 million barrels...since our crude oil inventories had generally been rising over the past year up until July, after generally falling until then through most of the prior year and a half, our oil supplies as of October 25th were 3.0% above the 426,004,000 barrels of oil we had stored on October 26th of 2018, but at the same time were 3.5% below the 454,906,000 barrels of oil that we had in storage on October 27th of 2017, and 9.1% below the 482,578,000 barrels of oil we had in commercial storage on October 28th of 2016...
This Week's Rig Count
the US rig count fell for the 10th time in 11 weeks and for the 33rd time in 37 weeks over the week ending November 1st, and is now down by more than 24% since the end of last year....Baker Hughes reported that the total count of rotary rigs running in the US fell by 8 rigs to a 31 month low of 822 rigs this past week, which was also down by 245 rigs from the 1067 rigs that were in use as of the November 2nd report of 2018, and 1107 fewer rigs than the shale era high of 1929 drilling rigs that were deployed on November 2nd of 2014, the week before OPEC began their attempt to flood the global oil market...
the number of rigs drilling for oil decreased by 5 to a 30 month low of 691 oil rigs this week, which was also 183 fewer oil rigs than were running a year ago, and quite a bit below the recent high of 1609 rigs that were drilling for oil on October 10th, 2014...at the same time, the number of drilling rigs targeting natural gas bearing formations fell by 3 rigs to 130 natural gas rigs, the least natural gas rigs since December 23 2016 and hence a 34 month low for gas rig drilling activity, down by 63 rigs from the 193 natural gas rigs that were drilling a year ago, and way down from the modern era high of 1,606 rigs targeting natural gas that were deployed on September 7th, 2008...in addition​ to those​, a vertical rig classified as miscellaneous continued to drill on the big island of Hawaii this week, in contrast to a year ago, when there were no such "miscellaneous" rigs deployed..
offshore drilling activity ​in the ​Gulf of Mexico increased by 1 rig​ with 21 Gulf rigs running this week, as another rig was added to those drilling offshore from Louisiana this week...the 21 rigs drilling in Louisiana's offshore waters are now 3 more rigs than the Gulf of Mexico rig count of 18 a year ago, when 17 rigs were drilling in Louisiana waters and one was drilling offshore from Texas...in addition to the Gulf, one rig continues to drill offshore from the Kenai Peninsula in Alaska, whereas a year ago the only offshore rigs were in the Gulf...hence, the national total of 22 offshore rigs is up by 4 rigs from the 18 rigs that were deployed offshore a year ago...meanwhile, offsetting the rig that was added in Louisiana's offshore waters this week, a platform from which there ​had been drilling through an inland body of water in southern Louisiana was shut down this week, leaving just one such "inland waters' rig active in the state and nationally...that's down by 2 from a year ago, when 3 'inland waters rigs" were deployed in southern Louisiana...
the count of active horizontal drilling rigs was down by 11 rigs to 717 horizontal rigs this week, which was the least horizontal rigs deployed since April 21st, 2017 and hence is a new 30 month low for horizontal drilling...that was also 212 fewer horizontal rigs than the 929 horizontal rigs that were in use in the US on November 2nd of last year, and also well down from the record of 1372 horizontal rigs that were deployed on November 21st of 2014....on the other hand, the directional rig count ​increased by 2 rigs to 53 directional rigs this week, but those were down by 20 from the 73 directional rigs that were operating during the same week of last year...in addition, the vertical rig count increased​ ​by 1 to 52 vertical rigs this week, while those were down by 13 from the 65 vertical rigs that were in use on November 2nd of 2018...
the details on this week's changes in drilling activity by state and by major shale basin are included in our screenshot below of that part of the rig count summary pdf from Baker Hughes that shows those changes...the first table below shows weekly and year over year rig count changes for the major oil & gas producing states, and the table below that shows the weekly and year over year rig count changes for the major US geological oil and gas basins...in both tables, the first column shows the active rig count as of November 1st, the second column shows the change in the number of working rigs between last week's count (October 25th) and this week's (November 1st) count, the third column shows last week's October 25th active rig count, the 4th column shows the change between the number of rigs running on Friday and the number running before the equivalent weekend of a year ago, and the 5th column shows the number of rigs that were drilling at the end of that reporting week a year ago, which in this week's case was the ​2nd of November, 2018...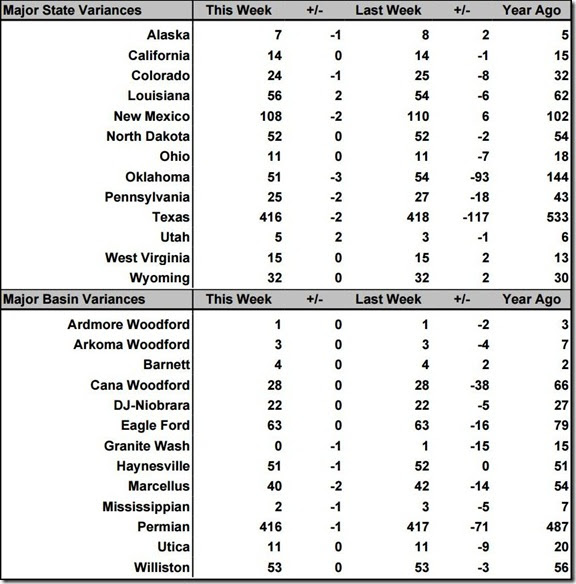 in the Texas Oil Districts that encompass the Texas portion of the Permian basin, Texas Oil District 8, or the core Permian Delaware, had three more rigs added this week, while Texas Oil District 8A, or the northern Permian Midland, and Texas Oil District 7C, or the southern Permian Midland, both dropped a rig from a week ago...with the total Permian ​rig ​count down by 1, that means that the two rigs that were pulled out of New Mexico had been operating in the western reaches of the Permian Delaware...meanwhile, the rig that was removed from the Mississippian shale had been operating in Oklahoma, since the Kansas rig count was unchanged at zero, as was the rig that was removed from the Granite Wash, since activity in Texas Oil District 10 was also unchanged...on the other hand, the rig that was pulled out of the Haynesville had been operating in Texas, since the northern Louisiana rig count was unchanged at 31 while drilling in Texas Oil District 6 was down a rig to 21...that Haynesville rig, plus the two rigs that were pulled out of Pennsylvania's Marcellus, account for all of this week's natural gas rig changes; everything else that moved was targeting oil...but we should also note that other than the changes shown in the major producing states above, Florida also had a rig shut down this week, while they still have one remaining; a year ago, there was no drilling in Florida whatsoever...
++++++++++++++++++++++++++++++++++++
Utica Shale well activity as of Oct. 26:
DRILLED: 210 (202 as of last week)
DRILLING: 159 (166)
PERMITTED: 478 (479)
PRODUCING: 2,345 (2,340)
TOTAL: 3,192 (3,187)
Eight horizontal permits were issued during the week that ended Oct. 26, and 14 rigs were operating in the Utica Shale.
Newspaper: AEP retains drilling rights under new Ohio park - Chicago Tribune - Thousands of acres in eastern Ohio the state is buying to promote recreation and conservation may be drilled for oil and natural gas, an Ohio newspaper reported. A draft purchase agreement obtained by The Columbus Dispatch shows American Electric Power will retain subsurface rights to more than 31,000 acres it is selling to the Ohio Department of Natural Resources for $47 million. The document states AEP will have continuing drilling rights. AEP spokesman Scott Blake said no active horizontal drilling known as fracking is underway on the land. He said the power company would work with the state to coordinate that activity if the situation changes. But Sarah Wickham, a spokeswoman for the Natural Resources Department, said the state is "reasonably certain" the property includes active wells. "However, we are still in the process of identifying the exact acres we are purchasing," she said. "We will not be able to know specifically whether there are active wells on this property until survey and title work are completed." The land is scheduled to be transferred in six installments beginning in March. The property is part of what could eventually make up a nearly 60,000-acre state park in four Appalachian counties: Morgan, Muskingum, Noble and Guernsey. Two earlier purchases and an option on another 18,500 acres comprise the rest. Former Gov. John Kasich announced the park in his 2018 State of the State address. It was named for Olympic star Jesse Owens in July 2018. The current governor, Mike DeWine, announced this latest purchase earlier this month. Damian Sikora, chief legal counsel and ethics officer at ODNR, said AEP has agreed to work with the state to make sure any future drilling is in a location that "won't impact the recreation side of things or campgrounds or trails or things like that."
Fracking legal on new parkland - The Daily Jeffersonian - The state's planned $47 million purchase of more than 31,000 acres of land in eastern Ohio for recreation and conservation does not include the subsurface rights, and some of it likely will be the site of fracking activities, GateHouse Media Ohio has learned. Ohio Gov. Mike DeWine — flanked by outdoorsmen and members of the General Assembly — announced the land purchase in eastern Ohio from American Electric Power a few weeks ago. The move was applauded by conservationists because the land, formerly used by the utility for strip mining, would be used by the Ohio Department of Natural Resources for recreation and conservation and designated as a state park. The acquisition includes properties in Muskingum, Morgan, Noble, and Guernsey counties and will be acquired in parcels over the next two years. However, a draft of the purchase agreement obtained by GateHouse Media Ohio shows AEP will retain the subsurface rights to the land for potential oil and gas drilling. The draft states that AEP retains the "right to construct, install, and maintain well site locations, access roads, production equipment, pipeline systems, and utilities and to conduct seismic and geological surveys and the right to drill and extract from new water wells and reasonable use of non-domestic surface water for such purposes." ODNR and AEP officials provided conflicting statements to GateHouse Media Ohio on whether there are already active wells on some of the land, but they agree that they will work together to coordinate any drilling activity. "We are reasonably certain there are active wells," said Sarah Wickham, an ODNR spokeswoman. "However, we are still in the process of identifying the exact acres we are purchasing. We will not be able to know specifically whether there are active wells on this property until survey and title work are completed."
Fracking Health Registry To Track The Effects Of Drilling In Ohio – WWNO public radio audio - The U.S. is a top producer of natural gas and crude oil, mostly due to the growth in fracking. But many people who live near fracking sites are concerned about possible health issues ⁠— issues that aren't being tracked by states or the federal government. In Ohio, residents have taken matters into their own hands and started their own fracking health registry, Julie Grant (@JulieIGrant) of The Allegheny Front reports.
How things got so fracking bad in Ohio - The fossil fuel industry and its proponents tout fracking's economic benefits as this oil and gas extraction technique has led the march toward the nation's energy independence. But as our understanding of the technique grows, so too does our knowledge of its many drawbacks. Nowhere is this dynamic more apparent than in Ohio, at the vanguard of the nation's fracking boom thanks to the Utica and Marcellus shale reserves to the east of the state, which have sparked something of a fossil fuel industry feeding frenzy over the past decade. The amount of natural gas Ohio produces annually ballooned from 78 billion cubic feet in 2010 to nearly 1.8 trillion cubic feet in 2017 — an increase of more than 2,200 percent — according to federal figures. And what kind of impact has this had? Between 2007 and 2016, employment in Ohio's shale industries grew 62 percent. Ten years on though, tough questions are being asked not just of the industry's economic impact in Ohio's poor Appalachian heartland, but also of the damage it's causing to the environment, the climate and human health. "It's impacting people locally," "It's impacting their health. It's impacting regional health. It's impacting local and regional economies in a negative way.." . The Environmental Protection Agency's (EPA) own years-long study concluded that fracking operations have contaminated drinking water resources and have led to inadequately treated wastewater being dumped into surface water sources. Scientific and government research links fracking with an increased likelihood of earthquakes. In Ohio, some of the localized environmental impacts make for stark reading. A recent article in StateImpact Pennsylvania (part of an excellent series looking at the industry's environmental footprint in Ohio and Pennsylvania) details complaints among residents living in close proximity to fracking infrastructure of things like gas leaks, drinking water contamination and discoloration, as well as fish kills. Cornell University found a possible link between exposure to gas drilling operations and cases of illness, death and reproductive issues in cows, horses, goats, llamas, chickens, dogs and cats in fracking states like Ohio.
CNX says it's adjusting to low natural gas prices -- CNX Resources continues to adjust to the low-price natural gas market but is generally optimistic about 2020, according to its third quarter earnings call.The Canonsburg-based natural gas exploration and production company said it expects to realize $25 million in savings from streamlining activities in the third quarter, including "reconfiguring" workflows and combining functions.The company confirmed in August it had laid off 70 employees — about 14% of its workforce."Macro supply-and-demand concerns certainly lowered the forward strip during the past quarter, and we are adjusting activity accordingly by lowering our capital and production guidance for 2020," President and CEO Nicholas J. DeIuliis said. During the third quarter, CNX used up to three horizontal rigs and drilled 15 wells. The company currently has two rigs in operation, which it expects to run into 2020, along with one fracking crew.The company also used three fracking crews to complete 20 wells, which included 14 Marcellus shale wells and six Utica shale wells. A completed well is one that has been drilled and fracked. CNX turned-in-line 24 wells in the third quarter, including 10 Marcellus wells in Greene County and three Utica wells in Greene County. A turned-in-line well is one that is producing natural gas.
Gulfport Energy wants to sell some Utica interests - Gulfport Energy is looking to sell some of its interests in the Utica Shale. The company announced the plan ahead of its Friday conference call with investors to discuss third-quarter earnings. Gulfport said proceeds from its sale of non-operated interests would offset higher-than-anticipated spending this year in the Utica. The company expected to have an agreement on the sale before the end of the year, according to a press release. Oklahoma City-based Gulfport lost $48.8 million, or 31 cents per diluted share during the quarter. The company's average production was equivalent to 1.5 billion cubic feet of natural gas per day. Utica wells accounted for 80 percent of production. Gulfport has one drilling rig in the Utica Shale. During the third quarter, the company drilled two wells and began production on 16 wells in the Utica.
EQT cuts spending on natural gas drilling in 2019, 2020 - EQT Corp. trimmed more than $100 million from its capital budget for this year and will cut it by more than $500 million from its 2020 plan as it works to implement a highly choreographed system of natural gas drilling.The Pittsburgh-based natural gas driller, which was taken over by a new management team in early July led by Toby Z. Rice, on Thursday provided its first quarterly financial report that took place under the Rice tenure. It also provided a highly anticipated look at what's going on near the drill bit in 2019 and what it plans in 2020. EQT, the country's largest independent natural gas producer, is a bellwether for the Marcellus and Utica shale industries. Early indications see a continued down market for natural gas overall. EQT said it spent $475 million on capital, mostly land acquisition and drilling, and had cut by $115 million the amount of money it would spend in all of 2019. In January, the previous management team announced plans to spend between $1.9 billion and $2 billion for the full year. It has three rigs and three hydraulic fracturing crews and expects to have that through the end of the year. For next year, EQT said it would spend between $1.3 billion and $1.4 billion, down $525 million from 2019's plan. Also important for shareholders, who have been disappointed by EQT's performance over the past year and a half, the company expected free cash flow between $200 million and $300 million as it would cut well costs and other capital by 25 percent. It also said it would cut down on its debt by $1.5 billion by the middle of 2020.
Local resident asks EPA to keep safeguards - Martins Ferry Times Leader - The Trump administration's proposed methane rollbacks will cut essential safeguards to control volatile organic compounds and methane pollution from the oil and gas industry. These rollbacks would leave some infrastructure sites, including compressor stations and storage tanks located along interstate pipelines, free to emit unlimited amounts of cancer- causing air pollution. On Oct. 17, I traveled to Dallas, Texas, for the Environmental Protection Agency hearing and testified in opposition to Trump's proposed methane rollbacks. I also listened to many others give their testimonies in opposition as well. This included a pediatrician who treats children with cancer. She stated that her patients were already suffering due to poor air quality from oil and gas pollution, and that the rollbacks would allow for greater releases of VOCs, which would have a very negative effect on children. An earth scientist and father who was there with his 5-year old son was in tears as he pleaded with the EPA to consider his son's right to a healthy future in their decision-making. He also begged them not to not deny the science, which he said overwhelming proves that oil and gas production is a disaster for public health and our environment, contributing to the climate crisis at hand. My opposition testimony given at the EPA methane rollback hearing follows:
Partnership provides oil, gas training for high school seniors - Four hundred West Virginia high school seniors will be able to enter a pipeline of future workers in the oil and gas industry through a training program initiated by the West Virginia University Extension Service Safety and Health Extension.The SafeLandUSA orientation program will offer job-readiness training, online and hands-on ATV safety course, and medical-response training in high schools and vocational and technical schools across the state."Most high school graduates entering college or going directly into the workforce have little, if any, knowledge about safety and health considerations in this industry," Tiffany Rice, adjunct instructor for WVU Extension Service Safety and Health Extension, said."As the oil and natural gas industry continues to provide job opportunities for young adults, we want to ensure that those workers are aware of, and able to safely handle, serious hazards that can accompany those jobs."Diversified Gas & Oil Corporation has launched this program with a lead $25,000 sponsorship. Concentrated in the Appalachian Basin, Diversified Gas & Oil is an established, independent owner and operator of producing natural gas and oil wells, as well as natural gas pipelines and compression stations. "By partnering with WVU Extension Service to offer programs such as these, we are able to give back to the state by helping high school students succeed through education and job readiness," Hutson said. "This training program will help build a strong pipeline of educated, skilled future workers for the oil and gas industry."
Pennsylvania High Court to Review Fracking Suit Against Anadarko - Pennsylvania's top court will take up an enforcement lawsuit claiming Anadarko Petroleum Corp. misled property owners in the state about the value of the fracking rights it leased from them. The suit accuses Anadarko of violating Pennsylvania's unfair trade practices law by using those deceptive tactics to drive down mineral royalties to property owners living above the Marcellus Shale, an underground natural gas formation that covers much of the state. Anadarko also illegally divvied up the Marcellus Shale with rival Chesapeake Energy Corp., the Pennsylvania attorney general's office claims. A state appeals court let part of the case move...
Public Health Experts Flunk Report Tying Pennsylvania Air Quality Improvements to Gas Drilling | DeSmog - America's air seems to have taken a turn for the worse, according to recent scientific research. Last week, a nationwide study by researchers at Carnegie Mellon University (CMU) found that the country's air quality deteriorated in 2017 and 2018 — a dramatic reversal of improvements recorded over the prior seven years. Today, the Consumer Energy Alliance (CEA) — an organization funded by oil and gas producers — released their own report that presents a different narrative about energy production and air quality in Pennsylvania, a state that's become one of the nation's largest producers of fossil fuels. CEA's report first points to a drop in some types of air pollution in Pennsylvania between 1990 and 2016 and next to a rise in natural gas production in the state from 2010 to 2018.But a look at the data presented inside that report — a two-page infographic drawing on data from the Environmental Protection Agency (EPA) and the Energy Information Administration — shows that connecting more drilling to less pollution is deeply misleading, public health experts said. "Pennsylvania's emissions fell 92 percent as energy production soared by almost 3,000 percent," a statement released with the report by CEA announced. Some Pennsylvania politicians hailed the findings. "As the CEA's report underscores, we do not have to choose between a cleaner environment and a strong economy that requires more energy," state senator Camera Bartolotta said in a statement released by CEA. "Pennsylvania is among the nation's leaders in emissions reductions, while our natural gas industry is producing at record levels." Carnegie Mellon's study was widely seen as an indictment of the Trump administration's well-documented resistance to enforcing environmental laws and regulations, suggesting that a hands-off approach to industry may have had an immediate and measurable impact on the quality of American air. It also suggested some of the deadliest impacts from California's wildfires, made worse in recent years by the country's history of failing to prevent climate-changing industrial emissions, may be the effects of the fumes on people's health. In addition, the CMU researchers specifically highlighted the dangers of oil and gas pollution. "The research identified recent increases in driving and the burning of natural gas as likely contributors to the uptick in unhealthy air, even as coal use and related pollution have declined," the New York Times reported. That 92 percent drop? It refers to one air pollutant out of the seven: sulfur dioxide, best known for its role in causing acid rain. The year CEA's report starts its clock, 1990, is also the year that the 1990 Clean Air Act Amendments were signed into law. Many of the provisions in those amendments specifically targeted sulfur dioxide and acid rain.
Bill Peduto says no additional petrochemical plants should come to Western Pa. - Today at the Climate Action Summit, Pittsburgh Mayor Bill Peduto announced his opposition to any additional petrochemical cracker plants that have been rumored for the Western Pennsylvania region. The region's first cracker plant is currently being constructed in Beaver County by oil giant Shell. Cracker plants refine natural-gas into plastic pellets. The Shell cracker will likely be fueled by natural-gas fracked in the Southwestern Pennsylvania region.Since its construction, other oil and gas companies have been eyeing potential cracker plants in the Ohio River Valley, including ExxonMobil. Business interests have been hinting at the potential of four cracker plants in this region. Today, the summit at the David Lawrence convention center in Downtown marks the first time Peduto has publicly stated opposition to such plans. He also added in his speech at the summit, that he plans to send a formal letter to Gov. Tom Wolf (D-York) sharing his opposition. Wolf has been a proponent of the Beaver County cracker plant."I oppose any additional petrochemical companies coming to Western Pennsylvania," said Peduto to the crowd, according to Pittsburgh Business Times reporter Paul Gough. "We don't have to become the petrochemical/plastics center of the United States."Last year, environmental activists pressured Peduto to issue a statement about the Beaver County cracker plant. Peduto didn't weigh in on that plant, which is already in construction, but activists are taking his statement as a win for their cause.The Beaver County cracker plant has been permitted to emit 2.2 million tons ofcarbon dioxide, the equivalent of adding more than 480,000 cars to the region. Also, natural-gas production often creates large emissions of methane, a greenhouse gas that warms the planet 86 times as much as carbon dioxide, according to the Intergovernmental Panel on Climate Change.
'Pittsburgh isn't in Beaver County:' County officials disheartened by Pittsburgh mayor's dismissal of petrochemical development - - Pittsburgh Mayor Bill Peduto caught ire from Beaver County officials after he denounced the idea of a second petrochemical plant in western Pennsylvania. Beaver County officials called Peduto's remarks against any additional petrochemical development in western Pennsylvania reckless, disheartening and irrational. The petrochemical industry might not be welcome in Pittsburgh, but Beaver County is open for business. County officials were outraged after Pittsburgh Mayor Bill Peduto publicly opposed the expansion of western Pennsylvania's petrochemical industry during the Climate Action Summit in downtown Pittsburgh. "Let me be the first politician to say publicly, I oppose any additional petrochemical companies coming to western Pennsylvania," he told a crowd of climate activists and environmentalists at the summit, hosted by p4 Pittsburgh, The Heinz Endowments and Sustainable Pittsburgh. "We do not have to become the petrochemical/plastics center of the United States." Those comments didn't sit well with Beaver County's Board of Commissioners. "Mayor Peduto may represent the city of Pittsburgh, but he does not represent the remainder of this region," Commissioner Chairman Daniel Camp said in a statement, noting he was surprised and very disheartened by the comments. "Let me be clear when I say: Beaver County is open for business and will continue to encourage and welcome the responsible production of energy in our region, which is vital to our workforce. While the Mayor is fighting against the hardworking people in our union halls and in our building trades, I want them to know that they will always have a friend in Beaver County." Although the mayor didn't name Shell Chemicals' ethane cracker plant under construction in Potter Township, it's clear his remarks were directed at similar facilities. ExxonMobil is considering a number of locations, including Beaver County, to expand its plastics manufacturing right now; company brokers recently visited the county to renew ongoing talks. And they should continue to consider Beaver County, Commissioner Sandie Egley said. She too was outraged by Peduto's stance. "I am shocked by the reckless and irrational statement by the mayor today that he opposes any additional petrochemical companies coming to western Pennsylvania," Egley said. "The mayor does not speak for western Pennsylvania and he most certainly does not speak for Beaver County."
Debunking the 5 Myths of the Mariner East pipeline - Pennsylvania Public Utility Commission (PUC) Administrative Law Judge Elizabeth Barnes is set to hear testimony directly from citizens regarding potential dangers and the lack of a sufficient emergency notification system or management plan in the event of a pipeline-related disaster. Meanwhile, Sunoco/ET is again attempting to silence residents by trying to block their testimony and derail the hearing. Their lawyers even submitted a motion contending that only experts (often on their payroll), not ordinary citizens, should be able to testify. Here are five myths that Baker and the natural gas lobby attempt to propagate about Mariner East 2. Expect to hear them at this week's hearing and in the future:
Myth 1: Mariner East transports energy and will help make Pennsylvania and American energy independent. The truth is Mariner East is not keeping your lights on or heating your house. It is carrying hazardous natural gas liquids to be transported to Europe for plastic manufacturing. That's right – millions of single-use plastic products.
Myth 2: The Mariner East pipeline project is the safest way to transport natural gas liquids. Yes, pipelines are safer than truck or rail. But you know what's even safer? A pipeline that is properly planned, that doesn't run through high-density communities, that hasn't been beset with geological problems and instability concerns, that isn't made up of cobbled together pieces of 80-year-old and new segments, and that has automatic shut-off valves and other safety mechanisms. And yes, an emergency notification system and actual management plan would help, too.
Myth 3: Increased pipeline safety will jeopardize Mariner East jobs and its economic impact. The idea that a pipeline can't be both safe and an economic boon is just plain wrong. Increased oversight and safety should lead to more jobs. Judge Barnes said as much in her order last May in the complaint I brought before the PUC: "Safety and proper engineering design benefits workers and families which reside along the pipeline ... If the pipelines can be built in a safe manner, then that benefits all."
Myth 4: Senator Dinniman wrongly challenged Mariner East in his case before the PUC. Judge Barnes granted me legislative standing in a May 21, 2018, interim order. It should also be noted that multiple local government officials have used public resources regarding the need for increased oversight of and safety on Mariner East, including the Chester County Commissioners, who are suing Sunoco/ET, the Chester County District Attorney, who is filing a civil nuisance action against the company, and Delaware County Council, which spent $115,000 on a risk assessment of the project, not to mention other state legislators, schools boards, and townships.
Myth 5: Senator Dinniman is the ringleader of the fight against Mariner East. The movement against Mariner East is powered by a growing number of residents, many of whom have had their homes and lives negatively impacted by it. Yes, I represent my constituents, but they don't take their cues from me. Anyone who thinks otherwise is grossly underestimating them. And at the end of the day, Sunoco/ET, itself, created the backlash against Mariner East by driving entire communities against the project through carelessness, callousness, and arrogance.
These are the mistruths, falsehoods, and outright lies that Sunoco/ET and its mouthpieces, like Baker, are rolling out in a desperate attempt to spin Mariner East's abysmal safety and environmental record. My message to them is simple: focus on fixing the ongoing problems with Mariner East (including, most recently another reported sinkhole and damage to an aquifer) and addressing our extensive and well-documented safety and environmental concerns, instead of waging a failing public relations campaign. Sure, you can try, but you won't silence me and you won't silence the people.
DEP, Equitrans agree to $650,000 settlement over storage field violations - The Pennsylvania Department of Environmental Protection announced a $650,000 settlement with a natural gas storage operator for violations at an underground gas reservoir that sits beneath a planned coal mine in Greene County. The Swarts storage field is an old, depleted oil and gas formation that lies less than 2,000 beneath what will soon be an active part of a coal mine. Equitrans Midstream Corporation pumps pressurized gas into the field to store it for later delivery. Consol plans to extend the Harvey Mine into the area above the Swarts Field, in Morris and Washington townships, later this year. Under state law, operators of oil and gas storage fields that lie within 2,000 feet of a coal mine must submit maps of all wells into the site and plug or recondition some wells, to prevent gas from escaping the field. According to the Consent Order and Agreement signed by the DEP and Equitrans, the company failed to submit complete reports on gas wells into the site. As part of the agreement, Equitrans will identify all remaining wells in the storage field and plug any that it needs to under state law. In 2013, Consol told EQT, the predecessor to Equitrans, that it would be extending the Harvey Mine into the area, according to the agreement. EQT submitted reports to the state on wells in the area over the next few years, but in 2018 the Department issued an order to the company — by then Equitrans — for failing to submit timely or complete reports identifying all wells on site. The DEP had threatened to shut down the storage field if the company did not comply with the order. .
Philly refinery fire shows why EPA must not cut regulations, say 13 attorneys general, including Pa., N.J. - Pennsylvania Attorney General Josh Shapiro and 12 other state attorneys general sent a letter Monday to the U.S. Environmental Protection Agency urging it to scrap a proposed rollback of an accident prevention rule in light of the most recent revelation about the blast at the Philadelphia Energy Solutions refinery earlier this year. The explosion released two tons of potentially deadly hydrofluoric acid, according to a U.S. Chemical Safety and Hazard Investigation Board (CSB) report released Oct. 16. The blast also hurled metal shrapnel the size of a bus across the Schuylkill. In addition to Shapiro, the attorneys general of New Jersey, New York, Illinois, Iowa, Maine, Maryland, Massachusetts, Michigan, Oregon, Rhode Island, Vermont, and Washington signed off on the letter, which will be entered as part of a continuing objection to an EPA proposal to loosen a program designed to reduce accidents. The attorneys general want the CSB report submitted as part of that objection.Representatives for the EPA could not be reached immediately for comment.The June 21 refinery explosion and fire released 5,239 pounds of hydrofluoric acid and began with the failure of an elbow in a corroded section of pipe. The CSB said the fire triggered three explosions, one of which blew a fuel tank into projectiles, including one weighing 19 tons that traveled 2,100 feet and landed on the opposite bank of the river. The incident occurred in the early morning when few people were around and caused no serious injuries, though five workers required treatment at the scene.
'This Is Not Normal.' New Air Monitoring Reveals Hazards in This Maine City. - It's been seven months since my fellow South Portland residents and I first learned we had a problem here: the petroleum storage tanks sprinkled across the city and the ships delivering millions of gallons of asphalt and fuel into the harbor may be making our air toxic. The upset started with the release of a draft consent decree—a settlement between the U.S. Environmental Protection Agency and Global Partners, an energy supply company that owns some of the tanks here. With the filing of that document, the city learned that Global had been violating the Clean Air Act and that its tanks containing asphalt and bunker fuel had the potential to emit twice the amount of dangerous chemicals—called volatile organic compounds, or VOCs—as their permit allowed. Fear ricocheted throughout the community as it was revealed that a second company, Sprague, appeared to have the same problem, and as people realized that the noxious smells that sometimes filled the air in South Portland could contain toxins that can cause cancer or asthma attacks. For months, the city and activists solicited public comments to ask the EPA to strengthen its settlement with Global Partners, and the city and state launched an air monitoring program to get to the bottom of what's in South Portland's air. I've spent the last 24 hours staring at a spreadsheet full of the latest air quality monitoring data that show frequent spikes of benzene, a known carcinogen, and another toxic substance that could be even more problematic. This is the second data dump from the state, and it includes data from sampling canisters distributed to residents and a few permanent air monitoring sites. Danielle Twomey, an environmental chemist for the state of Maine, has spent the last few months analyzing samples from South Portland. This latest round of data has her alarmed. These are the kinds of results that might cause some state employees to keep their heads down and out of the firing line. That's not Twomey's style. "I've seen more now and the more I see, it's like ... oh wow," she says. "My gut says this doesn't look good," she tells me. "This is not normal. This is not the background that we expect to see in the city." Like the first round of data, the new data show occasional spikes in benzene, a cancer-causing chemical, as well as naphthalene, a pollutant that is toxic at far lower levels, making it trickier to test for and analyze, and more problematic.
Massachusetts launches investigation into gas disaster (AP) — Massachusetts officials are opening their own investigation into last September's Merrimack Valley natural gas disaster.More than 100 structures were damaged in Lawrence, Andover and North Andover in the Sept. 13, 2018, fires and explosions. One person died and dozens were injured. Matthew Nelson, chair of the state Department of Public Utilities, said Friday his agency will look into the cause as well as the response. He said the investigation would take at least a year and could lead to penalties against Columbia Gas. Nelson made the announcement during a forum in Lawrence focused on the National Transportation Safety Board's recently completed investigation. The agency concluded Columbia Gas poorly planned a pipeline replacement project and responded inadequately to the disaster.
Raimondo, McKee to push tougher utility regs after report blames National Grid, Enbridge for loss of heat on Aquidneck Island - Rhode Island leaders are pushing for stricter utility regulations in the wake of an investigative report by state regulators that found a litany of failings and poor decisions by natural gas supplier National Grid and pipeline company Enbridge helped cause a widespread loss of heat on Aquidneck Island last winter.Gov. Gina Raimondo said that, after trying unsuccessfully immediately after the crisis, she would again call on the General Assembly to pass legislation when it reconvenes in January that would give regulators the ability to fine National Grid if it fails to meet emergency-preparedness and response standards."Nine months ago, I asked the legislature for legislation that would put more teeth into the [Division of Public Utilities and Carriers]," she said in an interview. "I don't know why the legislature didn't do that. They stood with National Grid and they didn't stand with Rhode Islanders." Lt. Gov. Daniel McKee, whose office introduced the bill in 2018 and again this past session, said it would do so again next year. He said in a statement that he hopes the 74-page report released by the Division of Public Utilities and Carriers on Wednesday strengthens the case for reform.
Climate change v. Killingly gas power plant. And the winner is ... When the plan to build a natural gas power plant in Killingly first came up in 2016, the objections from folks in this northeast corner town of about 17,000 were pretty basic – they already had one, didn't want another about a mile away, and didn't want its emissions. "Not another power plant," was the rallying cry. Three years later, this remains the name of the local opposition group — or NAPP for short. But since then, the furor over the proposed Killingly Energy Center (KEC) has expanded into a statewide environmental cause célèbre and is now something of a poster child for how not to tackle climate change. Those critical of the plan point out that a fossil fuel-run power plant that still emits greenhouse gases, even if it produces fewer of them than oil or coal plants, will not allow the state to meet a 2040 target of 100% zero carbon for the elector sector suggested by Gov. Ned Lamont last month. With this as their argument, environmental advocates have ramped up their opposition to KEC. For the last several months, members of the Sierra Club and other groups have protested every Friday outside the governor's residence, while NAPP has held protests on Saturdays in Killingly. Advocates have also blasted the governor's office and Department of Energy and Environmental Protection Commissioner Katie Dykes with emails and calls opposing the plant.
Firm revokes application to build pipeline, but will refile (AP) — It will be a while longer before a hotly contested natural gas pipeline gets a yes-or-no decision from New Jersey environmental regulators. An Oklahoma company on Friday withdrew permit applications with New Jersey regulators that it needs to build a pipeline from Pennsylvania through New Jersey and into New York. But Tulsa-based Williams Companies said it will refile the applications in the next few days. The company's Northeast Supply Enhancement Project would expand the existing Transco pipeline infrastructure in New Jersey, New York and Pennsylvania. It said in a statement it acted to give the New Jersey Department of Environmental Protection additional time to review the project. It also still needs permits from New York authorities. The DEP said Williams withdrew three applications, but left a fourth pending with the agency. "Williams remains committed to installing this much-needed energy infrastructure in an environmentally responsible manner and in compliance with the states' high environmental standards," the company said. A spokesman said Williams cannot speculate when it might receive a decision from the New Jersey DEP, but the company wanted to have the pipeline operating by the winter 2020 heating season. Williams had planned to spend $926 million on the project, saying it is needed to ensure adequate heating and energy supplies to New York City and Long Island, and that it can be built safely with minimal environmental disruption. Environmental groups and other opponents say the project would stir up tons of highly polluted sediment and reverse decades of hard-won environmental improvements in Raritan Bay, which has been struggling with pollution. They also oppose projects that would facilitate the burning of additional fossil fuels.
LG&E Sues State, Threatens Conservation In Bernheim Pipeline Battle - When the state of Kentucky pays to conserve natural areas, it tries to protect that land forever. Now for first time in nearly 30 years, the power of those protections could be tested in the fight over the future of Bernheim Forest's Cedar Grove wildlife corridor, according to state environmental advocates. In Louisville Gas and Electric's pursuit to build a natural gas pipeline through Bernheim Forest, the private utility is using eminent domain to try and seize land from Bernheim, a private nonprofit. But LG&E isn't just suing Bernheim and other holdout landowners. It also filed suit in September against a state board, seeking to break the conservation easement on Bernheim property. The easement restricts development, like pipelines, and also requires Bernheim to manage the habitat for imperiled species. Kentucky environmentalists say it is the first time a utility has attempted to overturn a conservation easement held by the state, and it could result in weakening protections for natural areas in the rest of the state. "There's never been an effort to terminate one of those easements," said Don Dott, president of the Kentucky Land Trusts Coalition. "So this is new and this is potentially a very bad precedent." LG&E said in a statement provided by spokesperson Liz Pratt that a conservation easement "does not prevent the exercise of eminent domain."
Enbridge to install cameras, warning systems in Straits of Mackinac - - Ships traversing the Straits of Mackinac may soon get a warning message before they cross: Hoist your anchors. Enbridge Energy is awaiting federal approval to implement a warning system that will notify ships of the U.S. Coast Guard's no-anchor zone in the Straits, where Enbridge's Line 5 oil and gas pipeline lies on the lakebottom. Officials from the Canadian energy company expect they'll get approval for the system from the Coast Guard and Federal Communications Commission before the end of 2019. The system was one of three measures Enbridge leadership recently announced to monitor and deter further anchor strikes on Line 5, like the one April 1, 2018, that marred and dented the 66-year-old pipeline and ruptured another company's defunct utility line. Though Enbridge officials said the strike didn't compromise the integrity of its twin pipelines, it renewed concerns from environmentalists, activists and others that the aging pipeline threatens an oil spill in the Great Lakes. Ultimately, Enbridge wants to mitigate anchor strike risks by encasing Line 5 in a $500 million utility tunnel underneath the Straits. The deal they reached with former Gov. Rick Snyder to pay for and construct the tunnel is currently halted and the subject of a court battle between Enbridge and the state.
Mackinac Straits tunnel equals safety and jobs - Since 2016, I have advocated building a tunnel under the Straits of Mackinac. Think like the Chunnel, the 31.5-mile tunnel under the English Channel that connects England and France. People are likely riding through it as you read this, safely, quickly and without disruption to the waters above. A Mackinac Straits tunnel would connect our Upper Peninsula and Lower Peninsula and be much shorter at only four miles long. Instead of transporting people, it would serve as a utility tunnel containing a new energy pipeline to transport energy for Michigan's family and business needs. A tunnel is the solution that both protects our environment and your budget. Here are just a few reasons why: Safeguarding the Great Lakes. The Line 5 pipeline today rests on the floor of the Great Lakes near the convergence of Lake Michigan and Lake Huron. While the pipeline has safely satisfied our energy needs for decades, an MST would be beneath the floor of the Straits by utilizing 21st century technology to fulfill Michigan's ecological responsibility to protect Great Lakes waters. Providing affordable propane to heat Michigan's homes and small businesses. 55% of Michigan's propane arrives via Line 5 (including 65% of the Upper Peninsula's), which is how many families heat their homes during Michigan's winter wonderland months. Abruptly closing Line 5 and canceling the tunnel infrastructure project, without an affordable alternative energy supply for consumers, means lower thermostats and higher heating bills. The result would be like imposing a "heating tax" on our fellow Michiganians. Building an MST would continue to permit affordable propane to be piped into our state to heat homes and businesses.Michigan energy production and jobs. The oil and gas production industry in Michigan provides thousands of direct and in-direct jobs that create a significant positive economic impact. An MST would continue to provide Michigan energy producers a competitive means to get their product to market. Shutting down Line 5, with no clear alternative, would mean Michigan energy production could grind to a halt, put people out of work and hurt our economy.
Court rules in favor of Enbridge in Line 5 tunnel fight - Legislation approved under former Gov. Rick Snyder to allow for construction of a tunnel to house a new Enbridge Line 5 crude oil pipeline under the Straits of Mackinac is constitutional, the Court of Claims ruled Thursday. The ruling by Judge Michael Kelly overturns an opinion by Attorney General Dana Nessel and is also a setback for Gov. Gretchen Whitmer, who has ordered state agencies to stop work on approvals and other actions related to the tunnel. Nessel and Whitmer both said they will appeal the ruling. "The state of Michigan will not rely on a foreign corporation to protect and preserve our state's most precious resource, its Great Lakes," Nessel said in reference to Enbridge, a Canadian oil giant. Opponents of the tunnel say there is too great a risk of a catastrophic oil spill in the environmentally sensitive straits during the several years it would take to build the $500-million tunnel, at Enbridge's Proponents of the tunnel say it is the safest way to get the pipeline out of the water while ensuring delivery of propane, used for home heating, to the Upper Peninsula, and crude oil to refineries in Detroit and northern Ohio. Nessel issued an opinion in March that said the tunnel legislation violates the Michigan constitution because it did not have a single purpose described in its title, as the constitution requires.
Michigan judge clears way for Enbridge Line 5 - — A state judge on Thursday handed Enbridge Energy a victory in its quest to build a tunnel around its Line 5 oil and gas pipeline in the Straits of Mackinac. Michigan Court of Claims Judge Michael J. Kelly ruled that the Republican-led Legislature did not violate the Constitution when it enacted a 2018 law creating an authority to oversee and operate the tunnel. The ruling sides with the Canadian pipeline giant in its request to uphold a series of agreements made last year with Republican Gov. Rick Snyder to replace the Straits pipelines and bury new lines in a bedrock tunnel expected to cost Enbridge $500 million. It comes as Attorney General Dana Nessel is separately suing to shutdown the pipeline. The ruling could pave the way for that project to proceed, but Nessel vowed to appeal. "The State of Michigan will not rely on a foreign corporation to protect and preserve our state's most precious resource, its Great Lakes," she said in a statement Thursday.In the same statement, Nessel accused Enbridge of misrepresenting its financial holdings when entering the tunnel deal with Snyder's administration — an issue that concerns whether the company would cover the cost of a potential oil spill. Nessel released a 120-page report her office commissioned on the issue.Enbridge sued the state earlier this year after Democatic Gov. Gretchen Whitmer — Snyder's successor — halted work on the tunnel plan in late March. Whitmer's move came after Nessel, in a legal opinion, found the law creating a tunnel oversight board unconstitutional. Both Nessel and Whitmer campaigned on shutting down the pipeline, and they opposed the deal with the Snyder administration that was finalized during his final days in office.
Enbridge and its controversial Line 3 pipeline targets of hoax - – A group calling itself the Indigenous Pipeline Council carried out an extensive hoax over the weekend, holding a news conference about bringing an oil pipeline through Duluth only to send a news release posing as Enbridge condemning the proposal."It's completely fake. It's a hoax," Enbridge spokeswoman Juli Kellner said. "They sent a fake news release from Enbridge, they sent a fake news release from themselves."On Saturday, two members of the group calling themselves Carl Iron Eyes and Coyote Mick Tomi — actually indigenous activists Gitz Crazyboy and Tito Ybarra — held a news conference in Duluth announcing a pipeline route that "cuts a jagged but efficient path through golf courses, cemeteries and neighborhoods" in an apparent protest of the Line 3 pipeline."It ensures that those who share in the wealth from oil production and transport also share in the risk," said Tomi.He and Iron Eyes, wearing suits and ties with American flags on their shirts, gave a deadpan delivery of their tongue-in-cheek proposal, according to a video of the event. "The IPC has a program to relocate residents to a beautiful parcel of land on the other side of Morgan Park, with free medical services and ample leisure opportunities," Iron Eyes said. Enbridge is long finished with the short Wisconsin portion of its $2.6 billion Line 3 replacement pipeline. The Minnesota portion still needs regulatory approvals.MoreWhen reached by the Star Tribune on Monday, the pair did not break character and said they had already "successfully and respectfully removed some remains" in the fake project's right of way. Monday night, prank organizers the Yes Men came clean with their role in the stunt alongside groups Honor the Earth and Stop Line 3. "It's hard to imagine that a pipeline as bad as the IPC's could exist, but it's actually close to the truth, just in reverse," said Winona LaDuke, executive director of Honor the Earth. The actual proposed Line 3 replacement would travel 330 miles across Minnesota, bringing 760,000 barrels of oil per day from Alberta to in Superior, Wis.
Senate committee gives nod to bipartisan felony trespassing bill -- A Senate committee has approved bipartisan legislation that would make it a felony to trespass on land associated with oil or gas companies and pipelines.The Senate Committee on Judiciary and Public Safety on Tuesday approved the bill 4-1 with Sen. Fred Risser, D-Madison, opposed. It now heads to the full Senate. A version of the bill already passed the Assembly.Supporters say the bill is designed to protect critical infrastructure and utility workers, while also guarding the right to protest, but more than 20 environmental groups — including Midwest Environmental Advocates, Wisconsin Resources Protection Council and the Wisconsin chapter of the Sierra Club — have opposed the bill, arguing it would silence groups that protest pipeline projects. The bill would expand existing protections already granted in state law to electric utility companies to also include gas or oil companies and their pipelines, water utilities and other energy generation, storage and transportation systems.
Appeals court hears dispute over pipeline compressor station (AP) — Lawyers for opponents of a natural gas compressor station proposed in a historic African American community in Virginia told a federal appeals court Tuesday that the state has failed to carefully consider the potential health impacts of the station and "unequal treatment" of the people who live near it. A three-judge panel of the 4th Circuit U.S. Court of Appeals heard arguments from opponents who want to overturn a permit granted by the State Air Pollution Control Board for developers of the Atlantic Coast Pipeline to build a compressor station in Union Hill, an unincorporated community that was founded by freed slaves after the Civil War. Opponents are concerned that exhaust from the station could cause harmful health effects on nearby residents. The judges peppered lawyers for the board and Dominion Energy about whether the state carefully examined the potential health impacts on Union Hill residents. David Neal, a senior attorney with the Southern Environmental Law Center, urged the board to throw out the permit. Neal said the state Department of Environmental Quality refused to consider using electric motors for the compressor station, an alternative technology he said would greatly reduce or eliminate emissions from the station. Jon Mueller, an attorney for the Chesapeake Bay Foundation, said it is the responsibility of the board to protect the approximately 200 residents — mostly African Americans — who live near the compressor station site from harmful emissions and from "unequal treatment." He said many of the residents have pre-existing health conditions that could be exacerbated by emissions from the station.
Legislative committee wants Cooper, top aides to testify at oversight hearing (WBTV) – A legislative committee investigating the circumstances by which the administration of Governor Roy Cooper approved a key permit for the Atlantic Coast Pipeline last year has asked that Cooper appear before the committee to answer questions. The request came in a letter from North Carolina Senator Harry Brown (R-Onslow) and Representative Dean Arp (R-Union), who co-chair the subcommittee of the Joint Legislative Commission on Government Operations that was formed to investigate the ACP matter. In a bipartisan vote of the subcommittee's members last December, lawmakers voted to hire an outside investigative firm to conduct the probe into whether approval of the key ACP permit was tied to a separate deal being negotiated between the solar industry and Duke Energy, a major investor in the pipeline. A WBTV investigation has previously found a link between the pipeline permit and the solar deal, which Cooper and his staff have denied. More recently, lawmakers have indicated their desire to have Cooper and staff testify before the subcommittee prior to a final report being issued detailing the investigation's findings.Cooper and his staff have previously said they would not testify without first knowing what information investigators had uncovered.
Coast Guard, Virginia agencies monitoring oil spill possibly moving towards Outlook Beach in Hampton – Coast Guard Sector Hampton Roads pollution responders are investigating a sheen that was reported Monday, near Outlook Beach. "The spilled material is most likely a petroleum product, likely oil or fuel from with an unidentified source," said Lt Mitchell Latta, Chief of the Incident Management Division, from Coast Guard Sector Hampton Roads. "We are working closely with state and local representatives on the response and believe this is not an on-going spill." Reports say that an oil spill is believed to have originated at the mouth of the James River has made its way toward Outlook Beach at Fort Monroe. However, the source and amount of the spill are unknown. Out of an abundance of caution, the Coast Guard has opened the Oil Spill Liability Trust Fund to pay for any necessary response efforts. The Coast Guard has taken a sample of the product, investigated the spill by helicopter and is searching for the source of the product along with the Virginia Department of Environmental Quality. The Coast Guard has also been coordinating response efforts with the Virginia Department of Environmental Quality, the Virginia Department of Emergency Management, Fort Monroe Authority and the City of Hampton. The City of Hampton will keep Outlook Beach closed while cleanup and spill investigation continue. There has been no observable impact to wildlife, reports say.
Outlook Beach in Hampton is closed due to oil spill - (WAVY) – Officials in Hampton have closed Outlook Beach until further notice as they investigate an oil spill. The spill, which may have originated at the mouth of the James River, made its way toward Ft. Monroe Sunday, according to officials. Officials believe the oil may be moving towards Buckroe Beach. Multiple agencies, including the Virginia Marine Resources Commission, Department of Environmental Quality, Ft. Monroe Authority, National Oceanic & Atmospheric Administration and the Coast Guard are monitoring the spill.
U.S. Coast Guard responds to three spills - The U.S. Coast Guard is responding to an oil sheen in Breton Sound, Block 37, Louisiana. It is just one of three spill responses underway on Monday. The three-mile by 10-mile sheen originated from a damaged and inactive wellhead owned by Texas Petroleum Investment Company (TPIC). Currently, the well is intermittently discharging a mixture of oil, water and mud. The cause of the damage to the wellhead is unconfirmed and is currently under investigation.TPIC has assumed control of the spill as the responsible party contracted. OMI Environmental Solutions, American Pollution Control Corporation and Clean Gulf Associates are cleaning up the spill. Seven response boats from OMI Environmental Solutions and Clean Gulf Associates are on-scene conducting containment and recovery operations, with 84 gallons of oily water mixture reportedly recovered so far. 5,000 feet of boom has been deployed on the northwest corner and south of Breton Island. . Coast Guard Sector Hampton Roads pollution responders are investigating a sheen that was reported on Monday, near Outlook Beach in Hampton, Virginia. "The spilled material is most likely a petroleum product, likely oil or fuel from with an unidentified source," said Lt Mitchell Latta, Chief of the Incident Management Division from Coast Guard Sector Hampton Roads. "We are working closely with state and local representatives on the response and believe this is not an on-going spill."The source and amount of the spill are unknown. The Coast Guard is responding to a crude oil discharge in Pass A Loutre Wildlife Management Area, Louisiana, where crude oil is leaking from a storage tank owned by Whitney Oil and Gas.The maximum potential for the spill was estimated to be 2,520 gallons, but the discharge was contained before all the contents of the tank entered the water.Currently, there is three hundred feet of containment boom, one oil skimmer and two oil spill response boats on scene. OMI Environmental Solutions has been contracted as the Oil Spill Response Organization to clean up the spill.
Battle to protect Florida coast from offshore drilling continues - The fight to protect Florida's Gulf Coast from offshore oil and gas drilling is far from over. That was the update delivered on Oct. 28 during a presentation at the Sanibel and Captiva Islands Chamber of Commerce's monthly Business After Hours, held in partnership with the Sanibel-Captiva Conservation Foundation and Oceana - an international advocacy organization focused on ocean conservation that is leading a national campaign to prevent the expansion of offshore oil drilling. "Florida is still at risk," Oceana Offshore Drilling Campaign Director Diane Hoskins said. The Bureau of Ocean Energy Management (BOEM) develops the Outer Continental Shelf Oil and Gas Leasing Program (National OCS Program) for oil and gas development. The program establishes a five-year schedule of oil and gas lease sales proposed for the U.S. Outer Continental Shelf, and BOEM currently is working under the approved 2017-2022 program. In 2017, President Donald Trump issued Executive Order 13795 and Secretary of the Interior Ryan Zinke issued Secretarial Order 3350. As a result, BOEM is in the process of developing a new National OCS Program for 2019-2024. If approved, the draft program will supersede the 2017-2022 program. Hoskins reported that the draft proposes opening nearly all U.S. waters to offshore drilling. More than 370 municipalities and over 2,200 elected local, state and federal officials have formally opposed offshore oil and gas drilling - plus seismic air gun blasting - including more than 270 on the Atlantic and Gulf coasts. Both Republicans and Democrats, governors on the East and West coasts have expressed concern or opposition to expanded oil and gas exploration, development and production off their coasts, according to Oceana. "Political parties aside," she said, "both aisles of coastal communities oppose offshore drilling."
Hess Hits Oil Pay Near Tubular Bells - Hess Corp. Tuesday reported an oil discovery at the Esox-1 exploration well, located in Mississippi Canyon Block 726 in the deepwater Gulf of Mexico (GOM).Drilled in 4,609 feet (1,405 meters) of water, Esox-1 encountered approximately 191 net feet (58) of high-quality oil-bearing Miocene reservoirs, operator Hess noted in a written statement emailed to Rigzone. The discovery is located approximately six miles (10 kilometers) east of the Tubular Bells production facilities, and Hess stated the plan is to tie it back to the Tubular Bells infrastructure. Hess holds a 57.14-percent stake in Esox. Chevron U.S.A. Inc. owns the remaining 42.86-percent interest.
Oil Drillers Get $18B Break Thanks to Old Law-- The U.S. has forfeited some $18 billion tied to oil and gas production in the Gulf of Mexico since 2000 because of a decades-old law that gave energy companies a break on paying royalties when drilling in deep waters, federal investigators concluded Thursday. The foregone revenue will keep climbing, as energy companies continue to harvest oil and gas royalty-free from dozens of affected tracts in the Gulf, long after lawmakers realized sloppy legislative writing prevented the government from making the price breaks temporary. The dynamic is providing "corporate welfare at taxpayer expense," said Democratic Representative Raul Grijalva, the head of the House Natural Resources Committee who requested the Government Accountability Office report. At issue is a 1995 law Congress passed to spur deep-water drilling by waiving royalty payments that energy companies must make to the federal government for oil and gas extracted from federal waters. Some lawmakers said they aimed to make that royalty relief temporary if oil and gas prices or production jumped above certain levels. But specific price thresholds didn't make it into the statute or the lease contracts issued by the Clinton administration in 1998 and 1999. And in 2007, a federal court ruled the Interior Department couldn't force companies to pay royalties on production from even more deep-water leases inked between 1996 and 2000, saying they were barred by that federal law. If Congress intended to impose price thresholds on royalty relief, an appeals court later said, "it certainly knew how to do so." The misstep is benefiting a slew of oil and gas companies, including Exxon Mobil Corp., Equinor Gulf of Mexico LLC, Chevron USA Inc. and Eni Petroleum US LLC, according to lease data reviewed by Bloomberg. Oil industry advocates leaned on the 2007 court ruling affirming the royalty relief program. "The courts have ruled there was nothing ambiguous about the 1995 act," said Ben Marter, a spokesman for the American Petroleum Institute. "Those who would require the companies that took Congress at its word to now pay royalties retroactively are engaging in a dangerous game of bait-and-switch."
In parts of Louisiana's 'Cancer Alley,' toxic emissions set to rise with a raft of new plants - Over a half-century, Hazel Schexnayder saw her riverside hamlet of St. Gabriel transformed from a collection of old plantations, tin-roofed shacks and verdant cornfields into an industrial juggernaut. By the early 1990s, she'd had enough of the towering chemical plants and their mysterious white plumes, the roadside ditches oozing with blue fluid, the air that smelled of rotten eggs and nail-polish remover, the neighbors suffering miscarriages and dying of cancer. "We were inundated with plants," Schexnayder, now 87, said. "We didn't need any more around here." She and others began pushing back in 1993, and the following year, residents voted to turn their corner of unincorporated Iberville Parish into the city of St. Gabriel. They wanted sidewalks and other amenities, but more than that, they wanted some say over the chemical plants popping up in their backyards. While the newly created city was able to keep new plants out, the petrochemical pileup continued unabated beyond St. Gabriel's borders. "I bet you money there are 20 plants right now just around St. Gabriel," Schexnayder said, nearly twice as many as there were when the incorporation drive began.She's not even close. There are now 30 large petrochemical plants within 10 miles of her house, most of them outside the city limits. Thirteen are within a 3-mile radius of her home. The nearest facility, only a mile away, is the world's largest manufacturer of polystyrene, commonly known as Styrofoam. Stories of fed-up Louisianans like Schexnayder fighting back against corporate polluters have gotten worldwide media attention over the last year, as a raft of enormous new petrochemical facilities takes shape along the Mississippi River corridor. Much of the focus has been on the potential hazards posed by specific plants, including the $9.4 billion plastics factory that Formosa plans to build in St. James Parish and the long-standing Denka neoprene facility in St. John Parish, whose dangerous emissions were highlighted in an Environmental Protection Agency model that estimates cancer risk around chemical plants. Indeed, the stretch of the Mississippi River between New Orleans and Baton Rouge is nicknamed "Cancer Alley" because of its concentration of petrochemical facilities.
Residents Fight Back as 'Cancer Alley' Is Getting Even More Toxic - Sharon Lavigne knows some 30 people who have died in and around her tiny parish of St. James, Louisiana, in just the past five years. She buried two close friends this past weekend — one died of cancer, the other heart disease. Two of her brothers have cancer, and her boyfriend of 17 years died of COPD, a respiratory disease linked to air pollution and chemical fumes, in 2013. He was "vibrant and healthy," she says, until a pipeline company expanded its operations next to his home, adding millions more gallons of crude oil storage tanks. "It was the pollution that killed him," Lavigne says. This is life in "Cancer Alley," an 85-mile stretch along the banks of the Mississippi River between Baton Rouge and New Orleans, where industry leaders like ExxonMobil, Koch, and Shell operate about 150 fossil fuel and petrochemical facilities. Seven of the 10 census tracts with the highest cancer risk in the nation are found here. The exceptionally elevated toxic air emissions released by the industry are linked to a host of ailments, from cancer to cardiovascular and respiratory disease to reproductive and developmental disorders. And in St. James, toxic facilities are increasingly concentrated in areas with the highest percentage of black and poor residents.It is the frontline of environmental racism. And it is poised to get worse. The first petrochemical plant opened down the road when she was a student at St. James High. There are now 12 petrochemical plants within a 10-mile radius of her home. The air still fills with the sweet syrupy scent of candy when the sugarcane is harvested in the area, but now it's often overwhelmed by acrid smells that irritate the eyes, sinuses, and skin. "We are boxed in from all sides by plants, tank farms, and noisy railroad tracks," says Lavigne. "We live in constant fear." Since 2010, 333 new chemical manufacturing projects have been announced in the U.S., mostly along the Gulf Coast, according to the American Chemical Council. Much of the new infrastructure is dedicated to plastics – 99 percent of which is made from chemicals derived from oil or natural gas. The International Energy Agency predicts that in 2050, 50 percent of the growth in oil demand will be related to plastics production, overtaking that for passenger cars. St. James is also the endpoint of the Bayou Bridge pipeline, which became operational in June. It's the final extension of the Dakota Access Pipeline, carrying fracked oil from North Dakota, the subject of years of mass protest before Trump ordered its completion within days of taking office in 2017.
Even Louisiana's Wealthier Neighborhoods Can't Escape Toxic Air in "Cancer Alley" — ProPublica Industrial development usually targets poor communities, but Ascension Parish is one of the richest, and most toxic, places in Louisiana. Some residents say the financial benefits of living there outweigh the risks.Once a sleepy stretch of cane fields and plantation houses, Louisiana's river corridor has been remade over the past century into a petrochemical powerhouse. When chemical companies looked to build along the Mississippi, areas next to black neighborhoods were typically the first to see the swap of sugar cane for smokestacks. After World War II, "you started to see the aggressive push of industry into rural, predominantly black, plantation lands," s But Louisiana's love affair with oil and gas, while disproportionately affecting black communities, has hardly spared white communities. Ascension Parish is perhaps the clearest example of this phenomenon. According to the U.S. Environmental Protection Agency's annual Toxics Release Inventory, plants in Ascension Parish emit greater quantities of toxic chemicals from industrial stacks than anywhere else in the country. While this method of measuring releases doesn't factor in the toxicity of each pollutant, it signals relative levels of total chemical activity across regions. Unlike most industrial parishes, Ascension is among Louisiana's whitest and most affluent. It's also the third-fastest growing parish in Louisiana. Families flock here for affordable new housing, low crime rates, a booming business climate and some of the state's best schools. In all conventional measures, Ascension Parish is thriving. Winding River, Changing Demographics Though today's Ascension Parish challenges some Louisiana archetypes, it hasn't always looked this way. In the 1940s, according to Colten, petrochemical facilities began popping up on on long, narrow plots that were once part of plantations. These included two such stretches in Ascension Parish, where black families that had settled nearby were either displaced or exposed to increasingly toxic air. Indeed, in the Ascension Parish communities of Geismar and Donaldsonville, the neighborhoods closest to clusters of industry are still some of the most heavily black and poorest sections of the parish. Over the last decade, toxic emissions in Ascension Parish have increased by 109%, to 28 million pounds in 2018, according to analyses by ProPublica and The Times-Picayune and The Advocate. Elsewhere in Louisiana, only St. Charles Parish saw such a jump. The number of plants in Ascension Parish required to report their emissions also increased from 17 to 21 over that period. Some of the air in Geismar near these new developments is estimated to be more toxic with cancer-causing chemicals than 99.6% of the area throughout the seven Mississippi River parishes between Baton Rouge and St. Charles, according to our analysis of EPA data.
US net gas exports double year-ago levels - U.S. net natural gas exports averaged 4.1 billion cubic feet per day (Bcf/d) through the first half of 2019 — more than double the average net exports in 2018 (2.0 Bcf/d), the Energy Information Administration reports. The U.S. became a net natural gas exporter on an annual basis in 2017 for the first time in almost six decades. While the U.S. exports natural gas by pipeline to Canada and Mexico, liquefied natural gas exports is where much of the recent increase in total exports comes from, and is a result of more LNG facilities coming online. Total U.S. exports of LNG through the first half of 2019 were 37% higher compared with the same period in 2018. Total U.S. LNG export capacity as of June 2019 was 5.4 Bcf/d across four facilities and nine liquefaction trains. Two new liquefaction units, trains, came online in the first half of 2019: Cameron LNG Train 1 in Louisiana, and Corpus Christi LNG Train 2 in Texas. Cameron LNG was the fourth U.S. LNG export facility placed into service since February 2016. Cameron LNG, which will have a capacity of 1.7 Bcf/d when its three liquefaction trains are completed, shipped its first cargo in May (as part of the initial commissioning process) and then another one in June before ramping up operations in July and August. Corpus Christi LNG Train 2, with a capacity of 1.2 Bcf/d, shipped its first cargo in June and reached substantial completion in September. More LNG facilities have come online in the second half of 2019: Freeport LNG in Texas, with a capacity of 2.0 Bcf/d; and Elba Island in Georgia, with a capacity of 0.3 Bcf/d, both shipped their first commissioning cargos. These two new LNG export facilities, along with the completion of Cameron LNG, will increase U.S. LNG export capacity 81.6%, to 8.9 Bcf/d by the end of 2019, from 4.9 Bcf/d at the end of 2018. Although U.S. LNG exports have grown substantially, most U.S. natural gas trade is transported via pipeline across shared borders with Canada and Mexico. In the first half of 2019, net exports of natural gas by pipeline to Mexico grew 5%, and net exports of natural gas by pipeline to Canada remained relatively flat. In every month from April through August, U.S. natural gas exports by pipeline have exceeded natural gas imports by pipeline — the longest consecutive stretch of exporting more natural gas by pipeline than importing by pipeline on record. U.S. pipeline export capacity to Canada grew in the last few months of 2018 when the second phase of both the Rover Pipeline and the new Nexus pipeline entered service, transporting natural gas from the Marcellus and Utica Shale plays to the St. Clair point of exit northeast of Detroit, Michigan. Total U.S. natural gas exports to Canada reached 3.3 Bcf/d in February 2019, the highest level this year as of August 2019.
U.S. net natural gas exports in first-half 2019 doubles year-ago levels for second year – EIA - From January through June of 2019, U.S. net natural gas exports averaged 4.1 billion cubic feet per day (Bcf/d), more than double the average net exports in 2018 (2.0 Bcf/d), according to data in the U.S. Energy Information Administration's (EIA) Natural Gas Monthly. The United States became a net natural gas exporter (exported more than it imported) on an annual basis in 2017 for the first time in almost 60 years. The United States exports natural gas by pipeline to neighboring Canada and Mexico and exports liquefied natural gas (LNG) to several other countries. Much of the recent increase in total exports is a result of more LNG facilities coming online. Total U.S. exports of LNG through the first half of 2019 were 37% higher compared with the same period in 2018. Total U.S. LNG export capacity as of June 2019 was 5.4 Bcf/d across four facilities and nine liquefaction trains. Two new liquefaction units—referred to as trains—came online in the first half of 2019: Cameron LNG Train 1 in Louisiana and Corpus Christi LNG Train 2 in Texas. Cameron LNG was the fourth U.S. LNG export facility placed into service since February 2016. Cameron LNG, which will have a capacity of 1.7 Bcf/d when its three liquefaction trains are completed, shipped its first cargo in May 2019 (as part of the initial commissioning process) and then another one in June before ramping up operations in July and August. Corpus Christi LNG Train 2, with a capacity of 0.6 Bcf/d, shipped its first cargo in July and reached substantial completion in September. More LNG facilities have come online in the second half of 2019: the first train at Freeport LNG in Texas, with a capacity of 0.7 Bcf/d, and the first ten trains at Elba Island in Georgia, with a capacity of 0.03 Bcf/d. These two new LNG export facilities, along with the completion of Cameron LNG, will increase U.S. LNG export capacity to 8.9 Bcf/d by the end of 2020 from 4.9 Bcf/d at the end of 2018. Although U.S. LNG exports have grown substantially, most U.S. natural gas trade is transported via pipeline across shared borders with Canada and Mexico. In the first half of 2019, net exports of natural gas by pipeline to Mexico grew by 5%, and net exports of natural gas by pipeline to Canada remained relatively flat. In every month from April through August, U.S. natural gas exports by pipeline have exceeded natural gas imports by pipeline, the longest consecutive stretch of exporting more natural gas by pipeline than importing by pipeline on record. U.S. pipeline export capacity to Canada grew in the last few months of 2018 when the second phase of both the Rover pipeline and the new NEXUS pipeline entered service, transporting natural gas from the Marcellus and Utica plays in the Appalachian Basin to the St. Clair point of exit northeast of Detroit, Michigan. Total U.S. natural gas exports to Canada reached 3.3 Bcf/d in February 2019, the highest level this year as of August 2019.
U.S. gas market struggles with persistent oversupply- Kemp – (Reuters) - U.S. natural gas stocks have surged during the injection season and are now above the five-year seasonal average for the first time in two years, despite a slump in prices and a sharp drop in the number of rigs drilling for gas. Working stocks in underground storage have risen by 2,465 billion cubic feet (bcf) since the start of April, the largest seasonal gain since 2014, according to data from the U.S. Energy Information Administration (EIA). Stocks have moved above the five-year average this month for the first time since September 2017 and are now 519 bcf (17%) above the same point last year ("Weekly natural gas storage report", EIA, Oct. 24). In response, prices have slumped in a bid to encourage power producers to buy as much gas as possible and run their gas-fired generation units for more hours at the expense of coal-fired power stations. Futures prices for gas delivered to Henry Hub during calendar year 2020 have fallen to less than $2.50 per million British thermal units, down from almost $2.70 at the same point last year and nearly $2.90 two years ago. Domestic gas production has soared faster than either consumption by domestic power producers or the ability of the export market to absorb it (https://tmsnrt.rs/32UHfmQ). Gas production rose by 10.5% in the three months between May and July compared with the same period a year earlier, only a modest slowdown from a record growth rate of 13.7% in August-October 2018. By contrast, gas consumption by power producers was up by just 1.1% in the three months between May and July from a year earlier, an abrupt deceleration from growth of 18.5% in August-October 2018. Net gas exports continued to accelerate and were up by 342 billion cubic feet between May and July compared with a year earlier. But even the massive rise in exports was not sufficient to prevent a near-record increase in gas stocks during the injection season.
Natural-Gas Prices Jump as Producers Promise Restraint – WSJ -Investors are rewarding energy companies who are promising to produce less energy. The producers that have glutted the market with cheap shale gas are finally relenting, dialing back drilling plans and pledging restraint after years of depressed prices battered their growth-centric business models.
Natural Gas Prices Explode Higher This Week As Forecasts Turn Colder -- What a week it has been in the natural gas market, and we have not even reached the middle of the week yet. Today was the last day the November contract will be on the board, and it went out with a bang, up nearly 30 cents from Friday's close. The entire curve has gotten in on the "rally" act, though the front has been where the biggest gains have come. The reason for the monster rally? Weather. Yes, it is that time of year where focus shifts to Mother Nature in terms of what will most drive natural gas volatility. We have seen quite the colder change for the first half of November since back on Friday. Here is what the models showed in terms of forecast Gas-Weighted Degree Days (GWDDs) last night, compared to just 24 hours prior. Notice both the GEFS and the ECMWF Ensemble (EPS) showed much higher forecast demand, and that doesn't even account for colder changes seen over the weekend. A better visual image is the GEFS forecast from 5 days ago, valid next week. That's not a big warm look by any means, but look at how the forecast trended as it rolled forward, seen in this morning's run of the same model, also valid next week. The trend has very obviously been in the colder direction, quite solidly. With the market so heavily short, a solid bullish catalyst (enter weather) can force at least some of the shorts to cover, enhancing the rally, and that's likely been a big part of what we have seen the last couple of days.
NYMEX natural gas inches lower after higher than expected storage build report | S&P Global Platts — The NYMEX front-month natural gas contract settled 4.80 cents lower in Thursday trading after the storage build report announced by the US Energy Information Administration was higher than expected. The front-month contract dropped 5.80 cents to settle at $2.633/MMBtu, moving within a range of $2.606-$2.738/MMBtu. "Not only did we miss expectations with a higher than expected injection of 89, it still leaves us 1.4% above the five-year average, something we've only been able to say these past few weeks," said Phil Flynn, senior market analyst at Price Futures Group. "Production data shows we are still going to see very strong production for gas. Right now, what's keeping this market elevated is the cold weather." The EIA announced an 89 Bcf injection for the week ended October 25, 4 Bcf higher than predicted by a survey conducted by S&P Global Platts Analytics and 24 Bcf higher than the five-year average. Total US production reached an all-time high of 92.7 Bcf/d on October 28 and continued to stay strong. Dry production sat at 90.9 Bcf Thursday and was predicted by Platts Analytics to tick up to an average of 91.4 Bcf in the next eight to 14 days. Total US demand, including exports to Mexico and LNG feedgas exports, reached 97.1 Bcf/d Thursday, the highest daily level since mid-March, according to Platts Analytics. It was predicted that demand will fall over the coming weeks, averaging 95.4 Bcf/d in the next eight to 14 days. The most recent eight- to 14-day outlook from the US National Weather Service called for cooler-than-average temperatures in the Midcontinent and Northeast, parts of the Rockies, Texas, and Southeast, with warmer-than-average temperatures in the Southwest, Pacific Northwest and parts of Texas and Florida.
Delfin pushes decision to build Louisiana floating LNG export project to 2020 – (Reuters) - Delfin Midstream Inc has delayed its plan to make a final investment decision on its proposed Delfin Floating Liquefied Natural Gas (FLNG) export terminal in the Gulf of Mexico off Louisiana to 2020 from 2019:
* Delfin said in a release on Tuesday it entered into new agreements for front-end design and engineering work on a newbuild FLNG vessel with units of Samsung Heavy Industries Co Ltd and Black & Veatch.
* The company said it was on track to complete an Engineering, Procurement and Construction (EPC) contract in mid-2020.
* With the 2020 target for a final investment decision, the company said it was looking at first LNG production in mid 2024.
* "While the (U.S.-China) trade dispute delays a firm agreement with Chinese offtakers, we are certainly continuing our discussions and negotiations with Chinese offtakers as well as shipyards and financiers," Delfin Chief Operating Officer Wouter Pastoor said in an email.
* Before the trade war heated up in mid 2018, Delfin had signed a preliminary agreement to sell gas to China Gas Holdings Co Ltd.
* Delfin's project seeks to use existing offshore pipelines to supply gas to up to four FLNG vessels that could produce up to 13 million tonnes per annum (MTPA) of LNG or 1.7 billion cubic feet per day (bcfd) of natural gas.
* One billion cubic feet is enough gas to supply about 5 million U.S. homes for a day.
* The company is also developing the Avocet LNG project with slots for two additional FLNG vessels.
* Delfin says its FLNG model should allow it to supply gas to customers at lower costs than onshore LNG export terminals. All big LNG export terminals operating in the United States liquefy gas at onshore facilities.
* The Delfin plant is one of dozens of LNG export projects under development in the United States, Canada and Mexico.
UAE Firm to Invest in Texas LNG Project Developer - Mubadala Investment Co., the Abu Dhabi government-owned sovereign wealth fund, has agreed to purchase $50 million of NextDecade Corp's common stock in a private placement, the companies reported Thursday. NextDecade, which is developing the Rio Grande LNG export project in Brownsville, Texas, will issue the common stock to Mubadala at a price of $6.27 per share, according to a joint written statement from the firms. "We are honored to welcome Mubadala, a leading global investor, as a shareholder in our company," NextDecade Chairman and CEO Matt Schatzman commented. "Mubadala brings a valuable perspective on large-scale infrastructure investment and the growing role of LNG in the Middle East and other markets around the world. We look forward to a strong and lasting partnership." In conjunction with the deal, the companies also stated that Mubadala will receive a seat on NextDecade's board of directors. Also, Mubadala – whose global investment portfolio across various industries totals $229 billion – will be able to contribute project-level capital upon the Rio Grande LNG final investment decision. As Rigzone reported in May 2018, the Rio Grande project would take in associated natural gas shipped from the Permian Basin. The 27-million-ton-per-annum, six-train Rio Grande LNG export terminal in the Port of Brownsville would receive gas via the Rio Bravo Pipeline. The pipeline – a project NextDecade is developing with Enbridge Inc. – would deliver up to 4.5 billion cubic feet per day of Permian and Eagle Ford Shale gas from the Agua Dulce supply area near Corpus Christi. In May of this year, Rigzone also reported that Bechtel Oil, Gas and Chemicals won Rio Grande LNG engineering, procurement and construction contracts worth more than $9.5 billion.
Texas Hit Hard By Shale Slowdown - Texas' economy is perhaps the most vulnerable to oil price swings given its leading role in the country's oil industry. Recently, as prices have remained low, talk has begun about the outlook for the state's economy.According to a recent Reuters report, for example, smaller independent oil and gas producers in the Lone Star State are struggling to get loans from banks as the latter become increasingly wary of the ability of the borrowers to return the money when the time comes.Jobs in the Texas oil and gas industry are falling, too. The Houston Business Journal reported this month that September saw a 1,100 decline in the number of jobs in the mining and logging sector—the category that includes oil and gas jobs. Over the 12 months from September 2018, the state's oil and gas industry added just 1,700 new jobs, which was the lowest number of new job additions to any Texas industry over the same period, data from the Texas Workforce Commission showed.Yet not everyone is worried. The University of Houston Energy Fellows, for instance, wrote in an article for Forbes that "the alarm bells are premature." While the experts that make up the group acknowledge there are plenty of reasons to be worried about the economy of Houston—the article focuses on the city—oil prices are not among them.The trade war with China and the anticipation of a global economic slowdown caused by it is a top concern for any economy and Houston is no exception. Political economic problems in Europe are also a cause for worry. Yet, according to the University of Houston Energy Fellows, bankruptcies in the Houston oil and gas industry are only slightly higher this year than last, and the credit crunch energy independents are facing now is "far from comparable to 2015-16."True as this may be, there is no guarantee things will plateau at this level of problems and not deteriorate further. Reuters reports that banks have marked down the perceived value of U.S. oil and gas not just for next year but for the next five years. This value makes the foundation of reserve-based loans, so the lower it is, the less money the banks would be willing to give businesses.
Permian Water Project Secures Financing -A pipeline project that would transport non-potable reclaimed water from Lubbock, Texas, to industrial customers in the Permian Basin has cleared an important hurdle.Palisade Pipeline LLC reported Tuesday that it has closed development financing with Macquarie Capital to construct the pipeline, which would carry reclaimed water purchased from Lubbock's Southeast Water Reclamation Plant to oil and gas industry users in Texas and New Mexico."We are excited about the opportunity to preserve groundwater in the Permian Basin while providing a source of revenue to the City of Lubbock," Phillip Laughlin, Palisade's president, said in a written statement emailed to Rigzone. "We appreciate Macquarie Capital's support of this groundbreaking project."In addition to providing money for the project, Macquarie Capital will act as Palisade's sole financial advisor in the financing of the pipeline. The Lubbock City Council approved a letter of intent in June of this year to sell Palisade up to 6 million gallons per day of non-potable reclaimed water from its treatment facility.
US oil rig count up only by two as oil, gas prices down from 2018 levels: Enverus - The number of rigs drilling for gas and oil in US basins rose to 902 this week, up two rigs from the previous week, as prices for both commodities remained low compared with year-ago prices, according to data released Thursday by Enverus. The rig count for oil-directed rigs remained fairly steady week over week, as the number of rigs drilling for oil in the Permian Basin fell by two to 407, while the Bakken Shale rig count remained flat at 55, compared with the previous week. Average crude oil prices in the US rose to $54.20/b compared with $53.60 in the previous week. However, crude prices in the week fell $13.79/b compared with the same week of the previous year. In the Haynesville Shale play of northern Louisiana the number of gas-directed drilling rigs rose by two to 57, compared with the previous week, as average Henry Hub gas prices remained relatively flat at $2.18/MMBtu versus $2.19/MMBtu in the previous week. Gas prices in the basin were $1.08/MMBtu lower than prices in the comparable week of 2018. The number of rigs drilling for gas in the Appalachian Basin fell by six week over week, as the number of rigs targeting the Marcellus Shale fell to 36, four fewer than were operating in the play the previous week. The Utica Shale rig count fell to 15, down two from the previous week. Average gas prices as the Dominion South pricing point rose to $1.77/MMBtu up 33 cents/MMBtu from the previous week, but $1.27/MMBtu lower than prices recorded in the same week of last year.
Guv, NMED speak out against Trump administration's EPA methane regulation rollbacks -- The New Mexico Environment Department and Gov. Michelle Lujan Grisham strongly oppose the EPA's proposal to roll back regulations for methane and other emissions from the oil and gas industry.The EPA proposed removing some regulations covering methane and volatile organic compounds (VOCs) from transmission and storage sources and processing and production operations. The proposed rule changes will "save the industry millions of dollars in compliance costs each year," the EPA said, "while maintaining health and environmental regulations on oil and gas sources that the agency considers appropriate." NMED Secretary James Kenney submitted comments in opposition to the proposal to the EPA Thursday night. Kenney argued the proposed rule "preempts state law while imposing significant burdens upon state environmental agencies." "The proposed revisions will significantly degrade air quality and adversely impact public health throughout the U.S., including the State of New Mexico," Kenney said. Kenny's comments came after the EPA held a hearing on the proposal in Dallas last week. Several residents from New Mexico testified at the hearing, as did a representative of NMED. New Mexico residents living in and around the Permian Basin complained of blisters, nosebleeds and headaches as a result, they claim of emissions released by nearby oil and gas wells, according to the Carlsbad Current Argus. NMED Environmental Protection Division director Sandra Ely said the EPA should hold a second hearing on the proposal in New Mexico. "Our state will be uniquely affected by this proposal and the State should be provided an opportunity for more robust public involvement from those affected by the proposal," Ely said in her testimony. "A single public hearing and 60-day public comment period are woefully inadequate and disappointing, given the scope and consequences of this action."
Oil-backed Blue Wave: New Mexico funds progressive policy through fracking - As a senior at Native American Community Academy, Jonathon Juarez-Alonzo, 17, has been contemplating his next steps after high school. And as an organizer for Albuquerque's climate strike, he's worried about the future of New Mexico, a state on the front lines of climate change in the middle of a seemingly endless fracking boom. But when New Mexico's newly elected Democratic governor unveiled her new tuition-free college program for the state's residents, those two worries became one. In the 2018 midterms, Democrats swept New Mexico's elections: they flipped the state's sole red seat in Congress; elected Michelle Lujan Grisham, a Democrat, to the governor's office; and strengthened majorities in the state legislature. Emboldened by the "Blue Wave" and coming off eight years of a Republican governor, New Mexico Democrats began to pursue a progressive agenda, passing gun control legislation, raising the state's minimum wage, reducing marijuana penalties, and trying to fix the state's education system. In September, Lujan Grisham announced a proposal that would make New Mexico the first state in the country to eliminate tuition for all students in two- and four-year college programs, regardless of income, part of what her office says is a long term-initiative to diversify its economy. Proponents of the bill say it would be a boon for a state with one of the nation's highest poverty rates and some of the country's worst-performing public schools. But critics, and some students like Jonathon – who stands to benefit from tuition-free college – see a conflict at the core of the governor's plan: free college would be funded largely through revenue from the state's ongoing oil and gas boom. "We're not saying we don't want or we don't support free public education," Jonathon said. "But it's like we're in a hostage situation where we have to choose free public education or a livable planet in the future."
US House OKs protections near historical park in New Mexico - Chaco Culture National Historical Park is at the center of a decades-long debate over how to manage oil and gas development in a sprawling area of northwestern New Mexico that is dotted by sites tied to the park but that lie outside its boundaries. The U.S. House of Representatives on Wednesday approved legislation prohibiting drilling on the checkerboard of federal land that borders the park. The measure also calls for terminating existing non-producing leases in the area and suggests more studies and protective measures be taken to address health, safety and environmental effects on communities and tribal interests. Federal land managers have been deferring interest by the oil and gas industry in parcels within a 10-mile (16-kilometer) radius of the park to address the concerns of environmentalists and Native American leaders. The legislation would codify that practice, essentially establishing a buffer around the park. U.S. Rep. Ben Ray Lujan, a New Mexico Democrat, is among the sponsors. He remembers first visiting the park years ago when he was in his 20s. He said he is confident the legislation will have bipartisan support. He pointed to the willingness of Interior Secretary David Bernhardt to defer drilling leases around Chaco while regulators prepare a new management plan for the region's resources. Bernhardt's decision came earlier this year after touring the world heritage site and meeting with leaders from the Navajo Nation and New Mexico's pueblos. Similar legislation to create a protective zone around Chaco is pending in the Senate.
Thirty months after fatal Firestone blast, Colorado's widening web of underground pipelines still not fully mapped -Yet pipelines still fail, sometimes causing catastrophic harm, and oil and gas companies are resisting stricter controls. Problems along the larger pipelines in Colorado for which the federal government keeps records are reported at least once a month, an investigation by The Denver Post found. Colorado health officials say air pollution leaking from pipelines worsens climate warming. And state data shows pipelines as a source of toxic spills.The uncertainty about where lines are located has complicated efforts to create rules, let alone ensure inspections. Colorado officials estimated that a broad unregulated class of pipelines called "gathering lines" in the state spans tens of thousands of miles, but couldn't give a more precise number because they lack location information from companies, which still aren't required to provide it.State officials have asked companies only to give start-point and end-point coordinates for the smaller class of pipelines that industry officials and state regulators call "flowlines." These connect wells to surrounding equipment. (The data that companies have submitted, ahead of Thursday's deadline, indicates flowlines span at least 6,522 miles, an oil and gas commission spokeswoman said.)Among the Post's other findings:
— Along the bigger interstate lines in Colorado, federal data shows 35 "accidents" and "incidents" since early 2017. Those resulted from a variety of problems including leaky valves, ruptured seals and a farmer plowing too close. State records on oil and gas facilities along pipelines reveal multiple fires and explosions since April 2017. And pipeline companies in Colorado haven't been required to report all incidents.
— Nationwide, 438,000 miles of the 2.9 million miles of underground oil and gas pipelines are not regulated, according to calculations by the Pipeline and Hazardous Materials Safety Administration, part of the U.S. Department of Transportation.
— The number of serious pipeline incidents reported in the U.S. averages 32 a year, causing an average of 12 deaths and 66 injuries, a 2019 Congressional Research Service study found. As pipelines deteriorate, the number of serious incidents increased to 40 in 2018.
— For the pipelines that federal authorities oversee, 20 inspectors are tasked with covering Colorado and 11 other western states. And when the inspectors try to shut down pipelines where they suspect corrosion, they say they face resistance.
— Deficient pipelines cause roughly 10% of the toxic spills that contaminate Colorado soil, water and air, the state's engineering integrity supervisor Mark Schlagenhauf told The Post.
Colorado's lag in dealing with pipeline safety and environmental harm has compelled blast survivor Martinez — forced by her injuries to retire from her work as a high school chemistry teacher — to take on this matter as a family mission. Martinez now is advocating for comprehensive public mapping of all underground lines, frequent inspections including pressure tests before restarting abandoned lines, and a rule that companies must remove their old wells and lines. "I don't see why this industry can leave their trash in the ground. Flowlines that are abandoned need to be removed," she said. "It is your right to know what is under your house. And what is under the school where you are sending your kids?"
As Local Control of Fracking in Colorado Begins, Small-Town Elections Draw Big Money | Westword - Many Colorado voters sitting down to fill out their ballots this year will be doing something no one in the state has ever done before. In more than a dozen towns along the Front Range and beyond, residents are voting to elect mayors and city council members who will have the power to control where and how oil and gas development can take place within their city limits. A new law enacted by Democrats at the State Capitol in April, Senate Bill 181, empowered local governments to regulate drilling for the first time ever. For a handful of suburban communities north of Denver, where battles over fracking have been fought for years, these new "local control" powers have changed everything. The stakes have never been higher — and the money being spent on some local races proves it. In Thornton, mayoral candidate Jan Kulmann has raised over $70,000 for her campaign for the part-time position, campaign finance reports show, including more than $20,000 from Kulmann herself. An executive at Denver-based Whiting Petroleum, Kulmann has served on Thornton City Council since 2013. "Seventy thousand dollars is a lot of money for a city of Thornton race," says Suzie Brundage, an activist who unsuccessfully challenged Kulmann for her Ward 4 council seat in 2017. "For me, it's important that the people aren't drowned out by big corporate money, and that our voices don't get lost in all of this." Disclosures show that Kulmann's campaign has received more than $16,000 in contributions from organizations and individuals with ties to the fossil-fuel industry. That total includes $1,500 each from American Energy Advocates, a Fort Collins-based nonprofit, and Heidi Gill, a former Anadarko executive and founder of Urban Solution Group, which offers "mitigation planning" to oil and gas drillers operating near residential areas. Like many other municipalities in the region, Thornton has a fraught history with fracking and efforts to control it at the local level. While there has been no new drilling in Thornton in more than a decade, several major active or proposed projects sit just outside city limits in unincorporated Adams County or nearby Broomfield.
Op-Ed: Governor Polis, Answer the Youth Call for the End to Fracking | Westword - Two weeks of Colorado Climate Strike actions culminated in last month's rally in Civic Center Park with the inspirational sixteen-year-old Swedish climate activist Greta Thunberg, who ignited the global climate strikes. In Colorado and around the world, adults answered youth calls to join them in a week of action to address the climate crisis, which is imperiling their future. There were over 48 Climate Strike events statewide, with over 10,000 participants yielding over 100 news stories. Over 7.6 million people participated globally, making it the largest climate mobilization in history. At the Colorado climate protests, youth activists repeatedly called on Governor Jared Polis and other elected officials to stop permitting fossil fuel projects, including fracking for oil and gas, recognizing that the best available science requires us to cut fossil fuel emissions by at least 50 percent within a decade. Last year's UN International Panel on Climate Change report indicated that this level of emissions reduction is required to have even a 50 percent chance of keeping global temperature rise below 1.5 degrees Celsius to prevent the most dire global impacts from resulting in far more deaths and extinctions. For a 66 percent chance of meeting the UN goal, we have to stop burning all fossil fuels by 2035, and of course, we must act even sooner for a greater chance of protecting our children's futures. Unfortunately, instead of reducing emissions, recent NASA, Harvard and Cornell studies have confirmed that the frightening global methane spike over the last decade is a result of U.S. fracking. And, of course, when all of the fracked oil and gas is burned, it contributes even more greenhouse gas emissions. These are major cumulative impacts threatening the health, safety and very lives of billions of people — here in Colorado and around the world — and it's contributing to the sixth mass extinction period we've entered — with currently over 200 species going extinct every single day. Instead of answering the call of the youth to protect their future, Governor Polis (and the Colorado Oil and Gas Commission and Air Quality Control Commission under his leadership) are continuing to permit fracking at levels near the permitting under former governor John Hickenlooper (who bragged about drinking fracking fluid). Research released from the Department of Public Health shows health impacts to people living within 2,000 feet of fracking, including high levels of benzene, a carcinogen that is likely related to an increase in nosebleeds and childhood leukemia associated with living by fracking.
State Department Solicits Comments On Keystone XL Pipeline - On a windy night in Billings, Mont., Patricia Iron Cloud and about 60 others were protesting the Keystone XL pipeline ahead of a public meeting on Oct. 29. It was the public's first and only chance to meet with U.S. State Department officials about a new environmental analysis of the Keystone XL pipeline."I think it's at least 19 degrees right now," Iron Cloud said, shaking in a traditional ribbon skirt and ballet flats with no socks. "Who does that?"She's a tribal council member for the Fort Peck Assiniboine and Sioux tribes, and said she drove more than six hours in the snow to deliver this message: "The government needs to speak with us as people.""We have our children," she said. "I have 46 grandchildren."Later, Iron Cloud went inside to declare her opposition to the pipeline at a comment station with a stenographer.Because the pipeline would cross an international border, the State Department iscollecting public comments on its revised environmental impact statement for the pipeline. If built, the controversial extension would carry tar sands oil from Hardisty, Canada, to Steele City, Neb.The Obama administration killed the pipeline but President Trump revived it by presidential permit.The State Department event wasn't a hearing, more like an open house with poster boards, maps of the pipeline's proposed path and occasional arguments between people who came to offer comment.A woman stood up in the center of the room, clutching her phone in front of her to livestream the confrontation. "If you don't sign the contract your land will be taken through eminent domain, how is that a fair process?" she asked.
US State Department oil pipeline review doesn't ease worries (AP) — Opponents of the Keystone XL oil pipeline from Canada said the Trump administration is understating the potential for the line to break and spill into water bodies such as Montana's Missouri River, as the U.S. State Department held the sole public meeting Tuesday on a new environmental review of the long-stalled proposal. Backers say the $8 billion project would create thousands of construction jobs and boost local tax revenues. Sponsor TC Energy insists the line would be safe, despite spills on other lines operated by the company. A federal judge blocked it last year, saying more environmental study was needed. President Donald Trump issued a presidential permit for the line in March in a bid to avoid another unfavorable court ruling. The Republican has been a strong supporter and revived the project after it was rejected under President Barack Obama, in part over worries it would make climate change worse. Tuesday's meeting, held at a conference center in Billings, was not a public hearing and attendees were invited to use computer terminals to submit formal comments. But the event briefly turned into a shouting match between pipeline backers and opponents, reflecting Keystone XL's emergence as a political lightning rod since it was first proposed in 2008.
Trans Canada reports oil spill near Edinburg - Trans Canada reported an oil spill near Edinburg to the Walsh County Sheriff's Office at approximately 5:40 a.m. on Wednesday. Trans Canada is on site and working to clean the spill. The roads around the area have been closed to assist with cleanup. The Walsh County Sheriff's Office says security will be on site and will fine anyone found going around the closed road signs.
Keystone pipeline leaks unknown amount of oil in North Dakota - A pipeline that carries tar sands oil from Canada through seven states has leaked an unknown amount of crude oil over more than a quarter-mile swath in northeastern North Dakota, state environmental regulators said Wednesday. State Environmental Quality Chief Dave Glatt told The Associated Press that regulators were notified late Tuesday night of the leak near Edinburg, in Walsh County. Glatt said pipeline owner TC Energy shut down the pipeline after the leak was detected. The cause of the spill is under investigation.The Calgary, Alberta-based company formerly known as TransCanada did not immediately respond to AP's phone messages seeking comment Wednesday. State regulators were on the scene Wednesday afternoon, and they estimated that the area of the spill was 1,500 feet long by 15 feet wide. Glatt said some wetlands were affected, but not any sources of drinking water.
Keystone Leaks Crude Oil in North Dakota on Same Day as Trump State Department Pipeline Hearing --The Keystone pipeline spilled an unknown amount of crude oil across a quarter-mile area of northeastern North Dakota on Tuesday, the same day the Trump State Department held its sole public hearing on an environmental analysis of the widely opposed Keystone XL project. North Dakota environmental officials said Wednesday that they became aware of the leak late Tuesday night, and TC Energy — the pipeline's owner — shut down the tar sands pipeline for an investigation into the spill.The local Grand Forks Herald reported that TC Energy, previously known as TransCanada, had not fixed the leak as of Wednesday afternoon."The Department of Environmental Quality estimated the spill was about 1,500 feet in length by 15 feet wide," according to the Herald. "Steps are being taken to contain the release, but the volume of oil that has spilled is currently unknown, officials said. Walsh County Emergency Manager Brent Nelson said the spill is contained to a wetland and has affected an area where a local farmer cuts hay."The company denied that the spill had any impact on drinking water, a claim that was met with skepticism. Corp says the oil hasn't contaminated any drinking water & they're cleaning it up but anyone who drives to the site will be fined by their security so who knows what's going on. #NOKXLhttps://t.co/7H6Dcz4bsm Keystone's latest leak came just hours after the U.S. State Department held a public meeting in Billings, Montana to solicit comments on the department's new analysis of the potential environmental impact of the Keystone XL project. The Trump administration has worked hard to approve and accelerate the project over the protests and legal challenges of indigenous rights organizations and green groups. Keystone XL would would carry up to 830,000 barrels of tar sands oil per day from Alberta, Canada to Nebraska. "The Keystone XL pipeline was a bad idea when it was proposed 11 years ago, and it remains a bad idea today," said the environmental group Bold Nebraska in a public comment on the State Department analysis. In a column on Wednesday, Esquire's Charles Pierce wrote that, despite strong opposition, "the State Department will do anything to get this thing built. Anything."
Keystone pipeline leaks 383,000 gallons of oil in North Dakota - Part of the Keystone 1 Pipeline in North Dakota was shut down after a leak of about 9,120 barrels of oil — 383,040 gallons — was discovered, TC Energy company said in a statement. The oil leak was discovered just north of Edinburg, in the northeast part of the state, and affected about 2,500 square yards of land, the company said. A drop in pressure was detected on Tuesday, and the pipeline was immediately shut down, the company said. The company is not sure how the leak started, but says an independent party is examining the pipeline. "We are establishing air quality, water and wildlife monitoring and will continue monitoring throughout the response. There have been no reported injuries or impacted wildlife," TC Energy said. "The safety of the public and environment are our top priorities and we will continue to provide updates as they become available." The North Dakota Department of Environmental Quality said the spill impacted a wetland area. "Personnel from the NDDEQ are at the site and will continue to monitor the investigation and remediation," the department said in a news release. The Indigenous Environmental Network, an environmental justice nonprofit group, responded to the spill with concern. "This is exactly the kind of spill we are worried about when it comes to Keystone XL being built. It has never been if a pipeline breaks but rather when," said Joye Braun, Indigenous Environmental Network frontline community organizer.
Keystone Pipeline Shutdown Raises Costs for U.S. Gulf Refiners - The Keystone crude pipeline was shut Wednesday after leaking thousands of barrels of crude in North Dakota, the third spill along the pipeline's route in less than three years. =TC Energy Corp.'s 590,000 barrel-a-day pipeline that carries crude from Alberta to refineries in the U.S. Midwest and Gulf Coast ruptured October 29 near the city of Edinburg in North Dakota, said Brent Nelson, an emergency manager for Walsh County. About 9,120 barrels were released, some of which impacted a wetland, according to the state's Department of Environmental Quality. TC Energy declared force majeure on the pipeline system after the shutdown, according to people familiar with the matter. An emergency response team has contained the impacted area, and the system is shutfrom Hardisty, Alberta to Cushing, Oklahoma and to Wood River/Patoka, Illinois, the company said in a statement. TC Energy also reduced rates on the Marketlink pipeline, an extension of Keystone that runs from Cushing to Port Arthur, Texas, according to people familiar with the matter. The shutdown stands to affect U.S. Gulf Coast refiners seeking alternative heavy crude supplies amid sanctions on Venezuela, lagging output from Mexico and OPEC production cuts. At the same time, Alberta's oil producers are struggling to cope with production limits imposed earlier this year when too much oil encountered too few pipelines, causing prices to collapse. Heavy Western Canadian Select crude's discount to West Texas Intermediate futures widened $19 a barrel Thursday, the widest since December, data compiled by Bloomberg show. After the Keystone spill in South Dakota in 2017, the discount widened from about $11 a barrel to more than $25 a barrel. In the Gulf Coast, heavy Canadian crude was about $1.50 a barrel stronger than before the spill, according to market participants. Gulf Coast refiners could seek medium-grades of sour crude to replace the heavy Canadian barrels, Kevin Birn, IHS Markit's director of North American crude oil markets, said by telephone. "You could see refiners pivot to alternative sources of supply," he said. "There will be some flexibility in the system to address this." The spill, estimated to be 1,500 feet in length by 15 feet wide, comes as TC Energy seeks to build the controversial Keystone XL pipeline. The company said Keystone was probably the source of a spill in Missouri in February that shut a segment of the line. In 2017, a spill in South Dakota reduced rates on the line for months, causing Canadian oil prices to collapse. No new export pipelines out of Canada are planned until late next year at the earliest, when Enbridge Inc.'s Line 3 is scheduled to start operation. Two other pipeline projects including the government-owned Trans Mountain line to Vancouver area as well as the proposed Keystone XL have faced regulatory and legal delays in addition to fierce opposition from environmental groups and landowners.
Why The Latest Keystone Spill Is Disastrous For Canadian Oil - The Keystone Pipeline was shut down this week after it ruptured and spilled in North Dakota.TC Energy – formerly known as TransCanada – said on Wednesday that it shut down the 590,000-bpd line after it detected a drop in pressure. "TC Energy immediately began the process to shut down the pipeline, activated its emergency response procedures and dispatched ground technicians to assess the situation," the company said.The company did not specify whether the entire pipeline was shut down or just a portion. "At this time there is no indication that it has impacted anybody's drinking water," said Karl Rockeman, director of the division of water quality for North Dakota's health department, according to local press reports. "It appears to (be) contained within the area."The repair and cleanup could take as long as two to three months, according to Reuters.The pipeline runs from Alberta to refineries in the Midwest and is a crucial conduit for Canada's oil industry. The prospect of an outage helped depress prices for Western Canada Select (WCS), which fell relative to WTI ever-so-slightly on Wednesday. WCS is trading below $38 per barrel, or about $17 per barrel below WTI.This is not the first time that the Keystone Pipeline has spilled. In November 2017, the pipeline ruptured and spilled more than 200,000 gallons in South Dakota. The pipeline was offline for weeks. The latest spill is yet another reminder that while the industry trumpets pipelines as the safest way to move oil, spills are not exactly a rarity. "We don't yet know the extent of the damage from this latest tar sands spill, but what we do know is that this is not the first time this pipeline has spilled toxic tar sands, and it won't be the last," Catherine Collentine of the Sierra Club said in a statement. "We've always said it's not a question of whether a pipeline will spill, but when, and once again TC Energy has made our case for us."
Democrats Just Accidentally Sparked A Federal Fracking Boom - Eyeing more restrictions on drilling following the 2020 presidential election, some U.S. oil and gas companies may accelerate fracking on public lands over the next year. Concho Resources said that in order to mitigate risk from a potential ban on fracking in 2021, the company is running rigs on its federal acreage now.The comment comes in light of the relatively strong rise of Massachusetts Senator Elizabeth Warren, who is arguably the front runner, or at least in the top tier. Vermont Senator Bernie Sanders has trailed a bit, although a new poll from New Hampshire has him in first place there. Former Vice President Joe Biden, who offers up a more industry-friendly approach to energy and climate change, has slid in the polls. He is still considered among the top tier, but his fundraising has been anemic, his performance halting and unconvincing, and his momentum heading in the wrong direction.Senators Bernie Sanders and Elizabeth Warren have both promised to ban hydraulic fracturing. As president, neither would be able to outright ban the practice entirely, as it would require an act of Congress. But their ability to disrupt the use of fracking on federal lands would be much greater.Related: U.S. Shale Braces For Brutal Earnings Season"'If Sen. Warren were to win…' was getting a lot of airtime in our meetings," Jake Roberts, an exploration-and-production analyst at Houston's Tudor, Pickering, Holt & Co., told the Wall Street Journal recently. "We were surprised to see people taking it so seriously." Tudor Pickering said that if fracking were banned, oil and natural gas prices would spike and many oilfield services companies would be forced out of business. A mid-October analysis from RBC Capital Markets found that Talos Energy was most exposed to a regulatory crackdown, largely the result of a hypothetical ban on offshore drilling in federal waters.A Cowen Inc. analyst told the WSJ that some companies that have a relatively heavy reliance on federal lands have underperformed lately, "coincidentally, or not." Those include, Devon Energy, Concho Resources, and Occidental Petroleum. Meanwhile, companies like Kosmos Energy, Hess Corp., and Apache Corp. would lose little, Sanford C. Bernstein analysts said in early October.
Environmental groups sue Trump administration over drilling plan - Environmental groups on Wednesday filed a lawsuit challenging the Trump administration's plan to open up hundreds of thousands of acres of land in California to oil and gas drilling. The Sierra Club and the Center for Biological Diversity sued the Bureau of Land Management (BLM) over the plan to open more than 700,000 acres of land to oil and gas lease sales."Defendants failed to consider meaningful alternatives to the plan amendment, failed to analyze and disclose the environmental impacts, and denied the public the opportunity to comment on its environmental analyses as the law requires," the lawsuit reads.It also says the plan opens the land up to "dangerous and polluting techniques like steam injection and hydraulic fracturing."Neither the Department of Justice nor BLM immediately responded to The Hill's request for comment. BLM spokeswoman Sarah Webster told Reuters in a statement that the suit was under agency review. She said the administration's decision "strikes a balance between resource conservation and energy development consistent with BLM's mission for managing the lands for multiple use and sustained yield."The wire service previously reported that the administration had announced approval for the plan earlier this month."Oil and gas extraction is a dirty, dangerous business that poisons our water, kills wildlife and worsens the climate crisis,"Clare Lakewood, senior Center for Biological Diversity attorney, said in a statement. "It's reckless and illegal for Trump officials to open our public lands to oil companies without considering the human and environmental costs. We're taking them to court to keep this planet livable for our kids," Lakewood added.
Green groups sue Trump administration over California drilling plan - (Reuters) - Two environmental groups sued the Trump administration on Wednesday over its plan to open up more than 720,000 acres (291,370 hectares) of federal land in California for oil and gas development. The lawsuit filed by the Sierra Club and the Center for Biological Diversity comes nearly four weeks after the U.S. Department of Interior's Bureau of Land Management (BLM) approved a plan that would allow oil and gas leasing in 11 counties in the Central California coastal region. The move ended a five-year moratorium on leases in the state that were prompted by a legal challenge. In court papers filed in federal court in San Francisco, the conservation groups argued that the bureau broke the law by failing to analyze the harm drilling would cause to groundwater supplies, climate change, and the potential for earthquakes caused by hydraulic fracturing, or fracking. BLM spokeswoman Sarah Webster said in an emailed statement that the agency was reviewing the lawsuit. The Oct. 4 decision "strikes a balance between resource conservation and energy development consistent with BLM's mission for managing the lands for multiple use and sustained yield," Webster added.
Critics gear up for response to lease sale in Arctic refuge (AP) — Opponents of oil drilling in America's largest wildlife refuge have a message for oil drillers and the people who finance them: Don't become the company known for the demise of America's polar bears. The Department of the Interior hopes to conduct a lease sale in the Arctic National Wildlife Refuge by the end of the year but environmental groups say they will challenge those plans in federal court and the court of public opinion. "We will not tolerate the administration's brazen attempt to paper over the impacts of this disastrous proposal, and we will see them in court," said Jamie Rappaport Clark, executive director of Defenders of Wildlife. They claim an environmental review was rushed, incomplete and preordained and that it presents only a fraction of the long-term damage that will occur if drilling rigs are allowed into what's now a wilderness area. "This analysis is a big step in carrying out the clear mandate we received from Congress to develop and implement a leasing program for the Coastal Plain," Bureau of Land Management spokesman Derrick Henry said in an email to The Associated Press, adding that any future actions would require separate environmental analysis. The refuge in the northeast corner of Alaska was created in 1960 and expanded by Congress in 1980 to nearly the size of South Carolina. About 12,500 square miles (32,375 sq. kilometers) are formally designated as wilderness. However, Congress ordered that 2,300 square miles (5,957 sq. kilometers) of refuge coastal plain be studied for natural resources. The coastal plain is the area between the Arctic Ocean and mountains of the Brooks Range. During winter, pregnant polar bears use it for dens. In spring, it's the preferred nursery for the Porcupine Caribou Herd. The U.S. Geological Survey estimates the plain holds 10.4 billion barrels of oil. U.S. Sen. Lisa Murkowski, R-Alaska, has called the coastal plain North America's greatest prospect for conventional petroleum production. Drilling is supported by virtually everyone elected in recent years to statewide office in Alaska because it would create jobs, put oil in the trans-Alaska pipeline and put cash in the coffers of state government.
Americans would rather reduce oil and gas exploration than 'drill, baby, drill' - Americans would rather reduce oil and gas exploration than 'drill, baby, drill' - A large majority of Americans say drilling for oil and natural gas off the coasts and on public lands should decrease or remain at current levels, a viewpoint at odds with the expansion promoted by President Trump as part of his "energy dominance" agenda.In a nationwide public opinion poll by The Washington Post and the Kaiser Family Foundation, more than 8 in 10 people said drilling in the United States should "decrease" or "stay as is."Just over half, 51 percent, said energy exploration should be reduced on federal lands, and 53 percent said it should be reduced offshore. Thirty-two percent said it should stay as is on federal lands and waters.Less than 15 percent support an increase in drilling on public lands or at sea. The poll comes as the Trump administration is issuing hundreds of permits to explore for fossil fuels on taxpayer-owned land, particularly in the West. The administration is also considering a plan that would open 95 percent of the outer continental shelf to leasing and potentially to drilling, making it the largest proposed expansion in U.S. history.
Quantifying The Impact Of A Fracking Ban On U.S. Gas Production -A number of Democratic candidates have endorsed a fracking ban, recently including Elizabeth Warren, and as Bob McNally said, this would "vaporize the oil and gas boom in the United States." In this piece, I will try to quantify the impact of a fracking ban on the U.S. natural gas supply, and the concomitant economic effects. Of course, there is some skepticism that she would actually do that if elected, and suspicion that the suggestion is nothing more than an attempt to appeal to the more liberal Democratic primary voters. Given that Democrats from Barack Obama to Jerry Brown have not opposed (regulated) fracking, and the pertinent fact that politicians often make promises they don't intend to keep, (shocking I know), I would lean towards that myself. My belief is strengthened by the nature of the arguments in favor of a fracking ban. Yes, it's done by big oil (I mean BIG OIL), except many of the companies are much smaller. Yes, it's a novel method, except it's been done for about a century in various forms. And yes, there is evidence of pollutants like benzene near fracking sites, but mainly because there's benzene nearly everywhere. One would like to think that the public would recognize that argument resembles fears of radiation from nuclear power plants—which are trivial when compared to natural radiation levels. But wait, you say, haven't there been studies linking proximity to fracking sites and health problems like low birth weight? True, although the key word is "link" which is the weakest type of medical evidence. After all, marijuana use is linked to low birth weight, as is caffeine, steroid treatments, depression, and fears of immigration raids. Governor Cuomo of New York seems unlikely to ban marijuana use because of the link, unless perhaps it was being sold by Exxon.
Don't Bank On A Boring Propane Market This Winter --U.S. propane production has been on the rise for most of 2019, but propane consumption by steam crackers has been reined in by poor economics, and propane exports have been constrained by export-capacity shortfalls. That's led to a big buildup in propane inventories, which stand at near-record levels as the market prepares for a winter heating season that is forecasted to be milder than normal. So we're in for only a modest draw on propane stocks between now and spring, right? Not necessarily. There's change in the air regarding propane supply, cracker demand and export capacity and, as we learned in the balmy winter of 2016-17, the U.S. propane market isn't nearly as dependent on the weather as it used to be. Today, we assess recent market developments and explains why a big decline in propane stocks is a real possibility. Propane is an NGL purity product that has two primary uses: as a fuel (mostly for heating, but also for cooking and crop drying, and occasionally for cars, trucks and buses) or as a feedstock for petrochemical plants (steam crackers to make ethylene, or propane dehydrogenation — PDH — plants to make propylene). Propane also has two primary sources of supply: refineries and natural gas processing plants, the latter of which separate out mixed NGLs from natural gas streams. These mixed NGLs from processing plants (also known as y-grade) then are sent to fractionators, where y-grade is divvied up into what are called "purity" products (ethane, propane, normal butane, isobutane and natural gasoline). The Shale Revolution has enabled the U.S. to produce more than enough propane to meet its own heating and petchem needs, and to become a major exporter of propane.
Small U.S. oil and gas companies get cold shoulder from large banks (Reuters) - The largest banking lenders to the U.S. oil and gas sector are becoming more cautious, marking down their expectations for oil and gas prices that underpin loans in a move expected to put further financial stress on struggling producers, industry and banking sources said. Major banks including JPMorgan Chase, Wells Fargo, and Royal Bank of Canada have, as part of regular biannual reviews, cut their estimated values for oil-and-gas companies' reserves, which serve as the basis for those companies to receive reserve-based loans (RBLs), according to more than a dozen sources familiar with the activity. While the size of the RBL market is unclear, it is estimated that a few hundred companies take such loans, with the cumulative size in the billions of dollars. Those lenders have marked down the perceived value for both oil and natural gas for the coming five years, with the changes kicking in as early as this month. Expected natural gas prices have been cut by around $0.50 per million British thermal units, about 20% below levels set in the spring. Industry sources are forecasting some firms face a 15% to 30% reduction in loan size as a result. Oil prices are expected to be about $1 to $2 lower than spring estimates. "Some banks believe they have too much energy exposure and want to reduce some of this risk," said Ian Rainbolt, vice president of finance at Warwick Energy, a private equity firm with upstream investments in Oklahoma and Texas. That is a threat to smaller companies, which are already struggling to find other methods of financing - such as issuing stock or bonds - as investors grow restless with years of poor returns in the shale sector even as the United States has risen to become the world's largest oil and gas producer. Investors are bracing for weak returns for the third quarter from shale producers due to lower oil and gas prices. Reduced funding could slow growth in U.S. oil and gas production, and also threaten more bankruptcies in the sector. Bankruptcy filings among U.S. oil and gas producers are at levels not seen since 2016, when U.S. crude slumped to $26 per barrel, according to law firm Haynes and Boone.
Is U.S. Shale Circling The Drain? -- 'Significant production slowdown' is all around the headlines about the U.S. shale patch these days. Yet, the headlines have often missed one growing problem in the U.S. oil industry—the abandoned, or 'orphaned' wells that bankrupt oil and gas operators leave behind on private, state, and federal land. With companies gone bust, it's the state or the federal government that must pick up the tab for plugging those abandoned wells, cleaning up the sites, and restore lands to as close to their original natural states as possible. The money set aside for reclaiming 'orphan wells' is not nearly enough to cover all the costs. Therefore, the well reclamation process is slow and increases the liabilities of the state and federal agencies responsible for cleaning up abandoned wells. This raises the risks of increasing costs for the taxpayer and of environmental disasters waiting to happen if unplugged abandoned wells start to leak. Before drilling, companies are required to pay bonds for wells reclamation in case the wells become orphan. But those bonds are insufficient to cover all the costs for reclaiming a well. https://oilprice.com/Energy/Crude-Oil/Is-US-Shale-Circling-The-Drain.htmlThe problem with orphan wells on state land is less acute than the one with abandoned wells on federal land. State legislatures can amend regulations to ask for higher bonding requirements from the industry, but the office responsible for cleaning up abandoned wells on federal land, the Bureau of Land Management (BLM), must ask Washington for changes in legislation and requirements."Between an industry already prone to booms-and-busts and signs of economic slowdown, regulators and legislatures are working to make sure taxpayers are not on the hook for further cleanup of the growing amount of abandoned and 'orphaned' oil and gas wells," WORC said. Wyoming, for example, has had several thousand coal bed methane (CBM) wells orphaned by their owners since 2014 due to a plunge in natural gas prices, according to the Wyoming Oil and Gas Conservation Commission (WOGCC). Since 2014, there have been 5,775 wells orphaned, and the WOGCC has removed from the orphan well list 2,618 orphaned wells on state and private lands, the WOGCC said in a September update. Before 2014, there were around 500 orphaned wells documented over a twenty-year period, and all of those have been plugged and abandoned.
Oilfield Services Firms Moving Beyond Oil, Gas Projects -Oilfield services firms will need to diversify in order to stay in the game during industry's energy transition, according to energy research firm Rystad Energy.This is due in part to larger budget cuts in the upstream sector compared to the midstream sector, shifting the overall investment."But beyond these obvious motivators, the shift is also a sign of something greater – namely, the energy transition," Audun Martinsen, Rystad's head of oilfield services research, said in an email sent to Rigzone. "Suppliers have begun embarking on a journey towards becoming broader energy service companies, sailing away from the oilfield services segment that propelled them in the past."While non-upstream oil and gas activities represented 22 percent of revenues among service suppliers in 2014, that share grew to 27 percent in 2018. And Rystad expects that trend to grow in the next decade."If pure-play contractors within drilling, well services and seismic – which don't have much to offer outside the upstream oil and gas industry – are removed from the equation, activities outside of upstream accounted for nearly 30 percent of last year's revenues," Martinsen said.Companies like Saipem S.p.A. and Baker Hughes Company are moving past just oil and gas development projects into the renewable energy world.Rystad notes that after GE announced it would reduce its ownership share in Baker Hughes from 50.4 percent to 38 percent, Baker Hughes rebranded itself as an energy technology company.
Canada Countering Collapse in US Oil Imports From OPEC - With U.S. crude oil production up 150 percent to 12.4 million b/d since 2008, the great American shale boom has collapsed imports from OPEC. In 2018, OPEC met less than 15 percent of total U.S. oil demand, down from over 30 percent in 2007. Overall, U.S. imports from OPEC have sunk to their lowest levels since 1986. For the U.S., the reduction in imports from OPEC is widely viewed as an upgrade for energy security. Ever since the skyrocketing prices and long lines at gasoline stations caused by the OPEC oil embargo in the early-1970s, the U.S. has long sought to cut its dependence on such distant foreign oil. Moreover, more domestic crude and less need for OPEC has allowed the U.S. to put sanctions on the rogue leadership in the major producers Venezuela and Iran without spiking prices. Together, these sanctioned two are responsible for 6-8 percent of global supply, and all the while prices have remained "lower for longer." Importantly, however, despite a declining need for Middle Eastern oil, the U.S. must still remain concerned about Iran's threats on the critical Strait of Hormuz chokepoint. Some 20 percent of the world's consumed oil passes through the Strait every day. Oil is the ultimate global commodity where prices around the world are inevitably linked, so an incident in that part of the world could still increase prices here in the U.S. Particularly with the U.S. oil export business set to soar to even greater heights, this global reality of oil interdependence explains why the U.S. would be better served to realistically seek to improve its energy security via more self-sufficiency rather than chasing "energy independence." Indeed, with its heavier oil a match for the U.S. refining system, largest trading partner and firm ally Canada has filled in nicely for the fall of OPEC. In the shale-era since 2008, Canadian oil exports to the U.S. have almost doubled to 4.7 million b/d. Over the past four years, Canada alone has shipped more oil to the U.S. than all OPEC nations combined. Canada now meets nearly 25 percent of total U.S. oil demand, more than double its share from a decade ago. Canadian oil has benefitted the U.S. by compensating for the falling heavy oil production in longtime suppliers Mexico and Venezuela. It has been neighbor Canada that has helped supply those parts of the U.S. that are too distant to take-in the huge amounts of shale oil coming from Texas and North Dakota. The key exception here is California, where sea-borne shipments from Saudi Arabia, Ecuador, and Colombia have come to replace Canada and dominate the market.
Oil sands found to be a leading source of air pollution in North America - A cloud of noxious particles brewing in the air above the Alberta oil sands is one of the most prolific sources of air pollution in North America, often exceeding the total emissions from Canada's largest city, federal scientists have discovered.The finding marks the first time researchers have quantified the role of oil sands operations in generating secondary organic aerosols, a poorly understood class of pollutants that have been linked to a range of adverse health effects.The result adds to the known impact of the oil sands, including as a source of carbon emissions that contribute to climate change. It also comes on the same day that the Bank of Canada delivered a sobering message about the country's economy, saying the devastating Alberta wildfires that hit Fort McMurray – leading to production cuts in the oil industry and the destruction of thousands of buildings – will cause a drop in Canada's gross domestic product in the second quarter.Given the economic circumstances and the political sensitivities currently surrounding the oil sands, the air pollutant study, published Wednesday in the journal Nature, offered the strongest test yet of the Trudeau government's promise to allow scientists in federal labs to speak freely with journalists about their results.The pollutants the scientist measured are minute particles that are created when chemical-laden vapours from the mining and processing of bitumen react with oxygen in the atmosphere and are transformed into solids that can drift on the wind for days.While researchers have long thought that the oil sands must be a source of such particles, the new results show that their impact on air quality is significant and of potential concern to communities that are downwind."It's another aspect that can and probably should be considered" in assessing the oil sands' environmental footprint, said John Liggio, an atmospheric chemist with Environment and Climate Change Canada and lead author of the study.
Canadian companies involved in upcoming Colombian fracking projects - In November, Colombian human rights defenders will speak in Ottawa, Vancouver and Nanaimo. What can we glean from mainstream media reports about Canadian corporations involved in the oil and gas sector in Colombia? What can we further discern about the companies that may have some involvement with the fracking pilot projects expected to start soon in that country? Additionally, what impact might their business activities have on human rights, the environment and the peace process in Colombia? Reuters has reported that "seven companies have put in bids for 11 oil exploration contracts in Colombia," including Frontera Energy, Parex Resources, and Gran Tierra Energy. The article also notes CNE Oil and Gas as a qualified bidder. Let's look more closely at those Canadian companies as a starting point.
ConocoPhillips Profit Beats Estimates-- ConocoPhillips followed BP Plc in posting higher-than-expected third-quarter profit as the U.S. oil producer continues to boost shale output.The Houston-based company on Tuesday reported production of 1.32 million barrels per day of oil equivalent, less than the median of analysts' estimates of 1.34 million.Key Takeaways:
Conoco Chief Executive Officer Ryan Lance is selling assets and fattening dividend payouts in a bid to turn around a stock that has underperformed the S&P 500 Energy Index. The stock is on track for its worst annual showing since 2015 after posting an index-leading result last year.
During the conference call with analysts scheduled for later on Tuesday, Lance probably will defer questions about long-term strategy and drilling objectives until Nov. 19, when the company unveils its 10-year operating plan. An update on Conoco's efforts to collect $8.5 billion from Venezuela as compensation for the seizure of oil fields more than a decade ago may be a topic of interest during the call.
After years of cost-cutting, during which Lance and his team eliminated more than one-third of Conoco's workforce, areas ripe for trimming may be getting harder to find. Investors will be listening for details on how the company intends to pay for rising dividends and share buybacks that are consuming almost $10 million a day.
BP's third-quarter net profit tumbles 41% on weaker oil prices, weather impacts -- Energy giant BP reported a 41% fall in third-quarter net profits on Tuesday, citing lower upstream earnings, weaker oil prices and maintenance and weather impacts. BP posted third-quarter underlying replacement cost profit, used as a proxy for net profit, of $2.3 billion, versus $2 billion, according to data from Refinitiv. That compared with a profit of $3.8 billion over the same period a year earlier and $2.8 billion in the second quarter of 2019. The results show that the U.K.-based oil and gas company still managed to beat analyst expectations, despite a sharp drop in third-quarter net profits. Here are the key points:
Underlying replacement cost profit, used as a proxy for net profit, for the third quarter of 2019 was $2.3 billion, compared to $3.8 billion a year earlier.
The third-quarter results, despite beating analyst expectations of $2 billion, represent a fall of 41% when compared to the same period a year earlier.
A dividend of 10.25 cents per share was announced for the quarter.
"Overall, it has actually given us a strong set of underlying earnings but, more importantly, strong operating cash — which has allowed us to stabilize debt this quarter," BP CFO Brian Gilvary told CNBC's "Squawk Box Europe" on Tuesday. Gilvary said that while oil prices were "pretty finely poised," crude futures seemed to be stabilizing somewhere around $60 a barrel.
Exxon Mobil earnings drop 49% in the third quarter on lower oil prices -- Exxon Mobil reported a 49% decline in third-quarter earnings on lower oil prices and higher costs. The results, however, did slightly top Wall Street expectations and the shares gained 3% in Friday's trading session. Exxon earned $3.2 billion in the third quarter, down from $6.2 billion in the same period a year ago. Here's how the energy giant's results fared relative to Wall Street expectations:
Adjusted earnings: 75 cents per share vs. 67 cents expected by Refinitiv
Revenue: $65.05 billion vs. $64.79 billion expected expected by Refinitiv
Upstream income: $2.17 billion vs. $2.36 billion expected from FactSet estimates
Downstream income: $1.23 billion vs. $1 billion expected from FactSet estimates
Chemicals income: $241 million vs. $223.6 million expected from FactSet estimates
The company spent $7.7 billion on capital and exploration expenditures, including in the key Permian Basin area. Oil-equivalent production rose 3% compared to a year earlier, reaching 3.9 million barrels per day. Liquid production and natural gas volumes also increased by 4% and 1%, respectively. The largest spike came from production in the Permian Basin, which grew 7% from the second quarter of 2019, and more than 70% year-over-year.
Chevron earnings drop 36%, more than expected - Chevron reported a 36% decline in third-quarter earnings as lower oil and natural gas prices offset an increase in production. Chevron earned $2.6 billion in the third quarter, down from $4 billion a year earlier. Both EPS and revenue missed the Street's expectations.Chevron said that the average sale price per barrel of crude oil and natural gas liquids was $47 in the third quarter, which is 24% lower than the $62 average price per barrel a year earlier. The average price of natural gas fell 47% to 95 centsHere's how the energy giant's results fared relative to Wall Street expectations:
Earnings: $1.36 cents per share vs. $1.45 expected by Refinitiv
Revenue: $36.12 billion vs. $37.69 billion expected expected by Refinitiv
"Third quarter earnings and cash flow were solid, but down from our very strong results of a year ago," said Michael Wirth, Chevron's chairman of the board and chief executive officer. "Lower crude oil and natural gas prices more than offset a 3 percent increase in net oil-equivalent production from last year's third quarter."Oil-equivalent production reached 3.03 million barrels per day, which was a 3% increase from a year earlier.Included in earnings was a $430 million charge related to cash repatriation.In the same quarter a year earlier Chevron reported earnings of $2.11 and $43.99 billion in revenue. Last quarter Chevron's profit rose 26.3% as the company increased oil and gas production.
Report: To meet climate-change goals, oil producers must slash production – - The world's biggest publicly traded oil and natural gas companies would have to cut production by roughly a third on average by 2040 to meet the goals of the Paris climate deal, according to a new report. The opposite is occurring. Most oil and gas producers are expanding production in response to growing demand and the fact that the world is not on track to meet the Paris ambitions. ConocoPhillips would have to cut production more than any other energy producer (85%), while Royal Dutch Shell would have to the least (10%), according to the report by London-based financial think tank Carbon Tracker. The main reason: Conoco's production, heavily dependent on U.S. shale oil and gas, would decline faster than Shell's, and it then wouldn't have low-cost projects to replace it with, according to co-author Andrew Grant. The group, whose funding comes in part from philanthropic foundations, analyzed different types of oil and gas projects, such as carbon-heavy oil sands or relatively clean natural gas operations, to reach these conclusions.It uses the concept of a "carbon budget," indicating there is only so much more room to emit greenhouse gases if the world is to meet the goals of the Paris deal. That 2015 accord calls for a rapid reduction in emissions to keep Earth's temperature rise below 2°C within this century. The report finds that coal is by far the worst culprit for climate change, but Carbon Tracker focuses more on oil and gas because of its larger role in the economy and financial markets.Rystad Energy, an independent research firm whose data Carbon Tracker used for this analysis, says the drastic decline in coal in the U.S. and eventually elsewhere is favorable to big oil and gas companies. "Thanks to the U.S. shale gas boom, coal is now being rapidly phased out globally," said Per Magus Nysveen, Rystad's co-founder. "This rapid relocation of carbon budgets among the various fuel types is favorable for the supermajors." Much of this is predicated on a big if: if — or, more accurately, to what degree — the world meets the goals of the Paris deal. When planning future production strategies, oil and gas companies weigh the likelihood of that happening (unlikely, given the path society is on now), versus it not happening (more likely) and plan accordingly despite those two potential futures requiring vastly different amounts of oil and gas.
The UK once hoped for an American-style fracking boom. It's not happening - The United Kingdom once hoped that fracking would unlock its shale energy reserves, enhancing the country's energy security and creating jobs and new tax revenues in the process. That now looks unlikely to ever happen. Only three wells have been fracked in the country to date, according to a report this week from the National Audit Office (NAO), which monitors government spending. The UK government had been hoping for 20 wells by the middle of 2020. The NAO cites multiple factors for the slow start: Public support for fracking was weak to begin with and has dropped over time. The size of UK shale reserves remains unknown and the cost effectiveness of extraction has not been studied by the government. Even more dramatic, each of the three wells have caused earthquakes more powerful than the 0.5 magnitude threshold that requires a pause in operations, according to the NAO. The most recent was a 2.9 magnitude quake in August. According to the NAO, the government still believes fracking could help the economy. But as public pressure builds for more urgent action to tackle the climate crisis, fracking in the United Kingdom looks doomed unless new technologies to capture carbon emissions from burning shale gas can be developed fast.
Mexican Oil Hedging Desk Covered Against Downside Risk -- Mexico's oil hedgers, one of the world's most-active sovereign oil-trading desk, has spent nearly $1 billion on options contracts to protect the government's revenues from oil sales for 2020 against volatile price action, Reuters reported, citing data from the country's Ministry of Finance.The news is especially notable because, as we reported last month, Russia is considering oil prices could drop to as low as $25 in 2020. WTI prices remain in a 12-month bear market from last October's 76.90 high as oil products demand worldwide have dropped, as well as a synchronized global slowdown continues to gain momentum. Sources told Reuters that Citigroup Inc, Goldman Sachs Group Inc, NP Paribas SA, and JPMorgan Chase & Co are among some of the top firms on Wall Street aiding Mexico in building out the hedging program for next year. Reuters noted, "It was not immediately clear what volumes Mexico had hedged or what price protection it had secured. One Wall Street source estimated that the program was nearly complete while another put it at about 75%." Mexican Deputy Finance Minister Gabriel Yorio told the Congress of the Union on Tuesday that the hedging program would enable Mexico to sell oil around the $49 level for next year, allowing the government to create a 2020 budget. Yorio faces a difficult challenge in getting the hedging program right. Tensions are soaring across the Strait of Hormuz, helping to stabilize oil at higher prices, but then there's the global slowdown that is also weighing on demand and depressing prices. The former finance ministry official Julio Ruiz told Reuters that "this year, I believe they'll do something similar to what we did back in 2017." And if that's the case, the 2017 strategy bought nearly $1.25 billion of put options to lock in export prices for the next year.
Brazil cleans up after mysterious oil spill spoils beaches -Brazil's tourism minister said Friday (October 25) that beaches that were affected by the mysterious oily sludge that has plagued the northeastern coast of the country have been cleaned and are once again fit for tourists.Discussing the oil, Marcelo Alvaro Antonio told a news conference that "the very beaches that were impacted and cleaned are available for tourism." Brazil's government said Monday (October 21) that it had collected more than 600 tonnes of oil from its northeastern beaches since September 12.
Brazil braces as mysterious oil spill nears coral reef - Brazil's Navy said Tuesday it is preparing for an oil spill to possibly reach one of the country's largest coral reef systems, amid public outcry regarding the government's early response to the spill. Adm. Leonardo Puntel said three ships are already onsite at the reef with another two on the way, and that a helicopter will be conducting flyovers. They will work to spot any heavy crude and, if detected, deploy divers to retrieve the masses of dense crude before they can contaminate the protected area. The Abrolhos Marine National Park, off the coast of Bahia state, is home to rare coral formations and is a popular scuba dive site. The mysterious spill started showing up on Brazil's northeastern coastline on Sept. 2, and has now contaminated 254 beaches, mangroves and estuaries in nine states. Tuesday's press conference came as prosecutors, environmental experts and some politicians increased criticism of the government's response to the environmental catastrophe, claiming it was initially too slow and insufficient. Footage on local television in recent weeks has shown hordes of volunteers removing oil along the 1,300 miles of affected coastline, often without government oversight or equipment Carlos Nobre, one of Brazil's most prominent scientists, said in an interview with the Associated Press that the government this year eliminated several committees and public bodies that collaborate with ministries to develop public policy. The committee that had drafted a national contingency plan for oil spills was among those cut, an error made evident in the wake of the spill, he said. "When the first of this oil reaches the beaches of northeast Brazil in early September, there is no committee: these people which were organized and could immediately have taken action at federal level, state level, private-sector level." Nobre said. "No organization. It was a total mess." Defense Minister Fernando Azevedo e Silva, also present at Tuesday's press conference, denied any wrongdoing, and said the government acted as soon as the oil started showing up. The crude moves beneath the ocean's surface, only becoming visible as it nears the coast, which makes it extremely difficult to track by satellite, plane or helicopter, Puntel said. He told reporters the Navy can't predict where it will hit next or how long it will continue to pollute Brazilian beaches.
Brazil navy readies ships amid fears that oil spill could reach coral reef - Brazil's Navy said on Tuesday it is preparing for the possibility that an oil spill reaches one of the country's largest coral reef systems, amid public outcry regarding the government's early response to the spill. Adm. Leonardo Puntel said three ships are already onsite at the reef with another two on the way, and that a helicopter will be conducting flyovers. They will work to spot any heavy crude and, if detected, deploy divers to retrieve the masses of dense crude before they can contaminate the protected area. The Abrolhos Marine National Park, off the coast of Bahia state, is home to rare coral formations and is a popular scuba dive site. The mysterious spill started showing up on Brazil's northeastern coastline on Sept. 2, and has now contaminated 254 beaches, mangroves and estuaries in nine states. Tuesday's press conference came as prosecutors, environmental experts and some politicians increased criticism of the government's response to the environmental catastrophe, claiming it was initially too slow and insufficient. Footage on local television in recent weeks has shown hordes of volunteers removing oil along the 1,300 miles of affected coastline, often without government oversight or equipment. Carlos Nobre, one of Brazil's most prominent scientists, said in an interview with the Associated Press that the government this year eliminated several committees and public bodies that collaborate with ministries to develop public policy. The committee that had drafted a national contingency plan for oil spills was among those cut, an error made evident in the wake of the spill, he said.
Mysterious oil spill could cost Brazil billions - Just as Brazil is preparing to hold what could be a blockbuster US$50-billion oil auction in early November, an oil spill of still unknown origin on more than 200 beaches along Brazil's northeastern coast is raising alarms due to the government having been so slow to react with the clean-up. Fears of the government being inadequate in its monitoring of environmental disasters as domestic oil production continues to grow could threaten the nation's offshore boom.Brazil's Vice President has called the oil spill "unprecedented in the world", and committed to sending 5,000 troops to help the worst affected areas.Environmental organizations, politicians, and prosecutors have criticized the government for its poor handling of the oil spill along the beaches in the state of Bahia. In some communities, residents have taken it upon themselves to clean up their beaches, tired of waiting on the official cleanup. Some of them, however, have gotten sick from exposure to the crude oil, whose origin remains unclear, Reuters reports. According to Brazilian Mines and Energy Minister Bento Albuquerque, the oil spilled on the beaches is not of Brazilian origin, "so it has nothing to do with oil and gas activity in Brazil, nothing to do with oil and gas auctions."The chief executive of Brazilian state energy firm Petrobras, Roberto Castello Branco, said this week that the oil spill could be the worst "environmental attack" in the country's history.
Brazil to seek damages related to oil spill affecting country's northeast coast (Reuters) - Brazil will seek damages related to an oil leak off the country's coast, the country's solicitor general said Friday, referring to the crude that has washed up along thousands of kilometers of beaches, mangroves and reefs in recent months. Police on Friday said they were investigating a Greek-flagged ship allegedly responsible for the spill, which they say may has occurred about 700 km (420 miles) off the Brazilian coast between July 28-29, after the vessel made a stop in Venezuela.
Nord Stream 2 clears major hurdle as Denmark OKs gas pipeline - (Reuters) - Denmark on Wednesday gave the go-ahead to the Nord Stream 2 gas pipeline, removing the last major hurdle to completion of the Russian-led project that has divided opinion in the European Union. The Danish permit was the last needed for the 1,230-km-long (765-mile) pipeline from Russia to Germany. The United States and several eastern European, Nordic and Baltic countries have expressed concern that the project, led by state-owned Gazprom (GAZP.MM), will increase Europe's reliance on Russian gas. A U.S. Energy Department official said the project increases Russia's grip over regional energy supply and threatens the security of European allies. "The United States will ... examine all tools at its disposal regarding this project," the official said on condition anonymity, though it was unclear whether tools such as sanctions could stop it. U.S. President Donald Trump, like his predecessor former President Barack Obama has opposed the project. The United States is offering exports of liquefied natural gas, or LNG, to Europe to lessen its dependence on Russian gas.
A contentious Russian-led gas pipeline in Europe will soon exist — Here's why it matters - The construction of a disputed natural gas pipeline in Europe will be completed within months, analysts told CNBC Thursday, despite fierce opposition from the U.S. and division in the European Union. After months of delays, Denmark's energy agency announced Wednesday that it had given the green light to allow Nord Stream 2 — an undersea pipeline that will allow Russia to bypass Ukraine when delivering gas to Europe — to build its pipes in Danish waters.The decision comes as a blow to U.S. efforts to prevent the completion of the Russian-led project, after repeated warnings it will increase European dependence on Russian energy. Nord Stream 2 is a pipeline currently under construction from Russia to Germany via the Baltic Sea.The new pipeline will run alongside the already constructed Nord Stream and will double the amount of gas being funneled through the Baltics to 110 billion cubic meters per year. Estimated to become operational in early 2020, the pipeline is projected to cost 9.5 billion euros ($10.5 billion). Nord Stream 2 says the pipeline "benefits all of Europe, including millions of consumers in terms of lower energy prices." But, many are skeptical about the purely economic reasoning attributed to the project. Earlier this year, U.S. authorities threatened sanctions against companies that take part in the pipeline, although there has been no sign the White House will follow through.In June, President Donald Trump warned Germany was making a "tremendous mistake" by relying on the pipeline, warning the project "really makes Germany a hostage to Russia." The U.S. strongly believes Nord Stream 2 threatens the energy and national security of its European allies because it increases Russia's control over the region's energy supply. The White House is also believed to be keeping all options on the table as the pipeline nears completion. It is not just the U.S. that has expressed opposition to Nord Stream 2. Poland, Latvia and Lithuania — all of which share a border with Russia — are publicly opposed to the project, as well as France.
Russia May Delay Adopting Rules for Cleaner Ship Fuel - Russia, one of the largest producers of the world's favorite ship fuel, may delay local adoption of more stringent rules targeting air pollution from commercial vessels. Ship owners and operators worldwide are preparing to switch to using fuel oil with a sulfur content of no more than 0.5% starting Jan. 1, when the new International Maritime Organization rules take effect. But Russia's energy and transportation ministries are looking to postpone the stricter standards for vessels operating within the country and four other former Soviet republics until 2024, Energy Minister Alexander Novak said in response to questions sent by Bloomberg. The new rules, known as IMO 2020, "will lead to a sharp hike in the price of fuel for the river fleet and river-sea vessels, which operate mainly in Russia's territorial waters," Novak said. The energy and transportation ministries are seeking "to prevent a higher financial pressure on the nation's shipowners," he said. However, Russia will comply with IMO 2020 standards in international waters, Novak said. The potential delay would affect the five-member Eurasian Economic Union, which also includes Kazakhstan, Kyrgyzstan, Belarus and Armenia. Of the five countries, only Russia and Kazakhstan are coastal states. Russia's delayed adoption of IMO 2020 rules would support the domestic price and demand for high-sulfur fuel oil, giving a financial boost to the nation's refiners. Russia's refiners produce about 16 tons of fuel oil for every 100 tons of crude they process, in spite of steps they've take to upgrade their plants. The delay under consideration would also free up low-sulfur fuel oil for export, possibly putting downward pressure on international prices for IMO-compliant fuel. A spokeswoman for the IMO said she was not aware of the organization receiving any communication on Russia potentially delaying adoption of the sulfur cap locally. The regulation's enforcement is down to signatory countries -- of which Russia is one -- rather than the IMO itself, the spokeswoman said. There is an audit mechanism whereby a non-complying country can be issued with a "corrective action plan," but punitive measures are not included. The IMO's 0.5% sulfur limit applies to all ships, including those on "domestic voyages, solely within the waters of a Party to the MARPOL Annex," according to the IMO's website.
EIA projects that natural gas consumption in Asia will continue to outpace supply - According to the U.S. Energy Information Administration's (EIA) latest International Energy Outlook 2019 (IEO2019) Reference case, future growth in natural gas consumption is concentrated in developing nations—those outside of the Organization for Economic Cooperation and Development (OECD)—especially in non-OECD Asian countries. Major non-OECD Asian countries include China, India, Bangladesh, Thailand, and Vietnam. EIA expects annual natural gas consumption in non-OECD Asia to reach 120 billion cubic feet per day (Bcf/d) by 2050, outpacing regional production by 50 Bcf/d. This supply imbalance widens through the projection period, resulting in non-OECD Asia's increasing reliance on natural gas imports from other regions. China continues to be the largest natural gas consumer in non-OECD Asia: in 2050, EIA expects that China will consume nearly three times as much natural gas as it did in 2018. China's projected increase in natural gas consumption is greater than the combined growth of natural gas consumption in all other non-OECD Asian countries. EIA projects comparatively less natural gas demand growth in the developed economies of OECD Asia (Australia, Japan, New Zealand, and South Korea). EIA expects that natural gas consumption in Japan—currently the largest natural gas consumer in this group—will decrease slightly by 2050. OECD Asian countries are generally characterized as service-based economies with lower projected rates of population growth. EIA expects natural gas consumption increases in China because of growth in the country's electric power sector. This growth will result from both increased demand for electricity and from natural gas-fired power generation that displaces coal-fired units. During the IEO2019 projection period, EIA expects that natural gas consumption in China's power generation sector will increase by a factor of four to reach 7.3 quadrillion British thermal units (Btu) in 2050. Energy-intensive urban areas such as the Beijing-Tianjin-Hebei metropolitan area and northeast China will favor natural gas-fired units and other sources of electricity that result in less air pollution compared with coal-fired units, according to IEO2019 Reference case results.
Kosmos Discovery is Largest Gas Find of 2019 - The Orca-1 discovery offshore Mauritania, announced by Kosmos Energy on Monday, is this year's largest gas discovery, Rystad Energy has confirmed. "The deepest and largest discovery so far this year, Rystad Energy estimates Orca-1 holds around 1.3 billion barrels of oil equivalent (boe) of recoverable resources," Palzor Shenga, a senior analyst on Rystad Energy's upstream team, said in a company statement. "This type of significant discovery, along with the projects lined up, could help establish the African nation as a major player and exporter in the industry," Shenga added. The find lies in the MSGBC (Mauritania-Senegal-Gambia-Bissau-Conakry) basin, which Rystad Energy noted has grabbed headlines recently "thanks to a series of world-class discoveries" in Senegal and Mauritania. According to Rystad Energy, Mauritania and Senegal are slowly becoming "world class" LNG centers, "with three different planned hubs containing around 10 million tons per annum, including the Yakaar-Terenga hub, Tortue hub and the Bira Allah hub". Mauritania now ties Guyana for the second most discovered volumes this year, trailing closely behind Russia with 1.5 billion boe, Rystad Energy highlighted. Kosmos Energy revealed Monday that a "major" gas discovery had been made through the offshore Mauritania Orca-1 exploration well. The BirAllah area situated Orca-1 well, which targeted a previously untested Albian play, exceeded pre-drill expectations and encountered 118 feet of net gas pay in "excellent quality reservoirs", according to Kosmos. In total, Kosmos believes that Orca-1 and the original Marsouin-1 discovery well have de-risked up to 50 trillion cubic feet of gas initially in place from the Cenomanian and Albian plays in the BirAllah area.
New Norway Oil Grade Making Inroads in Asia - Norway's new oil grade is making inroads in Asia, threatening to undermine sales of similar crudes from Africa and South America. China's Unipec, at least one of the nation's independent refiners and South Korea's Hyundai Oilbank Co. have bought Johan Sverdrup for December delivery, said traders and refinery officials in Asia. The North Sea oil produced by Equinor ASA has been likened to Brazil's Lula and Angola's Saturno crudes. Oil with low-sulfur content is in demand ahead of stricter ship-fuel rules that take effect Jan. 1, while supply of medium-density crude has been tight due to the attacks on Saudi Arabia and U.S. sanctions on Iran and Venezuela. Johan Sverdrup has both of those qualities, and it's also attractively priced, which may have lured refiners that are typically cautious about new grades. If Johan Sverdrup continues to gain traction it may jeopardize exports of its rival grades to the world's top crude-consuming region. Angolan and Brazilian oil accounted for 10% and 8%, respectively, of Chinese imports in the first eight months of the year, according to government data. By comparison, Norwegian crude had a minuscule 0.04% share. "I have no doubt we'll see a trend of more Norwegian flows to Asia, especially China, in the coming months," said Sengyick Tee, an oil analyst at SIA Energy in Beijing. "Given the soaring freight rates and high Chinese stockpiles, Equinor will need to price it attractively," he said, adding that the company has a strong presence among Shandong's teapots. Shandong Qingyuan Group, a Chinese teapot, bought about 1 million barrels of Johan Sverdrup at a premium of $6 to $6.50 a barrel to Brent crude on a delivered basis, said traders who asked not to be identified as the information isn't public. That's around $1 a barrel cheaper than Lula and 20 to 30 cents less than Saturno, the traders said. Unipec -- the trading arm of Chinese giant Sinopec -- has bought two shipments of Johan Sverdrup for October loading, while Hyundai Oilbank took an undisclosed volume of the grade, the traders said.
Oil spill threatens rare dolphin's breeding zone in Bangladesh - An oil spill on a river in southeast Bangladesh has threatened the breeding ground of the critically endangered Ganges dolphin, environmentalists said on Sunday, describing it as a "major disaster" for the mammal. A tanker carrying 1,200 tonnes of diesel collided with another ship on the Karnaphuli river near Chittagong port on Friday and spilled tonnes of fuel, port authority spokesman Omar Faruk said. At least 10 tonnes of diesel spread across an area of 16 kilometres, he added, but local media said the amount spilled was likely to be far higher. Environmentalists said the spillage posed a "serious threat to the marine biodiversity in the river", particularly for some 60 freshwater dolphins who use the area as their breeding ground. Marine science expert Shafiqul Islam said it was a "major disaster" for the river's dolphin population as they could inhale toxic petroleum vapours while surfacing to breathe. "The dolphins could experience both acute and chronic exposure through their respiratory system and through ingestion of contaminated prey," he said. Karnaphuli — a key breeding ground for the dolphins — experienced a similar accident in 2016. The dolphin population is already threatened by nets used to catch fish and shrimp. In the past four years at least 20 dolphins died unnaturally — mostly through pollution — in the Karnaphuli and the adjacent Halda river. Senior port authority official Faridul Alam said most of the oil had been cleaned up, saying it was given "high importance" due to the dolphin breeding zone. Bangladesh banned ship movement in major rivers in the country's southwestern mangroves in 2014 after a oil spillage occurred at the heart of an Irrawaddy dolphin sanctuary.
Oil Spill Causes 'Major Disaster' for Ganges River Dolphins Breeding Zone - An oil spill in the endangered Ganges river dolphin breeding grounds located in southeast Bangladesh has been called a "major disaster" by environmentalists, reports Agence-France Presse (AFP). A tanker carrying 1,200 tonnes of diesel collided with another ship in the Karnaphuli river near Chittagong port last week, spreading 10 tonnes of diesel across 16 kilometers, port authority spokesman Omar Faruk told the publication. The Department of Energy issued a fine for polluting the environment, reported local media agency Dhaka Tribune. The Marine Bulletin reports that as of Oct. 26 about eight tonnes have been collected. Around 60 Ganges river dolphins (Platanista gangetica gangetica) use the area as a breeding ground and could inhale toxic petroleum vapors when surfacing to breathe. At least 20 dolphins in the last four years have died of unnatural causes including pollution in the river and in the adjacent Halda river, reports AFP. The Ganges river dolphin is one of just three freshwater dolphins in the world and is unique to two river systems in India, Nepal and Bangladesh. A 2014 study found that their population has dwindled dramatically since their 4,000 to 5,000 population in the 1980s. Today, the total population is around 2,000 individuals,according to the International Union for Conservation of Nature. Declared by the government of India as a National Aquatic Animal in 2009, the World Wildlife Fund notes that the species is a key indication of ecosystem health but are largely endangered due to human activities. Ganges river dolphin habitat is one of the most densely populated areas in the world and is used for fishing. Individuals are often caught as bycatch after becoming tangled in fishing nets used for shrimp and fish. They are also hunted for meat and oil, which is both used medicinally and to attract catfish for fisheries. One of the biggest threats to the Ganges river dolphin is pollution. The WWF reports that the essentially blind cetaceans have likely lost a majority of their eyesight due to pollution in their home waters. "Pollution levels are a problem, and are expected to increase with the development of intensive modern industrial practices in the region," wrote the organization. "Compounds such as organochlorine and butyltin found in the tissues of Ganges River dolphins are a cause for concern about their potential effects on the subspecies."
Saudi Aramco to keep 4.6 mln barrels of oil in Indian storage - govt - (Reuters) - India will lease a quarter of its strategic petroleum reserve in Padur to Saudi Aramco to store about 4.6 million barrels of oil, a government official said on Wednesday, as New Delhi seeks global investment in its expanding energy infrastructure. Global oil producers are eager to gain a foothold in India, where fuel demand is expected to keep rising as the country's economy grows. Indian Strategic Petroleum Reserves Ltd, a government company charged with building oil storage, signed a memorandum of understanding with the Saudi state firm for its participation in the 2.5-million-tonne facility in Karnataka state. "Aramco has signed an MoU for only one compartment," said HPS Ahuja, chief executive of the Indian company. The Padur storage facility has four equal-sized compartments. So far, Abu Dhabi National Oil Co is the only foreign company storing oil in India's strategic reserves, at Mangalore, also in Karnataka. Last year it signed a preliminary agreement to use half of the Padur reserve. Ahuja said Aramco would have to keep some of the 4.6 million barrels for India's strategic needs, but could sell the rest to Indian refiners. India, which relies on imports for about 80% of its oil needs, has underground emergency storage in three locations to protect against any supply disruption. The reserves can hold 36.87 million barrels. .
Cambodian oil: the dream that refuses to die -- Block A -- Cambodia's most promising oil concession -- is the dream that refuses to die. The concession's Apsara field, if fully tapped, would help diversify an economy heavily reliant on garment exports -- and increasingly Chinese investment. Like many of its neighbors in Southeast Asia, Cambodia has received billions in investments and loans linked to Beijing's Belt and Road infrastructure push. Oil exports could go some way toward putting the country on stronger financial footing, including chipping away at a 12% current-account deficit. And once a long-delayed refinery is built, that may also ease imports of petroleum products. It has been a long road. Cambodia's would-be oil sector has been beset by decades of setbacks as companies ranging from U.S. giant Chevron to Thailand's PTT, PetroVietnam and China National Offshore Oil Corp. (CNOOC) have come and gone. But now the government is pinning its hopes on Singapore-based KrisEnergy, trusting that the company will have the country's first oil field on stream by the end of this year. Although Block A's planned production will be initially modest, the government hopes it will be the first step in developing the sector. It has also restarted talks with Thailand over contested offshore fields thought to be rich in oil and gas, while a Canadian company is preparing to ramp up onshore exploration. Yet there is a problem. KrisEnergy -- which in 2014 paid $65 million for Chevron's controlling stake in Block A -- is struggling to stay afloat, having recently been granted a three-month court protection to give it "breathing room" as it attempts to restructure its severe debt load. On Tuesday a chink of light appeared after it announced the sale of an Indonesian oil asset. The company said the sale was part of its strategy "to focus its limited financial resources on optimising operations at its existing producing assets."
Oil trader Unipec resumes bookings of COSCO-owned tankers: sources - In one of the biggest sanctions actions taken by the U.S. government since its crackdown on Iranian oil exports, Washington imposed sanctions on Chinese tanker companies in late September for alleged involvement in moving crude oil from Iran. COSCO Shipping Tanker (Dalian), a subsidiary of China's state-owned shipping group COSCO, was one of the companies blacklisted. This prompted Unipec, the trading arm of Asia's top oil refiner, Sinopec, to make replacement bookings for shipments from the Middle East Gulf, shipping sources told Reuters in September. Concern over shippers falling foul of the U.S. sanctions sent oil freight costs to record highs around the world, adding millions of dollars to the cost of every voyage. Last week, Washington gave temporary approval for companies to wind down transactions with the designated COSCO subsidiaries. . One of the trade sources said the U.S. had held consultations with industry officials and had allowed for the issuance of general licences which would permit new chartering activity with COSCO tankers. It was unclear if this only applied to tankers that were not operated by the blacklisted COSCO entities. Refinitiv data on Tuesday showed one COSCO owned tanker Xin Pu Yang - owned by a subsidiary not affected by the U.S. sanctions - was sailing to Asia with a cargo of oil chartered by Unipec. A Sinopec spokesperson declined to comment.
Iran's thirsty energy industry runs up against water shortage - (Reuters) - The plan to build a petrochemical plant near the Iranian city of Firouzabad had everything usually needed to get a project off the ground: approval from the nation's top authority, funding from the Revolutionary Guards and plentiful gas feedstock. But a decade on, work at the site is only 10% complete because of a row over an increasingly scarce resource in Iran that is vital to keep the facility cool: water. "In early project studies, there were some mistakes about the amount of water the plant would need," said Hamidreza Soleymannejad, one of the plant's project managers. "They found the plant needs a lot of water, but the region could not provide that." The fate of the Firouzabad plant is not unique in Iran, even though the nation has huge oil and gas reserves and is eager to expand output of downstream products which can more easily evade crippling U.S. sanctions on its vital energy industry. At least a dozen petrochemical, fertilizer and refinery projects, with combined capacity to produce more than 5 million tonnes a year of products, have hit the buffers or been delayed due to water supply problems, according to a Reuters assessment. The list was compiled based on reports in state media, direct comments from project managers involved in several of the delayed plants, traders, and details published by some of the companies or major shareholders in the developments. Reuters sought comment from investors or companies involved. Most did not respond to emailed requests, while two confirmed water shortages were a major issue. One denied there was any problem, although a trader with close links to the project flagged a lack of water supplies as a crucial factor.
Hedge funds looking for the low in the oil market- Kemp - (Reuters) - Hedge funds showed signs of trying to pick the bottom in the oil market last week, with small-scale purchases emerging after the wave of heavy selling at the end of September and early October. Hedge funds and other money managers were net buyers of 22 million barrels of petroleum futures and options in the week to Oct. 22, after selling 206 million barrels in the three weeks between Sept. 17 and Oct. 8. Portfolio managers bought Brent (+5 million barrels), U.S. gasoline (+4 million), U.S. heating oil (+9 million) and European gasoil (+3 million) while the net position in WTI was unchanged. The hedge fund community is still running a bearish position overall, with dynamic positioning, excluding passive longs, equivalent to 31 million barrels net short, but that was up from 53 million the week before. From both a positioning and a fundamental perspective, however, the worst of the sell-off in oil may be over for the time being, encouraging funds to trim short positions and start establishing fresh longs. By early October, hedge funds had become more bearish about the outlook for oil than at any time since just after the start of the year (https://tmsnrt.rs/2NjGzkn). The ratio of long to short positions, the most useful measurement of fund sentiment, had fallen to just 2.6:1, down from 8.7:1 in April and the lowest since Jan. 22. Extremely low ratios preceded waves of fund buying and big price rises in both late 2017 and early 2019; at least some managers seem to be anticipating at repeat.
Oil markets could face oversupply in 2020, the IEA says - Oil markets are expected to face excess supplies in 2020 due to a production boost amid weak demand growth, the director for energy markets and security at the International Energy Agency said Tuesday. "Overall, we will continue to see a well supplied market in 2020," said Keisuke Sadamori at the Singapore International Energy Week. "Unless other things change, we will see a surplus probably, unless there is very strong demand growth recovery," Sadamori told CNBC. In its latest monthly report, the Paris-based agency cut its oil demand growth figure by 100,000 barrels a day for 2019 and 2020. Oil demand is expected grow at a "still solid" 1.2 million barrels a day in 2020, IEA said in the report. Global macroeconomic concerns such as the U.S.-China trade dispute and the developments surrounding Brexit — the UK's exit from the European Union trade bloc — are issues clouding the oil market outlook, said Sadamori. The Organization of the Petroleum Exporting Countries, and other producers including Russia, have implemented an output cut by 1.2 million barrels per day since January in a bid to support the market. However, oil supplies this year have been boosted by non-OPEC members such as the U.S. in shale oil production. Brazil and Norway will also produce more oil next year, said Sadamori. Meanwhile, demand in 2019 has been weak, amid weak growth in the first half and India demand growth slower than expected, he said. Growth in the second half of 2019 is being supported by a low base over the same period in 2018.
Oil Prices Break Winning Streak - West Texas Intermediate (WTI) and Brent crude oil posted an uninterrupted string of day-on-day gains from Tuesday through Friday last week. The contracts failed to extend the winning streak to Monday. The WTI for December delivery lost 85 cents Monday, settling at $55.81 per barrel. The contract traded within a range from $55.58 to $56.92. December Brent also finished the day lower, losing 45 cents to close at $61.57 per barrel. "WTI started up a bit this morning, but then traded down," said Tom McNulty, Houston-based managing director with Great American Group. McNulty pointed out that oil prices remain in a fairly narrow trading range. He noted that key drivers include ongoing speculation about the direction of trade negotiations between the United States and China as well as U.S. crude oil inventory levels. "If it looks like the U.S. and China will make a trade deal, we pick up a dollar or two," McNulty said. "When U.S. crude stockpiles look like they are growing too fast, we drop a dollar or two." Reformulated gasoline (RBOB) remained flat Monday. November RBOB lost well under one cent, settling at $1.67 per gallon for the second consecutive trading day. Unlike the above benchmarks, Henry Hub natural gas posted a strong gain Monday. November gas futures added nearly 15 cents to settle just under $2.45.
Oil falls on weak Chinese data, forecasts for U.S. crude stocks build (Reuters) - Oil prices fell on Monday after four days of gains as expectations U.S. crude stockpiles will rise and worries about weak Chinese industrial data offset hopes oil demand will increase if talks progress on a Sino-American trade deal. Brent futures fell 45 cents, or 0.7%, to $61.57 a barrel, while U.S. West Texas Intermediate (WTI) crude fell 85 cents, or 1.5%, to $55.81. Earlier in the session, Brent and WTI both climbed to their highest levels in a month, hitting $62.34 and $56.92, respectively. "The energy complex came out of the gate underperforming our expectations as it appears that another significant build in Cushing supply could be forthcoming," Jim Ritterbusch, president of Ritterbusch and Associates in Galena, Illinois, said in a report. After building for three weeks in a row, U.S. crude oil stockpiles at the Cushing, Oklahoma, delivery point for WTI, have risen by about 1.5 million barrels in the week through Oct. 25, traders said, citing data from market intelligence firm Genscape. Total U.S. crude inventories were forecast to have increased by around 700,000 barrels last week, according to a Reuters poll of analysts. Profits at Chinese industrial companies, meanwhile, fell for the second straight month in September as producer prices continued to slide, highlighting the impact of a slowing economy and protracted U.S. trade war on corporate balance sheets. Ritterbusch said the negative Chinese economic data was likely already baked into prices and was offset by optimism regarding the success of U.S.-Chinese trade talks.
Oil prices edge lower ahead of inventory data - Oil prices edged lower in quiet trade on Tuesday as concerns about slower economic growth overshadowed signs of a thawing in the trade war between Washington and Beijing, while investors awaited U.S. inventory data. Brent futures were down 3 cents at $61.54 a barrel by 0137 GMT, having fallen 0.7% on Monday. U.S. West Texas Intermediate (WTI) crude was down 9 cents at $55.72, after falling 1.5% in the previous session. Prices rose sharply last week amid a decline in U.S. inventories and signs of an easing in the U.S.-China trade war, but worries on Monday about weaker economic growth offset hopes of a rise in oil demand even if trade talks progress. "Investors are still giving more weight to weakening demand growth over tightening supplies," ANZ said in a note. Total U.S. crude inventories were forecast to have increased by around 700,000 barrels last week, according to a Reuters poll of analysts, having unexpectedly fallen the previous week. U.S. crude oil stockpiles at Cushing, Oklahoma, the delivery point for WTI, have risen by about 1.5 million barrels in the week through Oct. 25, traders said, citing data from market intelligence firm Genscape. The American Petroleum Institute releases industry data later on Tuesday, while the U.S. government's Energy Information Administration releases inventory data on Wednesday. The United States Trade Representative is studying whether to extend tariff suspensions on $34 billion of Chinese goods set to expire on Dec. 28 this year, the agency said on Monday. U.S. President Donald Trump said earlier on Monday he expected to sign a significant part of the trade deal with China ahead of schedule but did not elaborate on the timing. Leaders of the world's two biggest economies are working to agree on the text for a "Phase 1" trade agreement announced by Trump on Oct. 11. Trump has said he hopes to sign the deal with China's President Xi Jinping next month at a summit in Chile. The trade war has hit economic growth around the world and kept oil prices range bound for months.
Oil Down as Russia Throws Cold Water on Deeper Cuts-- Oil declined for a second day after Russia said it's too early to talk about deeper output cuts, casting doubt on the ability of OPEC and its allies to balance supply against a worsening demand outlook. Futures in New York fell as much as 0.7% after dropping 1.5% Monday. While the OPEC+ mechanism has shown its efficiency, it's not infinitely efficient as there are still limits on how much each country can do, Russian Deputy Energy Minister Pavel Sorokin said in an interview with Tass. Meanwhile, Genscape Inc. said oil stored at a key Oklahoma storage hub expanded last week, reviving concerns over sluggish demand and ample inventories. While crude is heading for its best month since June, it's still down around 16% since late April as the U.S.-China trade war weighs on demand and American production keeps rising. Asian stocks rallied Tuesday on optimism Washington and Beijing are getting closer to a deal, but it's unclear if a partial agreement that doesn't roll back existing tariffs will have much impact on oil demand. "Russia's comments signal that there hasn't yet been an agreed consensus within the OPEC+ coalition on making deeper cuts," said Will Sungchil Yun, a commodities analyst at HI Investment & Futures Corp. in Seoul. "This, combined with market expectations that U.S. crude stockpiles rose last week, will keep oil from pushing higher." West Texas Intermediate for December delivery fell 30 cents, or 0.5%, to $55.51 a barrel on the New York Mercantile Exchange as of 7:57 a.m. in London. The contract dropped 85 cents on Monday, the first decline in five sessions. It's up 2.7% so far this month. Brent for December settlement declined 22 cents, or 0.4%, to $61.35 a barrel on the London-based ICE Futures Europe Exchange after closing 0.7% lower on Monday. The global benchmark crude traded at a $5.82 premium to WTI. It's also necessary to monitor how U.S. crude production develops at current prices, Russia's Sorokin told Tass. American output has stayed at a record high of 12.6 million barrels a day over the past three weeks, according to the Energy Information Administration data.
Oil Prices End Day Mixed -- West Texas Intermediate (WTI) and Brent were mixed at the end of trading Tuesday. The December WTI contract settled at $55.54 per barrel, reflecting a 27-cent loss for the day. WTI traded within a range from $54.61 to $55.91. Brent crude for December delivery, meanwhile, eked out a slight, two-cent gain to settle at $61.59 per barrel. Overall, oil prices are receiving support from positive reports on the international trade front, said Bill Ebanks, managing director in the energy practice at AlixPartners LLP, a global, multi-industry consulting firm. "Prices appear to be reacting positively to news that the U.S. and China have been making progress toward reaching an agreement on Phase 1 of a partial trade deal," Ebanks told Rigzone. "China represents one of the top three crude export markets for the U.S." Ebanks added, however, that his firm expects further price escalation to be muted as a result of:
Increasing U.S. crude production this year – from 11.7 to 12.6 million barrels of oil equivalent per day – amid the lowest domestic rig count in two years
Limited price momentum in the wake of September's attack on Saudi Arabia's Abqaiq oil processing center
A high drilled but uncompleted (DUC) well count that operators are only starting to whittle down; the number of DUCs has decreased five percent since peaking in June 2019
An oversupply of oilfield service equipment capacity and competitive pricing trends; it should take another two to three more quarters to fully balance the oversupply situation
Ebanks noted the above factors appear to be reflected in money managers' cut of net long U.S. crude futures and options positions in the week to Oct. 22.
WTI Unimpressed By Small Crude Build, Cushing Draw - A weaker dollar and Saudi Arabia reportedly signaling support for trimming production further sparked a bounce intraday for oil prices but WTI ended the day lower."We'll need to wait until closer to the next OPEC+ meeting to really know the lay of the land instead of relying on preemptive headlines," said Michael Loewen, director of commodities strategy at Scotiabank in Toronto.But, all eyes will be on inventories tonight after last week's surprise crude drawdown and following the Genscape reports this morning"The Genscape thread running through the industry, that says we're going to get a good build of Cushing, that kind of tanked the market," API:
Crude +592k (+2.5mm exp)
Cushing -846k
Gasoline +1.599mm (-2.5mm exp)
Distillates +1.998mm (-2.4mm exp)
After last week's inventory draw, crude saw a small build (less than expected) while products saw notable builds (against the recent trend of draws as refinery maintenance season may be coming to an end)...
WTI Tumbles On Bigger Than Expected Crude Build - Oil prices are lower this morning following API's reported build at Cushing (confirming Genscape's report) and not sustainably helped by stronger than expected US GDP data (perhaps not enough to counter the deteriorating global economy weakened by the trade war which has driven a 16% slump in crude since late April). DOE:
Crude +5.70mm (+2.5mm exp)
Cushing +1.572mm
Gasoline -3.037mm (-2.5mm exp)
Distillates -1.032mm (-2.4mm exp)
Shrugging off last week's surprise draw, DOE data completely reversed API's, reporting a 5.7mm barrel build (and a 4th straight week of builds at Cushing). Product inventories dropped for the 5th week in a row... U.S. refineries return to duty as maintenance season winds downs with crude output elevated in a complacent market, says Vince Piazza, senior energy analyst at Bloomberg Intelligence. US crude production remains at record highs as rig counts collapse...
Oil falls 1% as US inventory rises - Oil prices extended losses Wednesday after a steep U.S. crude inventory build added to worries about a possible delay in resolving the U.S.-China trade war, which has hurt global oil demand. According to the US Energy Information Administration, US crude inventories increased by 5.7 million barrels from the previous week. US inventories are now at 438.9 million barrels, which is about 1% above the five year average for this time of year, the EIA said. Brent crude fell $1.07 to settle at $60.52 a barrel. U.S. West Texas Intermediate (WTI) crude fell 48 cents, or 0.9%, to settle at $55.06 a barrel. The United States and China were continuing to work on an interim trade agreement, but it may not be completed in time for U.S. and Chinese leaders to sign it next month, a U.S. administration official said. "Selling came courtesy of the fading optimism over trade and a Fed rate cut. Risk assets were dealt a blow as market players worried that the U.S. and China would delay settling their trade differences," PVM analyst Stephen Brennock said. However, U.S. crude inventories fell by 708,000 barrels in the week ended Oct. 25 to 436 million, compared with analysts' expectations for an increase of 494,000 barrels, according to the American Petroleum Institute, an industry group. Still, crude stocks at the delivery point for WTI at Cushing, Oklahoma were up 1.2 million barrels compared to the previous week, dragging on futures prices for the benchmark. "Stocks at the WTI delivery hub have been trending higher since late September, which has put pressure on the prompt WTI time spreads, with the December/January spread this month having shifted from backwardation to a contango," Dutch bank ING said in a note.
Oil falls 1.6% as inventory gain and weak Chinese data weigh - Oil prices came under pressure on Thursday from rising U.S. crude oil stocks and weak factory activity in China, with few bullish factors on the horizon. Brent crude futures fell 40 cents to settle at $60.21 a barrel, erasing earlier gains. They had dropped by 1.6% on Wednesday. U.S. West Texas Intermediate (WTI) crude futures fell 88 cents, or 1.6%, to settle at $54.18 per barrel. On the month, however, they are set for a rise of about 0.9%, its biggest monthly gain since June. The front-month Brent contract for December delivery expires on Thursday. The one for January delivery was also down. Factory activity in China shrank for a sixth straight month in October while growth in the country's service sector activity was its slowest since February 2016, official data showed on Thursday. A protracted trade war between China and the United States has been weighing on the demand outlook for oil. Leaders from the United States and China encountered a new obstacle in their struggle to end the damaging trade conflict when the summit at which they were supposed to meet was canceled because of violent protests in host nation Chile. U.S. President Donald Trump tweeted a new location would be announced soon. A Reuters survey showed on Thursday that oil prices are likely to remain pressured this year and next. The poll of 51 economists and analysts forecast Brent crude would average $64.16 a barrel in 2019 and $62.38 next year. Releasing third-quarter results, Royal Dutch Shell warned that uncertain economic conditions could slow its $25 billion share buyback program, the world's largest, and had led to a downward revision to its oil price outlook. The U.S. Federal Reserve cut interest rates for a third time this year on Wednesday, looking to bolster economic growth with a move that could also boost demand for crude. Yet gains are likely to be capped until inventories start to show sustained declines. U.S. crude inventories rose by 5.7 million barrels in the week to Oct. 25, the U.S. Energy Information Administration said on Wednesday, compared with analyst expectations for an increase of 494,000 barrels.
Oil prices decline on weak Chinese data, U.S. pipeline problems - (Reuters) - Oil prices fell on Thursday after data showed weak factory activity in China, with U.S. crude facing extra pressure after flows out of the Cushing, Oklahoma storage hub were disrupted because of reduced flows on a pipeline. Brent LCOc1 futures were down 38 cents, or 0.6%, at $60.23 a barrel, while U.S. West Texas Intermediate crude CLc1 fell 88 cents, or 1.6%, to $54.18. The front-month Brent contract for December delivery expires on Thursday. Futures for January delivery LCOF0, which will soon be the front-month, fell about 1.0% to settle at $59.62. For the month, Brent was on track to fall less than 1% and WTI to rise less than 1%. In the United States, TC Energy Corp's 750,000 barrels per day (bpd) Marketlink crude pipeline from Cushing, Oklahoma, to Nederland, Texas, was operating at reduced rates, three sources said. On Tuesday, TC Energy's Keystone pipeline shut after a leak in North Dakota. Marketlink is connected to the 590,000-bpd Keystone oil pipeline system, which transports Canadian crude from Alberta to refineries in the U.S. Midwest and the Cushing storage hub. The Keystone outage should dent supplies at Cushing, the delivery point for U.S. crude futures, said Andy Lipow, president of Lipow Oil Associates in Houston. But WTI prices could still be pressured because of the Marketlink flows slowing. More than 9,000 barrels of oil were estimated to have spilled from Keystone after a leak was discovered late Tuesday, according to state regulators in North Dakota. In early trading, official data from China showed factory activity shrank for a sixth straight month in October while growth in the country's service sector was its slowest since February 2016. A trade war between China and the United States has been weighing on the demand outlook for oil.
Oil prices stabilize, but set for big weekly loss amid trade gloom, rising output - Oil prices edged up on Friday after a difficult week, but were still headed for losses of about 4%, hit by a combination of rising global supply and uncertain future demand. Brent crude was up 9 cents cents, or 0.15%, at $59.71 a barrel, on track for a drop of about 4% for the week. WTI crude was up 22 cents to $54.40 a barrel with the U.S. contract was set for a weekly loss of more than 4%. Worries over global economic growth, along with oil demand, continue to haunt the market as the United States and China struggle to end a 16-month dispute that has hit trade between the world's top two economies. "There's renewed doubts about a U.S.-China trade deal... and at the same time we've had inventory lifts quite a lot more than expected at the crude level out of the U.S. this week," said Lachlan Shaw, head of commodity research at National Australia Bank. The market received some respite from a run of poor economic data after an unexpected bounce in a private sector survey of Chinese manufacturing activity on Friday, which contrasted with dour results in an official survey Thursday. Japanese factory activity, however, sank to more than a three-year low in October, data showed on Friday, in a fresh warning sign for the world's third-largest economy. U.S. crude inventories rose by 5.7 million barrels in the week to Oct. 25, dwarfing analyst expectations for an increase of just 494,000 barrels. A Reuters survey showed that oil prices are likely to remain under pressure this year and next. The poll of 51 economists and analysts forecast Brent crude would average $64.16 a barrel in 2019 and $62.38 next year. A Reuters survey found output from Organization of the Petroleum Exporting Countries (OPEC) recovered in October from an eight-year low, with a rapid recovery in Saudi Arabian production from September attacks on its oil infrastructure offsetting losses in Ecuador and voluntary curbs under an international supply pact. Meanwhile, U.S. crude production soared nearly 600,000 barrels per day in August to a record of 12.4 million, buoyed by a 30% increase in Gulf of Mexico output, government data released on Thursday showed.
Oil rises nearly 4% on U.S.-China trade hopes, but sets weekly decline - (Reuters) - Oil prices rose nearly 4% on Friday on signs of progress in U.S.-China trade talks and stronger-than-expected economic data in both countries, including U.S. employment and Chinese manufacturing activity numbers. Brent crude ended the session up $2.07, or 3.5%, at $61.69 a barrel, but notched a drop of about 0.4% for the week. West Texas Intermediate crude settled $2.02, or 3.7% higher at $56.20 a barrel, but fell about 0.8% in the week. U.S.-China trade talks are progressing well and the United States aims to sign an initial deal this month, top Trump administration officials said, offering reassurance to global markets after nearly 16 months of tit-for-tat tariffs. Beijing's state-media Xinhua News Agency said the world's two largest economies had reached "consensus on principles" during a serious and constructive telephone call on Friday between their main trade negotiators. U.S. and Chinese negotiators had made "enormous progress" toward finalizing a "phase one" agreement, although the deal was not yet 100% complete, White House economic adviser Larry Kudlow told reporters. "You're going to get a strong reaction from what seems like a deal for now," said John Kilduff, a partner at Again Capital Management in New York. "This markedly improves the outlook for the global economy – particularly in Asia where it has suffered the most from the fallout from the trade war." Both benchmarks fell earlier in the week after a hike in U.S. crude inventories, especially at the Cushing, Oklahoma, delivery hub for WTI, and as the trade war weighed on prices, fanning fears that slowing economic growth could dent demand for oil.
Will OPEC+ Declare War On U.S. Shale? - - Russia's Deputy Energy Minister Pavel Sorokin this week told TASS in an interview it was too early to discuss deeper cuts. The news immediately ignited the not-too-dormant worry of traders that Russia could play OPEC and leave the cuts altogether—a not too far-fetched scenario given Russian oil companies' general negative attitude towards the cuts. If the OPEC+ events from the last three years are any indication, Russia will not leave the cuts but may well use the meeting to politically maneuver. But it's not just Russia. Nigeria earlier this month struck a deal with OPEC that will allow it to produce more oil even under a production cut regime. Reuters reported the news citing unnamed OPEC officials and noting that the decision was not made public. This development raises one important question: how long before other OPEC members ask for similar special treatment? Besides Nigeria, there are at least two OPEC members that want to boost their oil production: Iraq and Libya. Libya has been exempted from all production cut agreements so far and, as its National Oil Corporation chairman Mustafa Sanalla said in July, it must remain exempt from any future cuts as well. Libya plans to increase its oil output to 1.6 million bpd from the current 1.3 million bpd. Iraq is taking part in the cuts, but grudgingly, and it shows: OPEC's number-two exporter has consistently failed to stay within its production quota. Yet overall compliance continues to excel because of the forced production declines in sanction-stricken Venezuela and Iran. So, the obvious question is how long and how much OPEC+ will decide to cut. But there's a less obvious one that was put forward by Bloomberg's Julian Lee: why cut at all instead of turning the taps all the way back to maximum production? Lee argued in a recent commentary that Saudi Arabia, for one, would benefit a lot more from a maximum-production approach than an extension of the cuts. U.S. shale oil growth is already slowing down because of international prices. If Saudi Arabia and its allies decide to reverse their price control approach, it will crash and burn. Of course, as prices crash so will the Saudi dream of a $2-trillion valuation for Aramco, whose IPO is reportedly scheduled for a couple of days after the OPEC+ meeting. This means the otherwise perfectly reasonable scenario put forth by Lee and others is unlikely to play out. What is most likely to happen is either a preservation of the status quo or an agreement to extend the current cuts further into 2020.
Saudi Banks May Lend To Saudi Investors So They Can Invest In Saudi Aramco -Crown Prince Mohamad bin Salman is once again making the rounds and unceremoniously shaking down his country's elite - this time by asking them to commit to anchor investments in the Aramco IPO, one of the largest offerings ever. Aramco is the world's largest and most profitable company, and the heart of KSA's oil-dominated economy. For years, bankers in London, Hong Kong and NYC vied for the right to host the IPO.But with the IPO apparently about to move forward next week, the prospectus is expected any minute now. That will shed some light on the trading venue and whether KSA is standing by its demands that Aramco debut at a valuation close to $2 trillion.Whatever happens, the Saudi people will definitely benefit from the billions of dollars flooding into the oil firm's coffers. But exactly which form these benefits will take remains unclear. That is, until Thursday, when Bloomberg reported that, in a gesture that would likely help reduce economic inequality in a country where most ordinary people rely on generous state economic benefit system, Saudi Arabia is eliminating borrowing caps on what banks are allowed to lend to local investors to allow more of them to invest in the IPO.The IPO market has been notoriously soft this year as a spate of young, untested and unprofitable companies debuted, only to be met by a punishing wave of skepticism. The trend culminated with WeWork, heavily backed by KSA via SoftBank's Vision Fund, deciding to shelve its debut after a painfully public scandal. But as the country looks for new sources of money to keep the IPO afloat the worst come to pass, several lenders are seriously pushing the envelop, and asking the central bank for a much larger sum of money than the bank would normally be comfortable lending for such a speculative investment. Though the final amount will depend on the bank's final decision, they're expected to be more conservative the higher the valuation goes.
The Bombers Have Landed: B-1s Arrive in Saudi Arabia as Part of US Buildup -- B-1B Lancer bombers landed at an air base in Saudi Arabia this week, marking a surprise return of the long-range bombers to the Middle East after they were pulled early this year. A series of videos from U.S. Air Forces Central Command and Air Force Global Strike Command posted on social media Friday showed the bombers taking off from Ellsworth Air Force Base, South Dakota -- home of the 28th Bomb Wing -- and landing at Prince Sultan Air Base. The service did not disclose how many of the non-nuclear bomber were sent, nor the duration of the aircrafts' deployment. Additional details were not provided by press time. Earlier this month, the Defense Department signed off on a plan to send thousands more troops to act as a force stabilizer in response to Iran's continued antagonistic actions in the Middle East. The U.S. forces deployed with two fighter squadrons, an Air Expeditionary Wing, two Patriot missile batteries, and one Terminal High Altitude Area Defense system, known as THAAD. The Pentagon did not previously disclose the bombers' presence. The Saudi air base has seen significant buildup from U.S. troops in recent months in response to Iranian provocations. Defense Secretary Mark Esper this week toured the base, and was seen standing in front of the missile battery as well as a number of F-22 Raptors from the 27th Expeditionary Fighter Squadron Joint Base Langley-Eustis, Virginia, according to Air Force Magazine. The additive "Bone" deployment comes as the fleet has undergone extensive maintenance to keep the heavy bomber ready.
Saudi Arabia hosts its first WWE women's wrestling match Saudi Arabia has hosted its first women's wrestling match, as it takes steps towards relaxing strict rules on entertainment. The contest, in Riyadh, featured WWE stars Natalya and Lacey Evans. The pair fought in body suits and a t-shirt on top, in line with requirements for visitors to "dress modestly." In recent years Saudi Arabia has attempted to shake off its image as one of the most repressive countries in the world for women. The government lifted a long-standing ban on women driving in 2018 and made changes to the male guardianship system this August, allowing women to apply for passports and travel independently without permission from a man. However, women continue to face numerous restrictions on their lives, and several women's rights activists who campaigned for the changes have been detained and put on trial. Some of them alleged to have been tortured in prison. Thursday's landmark match was part of the WWE Crown Jewel event which took place at Riyadh's King Fahd International Stadium, which can seat 68,000 spectators. Former boxing champion Tyson Fury also competed, defeating Braun Strowman.
Death toll in Yemen war reaches 100,000 The death toll in Yemen's war since 2015 has reached 100,000, according to a highly regarded database project that tracks the conflict. The Armed Conflict Location and Event Data project (Acled), which tracks confirmed fatalities in the conflict and is seen as reliable, said the figure included 12,000 civilian deaths in directly targeted attacks. It said 20,000 people had been reported killed this year, making it the second deadliest year of the war after 2018. The conflict in the Arab world's poorest nation began in 2014 with the takeover of northern and central Yemen by Iran-aligned Houthi rebels, who drove out the internationally recognised government from the capital, Sana'a. In March 2015 a Saudi-led coalition launched an air campaign to prevent the rebels from overrunning the country's south. The Saudi-led airstrikes have hit schools, hospitals and wedding parties, while the Houthis have used drones and missiles to attack Saudi Arabia and have targeted vessels in the Red Sea.
How Iran Used Google To Disrupt 5% Of Global Oil Production - Officials at Saudi Aramco believe that Iran used satellite maps from Google Maps to precisely attack the oil facilities in Saudi Arabia in the middle of September, a U.S. Senator who visited the Kingdom after the attacks said, raising concerns that no energy infrastructure is safe.Joe Manchin, Senator for West Virginia, visited Saudi Aramco facilities two weeks after the attacks. The U.S. Senator spoke to Aramco officials and shared part of his conversation during the North American Infrastructure Leadership Forum in Washington, as carried by the Washington Examiner.On September 14, the Abqaiq facility and the Khurais oil field in Saudi Arabia were hit by attacks, which resulted in the temporary suspension of 5.7 million bpd of Saudi Arabia's crude oil production, or around 5 percent of global daily oil supply.U.S. President Donald Trump, Secretary of State Mike Pompeo, and Energy Secretary Rick Perry all blamed Iran for the attack. Saudi Arabia has also pointed the finger at Iran.Senator Manchin was shown a video of the missile attacks in Saudi Arabia, he said at the forum.The Senator asked a Saudi Aramco official whether the oil giant is concerned about someone working at the facility getting the information or the coordinates of possible strikes to hostile actors. "He looked at me and said, 'If we thought that was a problem, we would be, but basically it's all Google, Google Maps.' He said, 'It's so accurate,'" the Senator said, as carried by Washington Examiner.The revelation that clear images on Google Maps can help terrorists target oil and gas facilities had Senator Manchin worried about the state of the U.S. energy infrastructure, especially natural gas pipelines. An attack on a single natural gas pipeline in the United States could lead to mass blackouts, Neil Chatterjee, chairman of the Federal Energy Regulatory Commission (FERC), said last month, discussing America's energy infrastructure in the aftermath of the attacks in Saudi Arabia.
Iran's Khamenei Blames US, Israel For Sowing Unrest Through Lebanon & Iraq Protests - Clashes among various protest factions as well as with police have escalated in Beirut over the past days, amid nearly two weeks of mass anti-government demonstrations which have seen up to one million hit the streets, or up to 25% of the population, angry over widespread government corruption and as extreme lack of confidence in Lebanon's currency and the central bank rises. The sheer size and intensity of the protests which has led to over 12 days of shuttered banks, schools, and public institutions amid gridlock and literal roadblocks, led to Saad al-Hariri on Tuesday resigning his post as prime minister, saying he had hit a "dead end" in trying to resolve the crisis. Western media reports have begun blaming Hezbollah for attacking anti-government protest camps in the Lebanese capital, after the group's leader Hassan Nasrallah has grown critical of the mass movement, saying it's being fueled by "foreign powers". Others have blamed the violence, which involved stick-wielding men beating up protesters, on the rival Amal faction. Regardless, Iran on Wednesday joined in the blame-game, with no less than Iran's supreme leader, Ayatollah Ali Khamenei, weighing in with a series of statements slamming the 'hidden hand' of the United States and Israel for seeking the destabilize Lebanon and Iraq through protests which have gripped both countries. Khamenei went on a tirade in a series of tweets:"The biggest damage enemies can inflict on a country is to deprive them of security, as they are doing today in some countries in the region," he wrote. "I recommend those who care in Iraq and Lebanon remedy the insecurity and turmoil created in their countries by the US, the Zionist regime, some western countries, and the money of some reactionary countries." Likely the "reactionary countries" he has in mind include Saudi Arabia and its other gulf allies — long very active and with deep pockets in Lebanese politics.
Iraq suspends Saudi Arabian broadcasters: Al-Hadath TV - (Reuters) - Iraq has suspended Saudi Arabian state-owned broadcasters Al-Hadath TV and Al Arabiya, Al-Hadath said on Saturday, amid renewed anti-government protests that saw scores killed over two days in clashes with security forces and militia groups. "The Iraqi government suspends the work of Al-Hadath and Al Arabiya," Al-Hadath TV said on its news ticker while it carried footage of the protests. Over 60 people were killed on Friday and Saturday.
Iran Foils Plot To Oust Iraqi PM In Latest Sign Of Tehran's Growing Influence -- Violent protest movements have erupted around the world in 2019, making it perhaps the most chaotic year since 2011, when the Arab Spring uprisings that swept the Middle East toppled several governments in quick succession. Though the Middle East hasn't exactly been the most stable region in recent years, 2019 has been particularly troubled. After two years of relative calm, protests that started in Baghdad one month ago have spread across the country. Roughly 250 people have been killed in the chaos that has ensued. Meanwhile, over in Lebanon, a wave of anti-government protests has swept across the country, motivated by many of the same factors: The controversial influence of the Iranian government in local affairs, economic mismanagement and endemic poverty, and a political establishment that's widely seen as corrupt.But in Lebanon, earlier this week, Prime Minister Saad Hariri and his cabinet resigned. Hariri said he had "reached a dead end" following nearly two weeks of brutal protests that have convulsed the tiny nation and led to bloody clashes with the militant wing of Hezbollah, which is the junior partner to Hariri's party in the Lebanese government.Something similar almost happened in Iraq. According to an exclusive Reuters report, Iran stepped in to prevent the ouster of Iraqi PM Abdel Abdul Mahdi, who was reportedly on the cusp of being ousted by two of the country's most influential political figures as the anti-government protests worsened.The two men are themselves political rivals: Populist cleric Moqtada al-Sadr and Hadi al-Amiri, both of whom control Shiite backed militias. But a surprise visit by Qassem Soleimani, the head of the IRGC international offshot Quds Force intervened by asking al-Amiri and his Iranian-backed militias to continue supporting Abdul Mahdi. Several senior Iraqi officials have told reporters that Soleimani showed up at a secret meeting in Baghdad on Wednesday that was supposed to be run by Abdul Mahdi, according to Israeli newspaper Haaretz. Soleimani and many of the militia leaders who are loyal to Amiri raised concerns at the meeting that ousting Abdul Mahdi could weaken the Popular Mobilization Forces, an umbrella group of mostly Iran-backed Shiite militias who have allies in the Iraq's parliament and government.
Major contraction in Iran is driving the Middle East's growth slowdown: IMF report - The International Monetary Fund's latest regional outlook report for the Middle East and Central Asia, published Monday, paints a picture of uncertain economies weighed down by global factors like trade tensions as well as internal and regional turmoil. Trade wars, oil price volatility, the risk of a disorderly Brexit and rising social unrest — and in the short term, a massive economic contraction in Iran as it buckles under heavy U.S. sanctions — are the biggest factors shaping the region's outlook, according to the IMF. "The outlook for the MCD region (Middle East and Central Asia) is driven by a large contraction in Iran in the short-term followed by a rebound in 2020," the report said. "The risks around the forecast are skewed to the downside and are highly dependent on global factors." The IMF expects Iran to have a fiscal deficit of 4.5% in 2019 and 5.1% in 2020, and projects its growth to contract by a whopping 9.5% this year. The country of 80 million and third-largest OPEC producer has seen its currency go into free fall and inflation approach 40% after being hit by wide-ranging sanctions following the Trump administration's withdrawal from the 2015 Iranian nuclear deal. The sanctions have slashed Iran's crude exports by about 80%, according to Reuters estimates. Broader international factors are also impacting the region's growth, the report said. "The region is this year growing at a slower pace than last year. And this is due to the various shocks or factors that are affecting the output of the region," Jihad Azour, the IMF's director for the Middle East and Central Asia, told CNBC's Hadley Gamble in Dubai. Azour said that oil importing countries should expect a growth slowdown from 4.3% to 3.6%, mainly driven by Pakistan and Sudan, while oil exporters — excluding Iran and countries impacted by war — should expect growth of 1.3% in 2019 compared to 1.6% the year before. "For the oil exporting countries, non-oil growth is gradually picking up thanks to the reforms that they have introduced," Azour said. "Yet the overall growth declined because of the volatility and the slowdown in the production due to the OPEC+ agreement (to limit oil output) and the negative growth in Iran and Libya."
Israeli forces storm Palestinian school in West Bank, confiscating mobile cafeteria - Israeli forces raided a school in the village of Dahr al-Maleh in the West Bank, demolished its wall and confiscated a mobile container that was used as a cafeteria on Monday, the head of the village council told Middle East Eye. Israeli forces stormed into the village at 6.30am, smashing through the gates of the primary school and breaking down its doors, Omar al-Khatib said. The Dahr Al Maleh Elementary Mixed School, located south of Jenin in the northern occupied West Bank, has been under constant threat of being demolished and has not been granted permission for any construction on its premises. Due to the lack of space, parents donated a mobile container for the school to utilise as a cafeteria and kitchen, according to Khatib. Israeli troops confiscated tools, a refrigerator, gas stove, cleaning equipment and stationery, he said. The school also known as "Tahaddi (Challenge) 17 School" opened in January, with Italian support. It has 38 students aged five to 15 years old and employs eight teachers. In November 2018, Israeli forces confiscated building materials during its construction period. In June, the Israeli foces took away a tractor and more building materials while the school was being further developed. Israeli authorities claim the school is outside the structural plan demarcated for the village, although its foundation is only 20 metres off the plan, Khatib said. "Israel issued a decision to demolish the school on 2 January, and the village lawyer succeeded in consolidating its decision," he added.
The Ethnic Cleansing of Palestinian Christians that Nobody is Talking About - Palestine's Christian population is dwindling at an alarming rate. And the reason for this is Israel. Christian leaders from Palestine and South Africa sounded the alarm at a conference in Johannesburg on October 15. One major issue that highlighted itself at the meetings is the rapidly declining number of Palestinian Christians in Palestine. There are varied estimates on how many Palestinian Christians are still living in Palestine today, compared with the period before 1948 when the state of Israel was established atop Palestinian towns and villages. Regardless of the source of the various studies, there is near consensus that the number of Christian inhabitants of Palestine has dropped by nearly ten-fold in the last 70 years. A population census carried out by the Palestinian Central Bureau of Statistics in 2017 concluded that there are 47,000 Palestinian Christians living in Palestine – with reference to the Occupied West Bank, East Jerusalem and the Gaza Strip. 98 percent of Palestine's Christians live in the West Bank – concentrated mostly in the cities of Ramallah, Bethlehem and Jerusalem – while the remainder, a tiny Christian community of merely 1,100 people, lives in the besieged Gaza Strip. The demographic crisis that had afflicted the Christian community decades ago is now brewing. For example, 70 years ago, Bethlehem, the birthplace of Jesus Christ, was 86 percent Christian. The demographics of the city, however, have fundamentally shifted, especially after the Israeli occupation of the West Bank in June 1967, and the construction of the illegal Israeli apartheid wall, starting in 2002. Parts of the wall were meant to cut off Bethlehem from Jerusalem and to isolate the former from the rest of the West Bank. "The Wall encircles Bethlehem by continuing south of East Jerusalem in both the east and west," the 'Open Bethlehem' organization said, describing the devastating impact of the wall on the Palestinian city. "With the land isolated by the Wall, annexed for settlements, and closed under various pretexts, only 13% of the Bethlehem district is available for Palestinian use." Increasingly beleaguered, Palestinian Christians in Bethlehem have been driven out from their historic city in large numbers. According to the city's mayor, Vera Baboun, as of 2016, the Christian population of Bethlehem has dropped to 12 percent, merely 11,000 people.
Jordanian woman on hunger strike in Israeli prison is refusing medical treatment - A Jordanian woman held in Israeli prison has refused medical treatment as she approaches a month on hunger strike against being held in administrative detention, her father said on Tuesday. Heba Labadi, 24, is one of two Jordanian citizens arrested by Israel and put under administrative detention, a system that allows Israeli authorities to hold people without charge or the possibility of appeal for prolonged periods of time.Labadi's father, Ahmed al-Labadi, told MEE that his daughter was arrested on 20 August on her way back from a relative's wedding in the occupied West Bank town of Yabad, near the city of Jenin.Heba's father told the Jordanian radio station Al-Balad on Tuesday that his daughter has refused to be transported to an Israeli hospital to receive treatment."Her lawyer appealed to the court against the administrative detention, but we do not know if the appeal will be accepted," Heba's father told Al-Balad radio. Ahmed said that a list of charges against Heba had not been presented to her lawyer yet.
Lebanon deadlock remains after PM quits -Lebanese President Michel Aoun has asked the resigned government of Prime Minister Saad Hariri to continue on a caretaker basis until a new cabinet is formed, as security forces began opening major roads after two weeks of huge protests that paralysed the country. The army had asked demonstrators earlier on Wednesday to voluntarily clear all roadblocks to ensure that life returns to normal. The move came a day after Hariri announced the resignation of his government in a televised address to the nation, saying he had hit a "dead-end" in his attempts to resolve a crisis unleashed by the massive protests against the political elite amid widespread anger over years of economic mismanagement and corruption. Hariri's announcement satisfied one of the main demands of the leaderless protest movement, which has brought together people from across Lebanon's political and religious divides, but demonstrators pledged to keep pushing for deeper change. Analysis: What Saad Hariri's resignation means for Lebanon (8:54) Still, with no obvious alternative to Hariri to fill the post of prime minister, which is reserved for a Sunni Muslim in Lebanon's power-sharing system, there is no clear way out of the political crisis. In line with the Constitution, Aoun, who will deliver a speech on Thursday evening, asked Hariri to stay on as caretaker prime minister. The president is now expected to launch consultations with the leaders of political blocs in Parliament to discuss the appointment of a potential new prime minister.
Vladimir Putin is looking unstoppable after a string of victories that Trump handed to him on a plate - Vladimir Putin is on a roll. This week alone, the Russian president:
Drew a NATO member, and buffer between Russia and Europe, close into his orbit.
Showed global ambition by hosting all 54 African nations to sign billions in new business deals.
His deal to jointly patrol northeastern Syria with Turkish President Recep Tayyip Erdogan, made on Tuesday, establishes Russia as a power player in the war-torn country. Putin is now a bridge between Turkish militants and Bashar al-Assad's regime, and a guarantor of regional security. His renewed friendship with Erdogan has also secured for him an ally, and a useful buffer between the Russian heartland and European territory. As the only country straddling Asia and Europe, Turkey has long served as Russia and Europe's middleman.Putin's embrace of Turkey comes despite its membership of NATO, the military bloc former specifically to check Russian ambition."NATO was formed to keep Russia's former Soviet empire in check. Now, Russian military police have unrestrained access to hundreds of kilometers of NATO's southern border, at the invitation of a NATO member," CNN's Nick Paton Walsh wroteon Wednesday."That is something Vladimir Putin can only have dreamed of. Putin's expansion into Africa – highlighted in this week's first Russia-Africa Summit – has shown to the world a desire to cement his economic influence beyond his immediate surroundings. The Soviet Union used to have a major presence on the continent, but that has decreased since the end of the Cold War."Whether it's through diamond extraction or arms sales in Madagascar, or energy deals in Nigeria or Libya, the Russians are [showing themselves to be] an increasing force to be reckoned with," said James Nixey, head of the Russia and Eurasia Programme at Chatham House.
Russia, the Indispensable Nation in the Middle East -- Russia is on a roll in the Middle East. Russian airpower saved the Assad regime from certain defeat. Turkey and Israel must now accept the presence of Russian troops on their borders. Saudi Arabia has given Russian President Vladimir Putin the red-carpet treatment. And U.S. President Donald Trump thanked Putin for facilitating the operation to kill Abu Bakr al-Baghdadi, the leader of the Islamic State (or ISIS). Throughout the Middle East, from North Africa to the Persian Gulf, Russia is ubiquitous, with its high-level visitors, its weapons, its mercenaries, and its deals to build nuclear power plants. Russia has gotten involved in this region as the United States pulls back from it—a trend that even the success of the Baghdadi raid can do little to conceal. The reemergence of Russia as a major power broker in the Middle East is striking not only in contrast with the United States' erratic posture in the region but because for a quarter century after the Cold War, Russia had been absent from the region. But Russia's absence, and not its return, is the anomaly. For centuries, Russia fought Turkey, England, and France for access to the Mediterranean, to protect fellow Christians under the Ottoman rule, and to secure a foothold in the Holy Land. For most of the post–World War II era, the Soviet Union was a major force in the Middle East. Moscow supported the Palestine Liberation Organization in its struggle against the "Zionist entity." Egypt and Syria waged wars against Israel with Soviet weapons, help from Soviet military advisers, and occasionally even Soviet pilots. Soviet engineers and money helped build Egypt's Aswan Dam. Then, in the late 1980s, the Soviet Union fell on hard times and rapidly withdrew.For the two decades that followed, Russia barely registered a presence in the Middle East. The United States grew accustomed to acting as the region's hegemon—waging wars, dictating its political vision, and punishing governments that defied its will.
The Syrian Tug of War Is Still War Against Syria, and Russians Trust the Army More Than President Putin to Wage It - John Helmer -It doesn't suit any of the sides in the US presidential campaign to acknowledge that the terms President Vladimir Putin agreed this week for the Turkish invasion and occupation of northern Syria to become permanent are not those which Russia's Defence Ministry, General Staff, Foreign Ministry and Foreign Intelligence Service proposed instead. That's too complex a point in the American political contest between President Donald Trump, his supporters and opponents. So complex, in fact, that Trump is gaining nothing in domestic job approval rating in the polls, as he intended his Syrian "troop withdrawal" and "save the oil" moves to achieve [4]. This is also too fine a point for the alternative media to concede in their competition for audience (and money) with the mainstream media. Both of them share the idea that Putin is the dominant decision-maker in Moscow. To alt-media writers and publishers, that's a good thing; to the mainstream media that's a bad thing, a very bad thing. The truth of the matter – the Russian political fact of the matter – is beside the point to both. American exceptionalists being what they are, rightwing imperialists and leftwing imperialists, Holocaust and climate warming deniers included, there is no room in the present American discourse for the facts on the ground. On the ground in Syria, or on the ground in Moscow. The big fact on the ground that's being missed in North America is that Putin has agreed to another Turkish invasion of a neighbouring country. This was not Kremlin policy at the time of the Turkish invasion of Cyprus in 1974. It wasn't Kremlin policy last September when Putin and President Recep Tayyip Erdogan agreed [5] on terms for the temporary protectorate of Idlib. In the run-up to the negotiations in Sochi on Tuesday (October 22), this was not the Russian policy consensus toward the Turkish invasion of northern Syria, nor toward the options for driving the Turks back where they belong. Half-measures are what turned out. In Russian strategy and politics, the outcome could have been worse, so half-measures seem to be better than pushing Erdogan back towards the US and NATO, as Russians believe to be his genuine preference.
US Boosts Troop Numbers in East Syria to Control Oil — With several hundred US troops already planned to stay in Syria to "control the oil," US convoys are sending more troops into Syria Deir Ezzor Province from neighboring Iraq, and reinforcing the areas around the oil fields. Exactly how many troops are there, or how many were sent is not known. President Trump previously classified troop levels in Syria, saying the enemy "must never know" of American plans. It's not clear who the enemy is at this point, since the war's goal is now controlling the oil.But President Trump has indicated repeatedly that he intends to not just retain control over Syria's oil, and that he believes the US deserves to take some oil for itself out of Syria's fields. With Trump escalating talk about taking the oil, it's clear the US military is being charged with escalating its presence at the oil to preclude anyone from contesting America's claim to the oil.
Russia slams US move on Syrian oil fields as ′banditry′ - Russia's Foreign Ministry on Saturday said the US has no right to seize oil fields currently controlled by Kurdish forces in the eastern Syrian area of Deir el-Zour.The condemnation came amid reports that a US military convoy of a dozen vehicles was moving south towards the site.An unnamed US military official confirmed to AFP news agency that the Pentagon began reinforcing its presence in Deir el-Zour, which boasts rich oil fields"This, what Washington is doing now — capturing and maintaining control through the use of arms over oil fields in eastern Syria — that is, to put it simply, international, state-sponsored banditry," said Russian General Igor Konashenkov.The tension comes as Kurdish-led forces were forced to retreat from parts of the northeast border, as laid out by a cease-fire deal struck bilaterally between Russia and Turkey.Turkey launched its offensive two weeks ago after US President Donald Trump abruptly ordered all US troops in northeastern Syria to leave. Trump's move paved the way for Turkey to launch a cross-border operation against the Kurdish-led Syrian Democratic Forces (SDF). Under pressure from the US and Russia, Ankara agreed to a temporary cease-fire to allow Kurdish fighters to pull out of the planned buffer zone along the Turkish border. US Defense Secretary Mark Esper said on Friday the Pentagon was considering sending additional troops and armored vehicles further south to Deir el-Zour. The area is currently protected by Kurdish forces, but the US also has some 200 troops at the site. Esper said that sending in reinforcements, which comes after Trump's orders to leave northern Syria, is aimed at preventing the "Islamic State" (IS) group from taking control of the fields.
Russian Defense Minister Publishes Evidence Of US Oil Smuggling From Syria– – The Russian Ministry of Defense has published satellite intelligence images, showing American oil smuggling from Syria. Image 1: Situation in the Syrian Arab Republic as of October 26, 2019. According to the ministry, the photos confirm that "Syrian oil, both before and after the routing defeat of the Islamic State terrorists in land beyond the Euphrates river, under the reliable protection by US military servicemen, oil was actively being extracted and then the fuel trucks were massively being sent for processing outside of Syria." Here, in a picture of the Daman oil gathering station (42 kilometers east of the Deir-ez-Zor province), taken on August 23, a large amount of trucks were spotted. "There were 90 automotive vehicles, including 23 fuel trucks," the caption to the image said. In addition, on September 5, there were 25 vehicles in the Al-Hasakah province, including 22 fuel trucks. Three days later, on September 8, in the vicinity of Der Ez-Zor, 36 more vehicles were recorded (32 of them were fuel trucks). On the same day, 41 vehicles, including 34 fuel trucks, were in the Mayadin onshore area. As the official representative of the Defense Ministry Igor Konashenkov noted, the Americans are extracting oil in Syria with the help of equipment, bypassing their own sanctions. Igor Konashenkov: "Under the protection of American military servicemen and employees of American PMCs, fuel trucks from the oil fields of Eastern Syria are smuggling to other states. In the event of any attack on such a caravan, special operations forces and US military aircraft are immediately called in to protect it," he said. According to Konashenkov, the US-controlled company Sadcab, established under the so-called Autonomous Administration of Eastern Syria, is engaged in the export of oil, and the income of smuggling goes to the personal accounts of US PMCs and special forces. The Major General added that as of right now, a barrel of smuggled Syrian oil is valued at $38, therefore the monthly revenue of US governmental agencies exceeds $30 million.
Trump Approves Special Ops Raid Targeting Isis Leader Baghdadi, Military Says He's Dead - The United States military has conducted a special operations raid targeting one of its most high-value targets, Abu Bakr al-Baghdadi, the leader of the Islamic State militant group (ISIS),Newsweek has learned. President Donald Trump approved the mission nearly a week before it took place. Amid reports Saturday of U.S. military helicopters over the Syria's northwestern Idlib province, a senior Pentagon official familiar with the operation and Army official briefed on the matter toldNewsweek that Baghdadi was the target of the top-secret operation in the last bastion of the country's Islamist-dominated opposition, a faction that has clashed with ISIS in recent years. A U.S. Army official briefed on the results of the operation told Newsweek that Baghdadi was killed in the raid, and the Defense Department told the White House they have "high confidence" that the high-value target killed was Baghdadi, but further verification is pending DNA and biometric testing. The senior Pentagon official said there was a brief firefight when U.S. forces entered the compound in Idlib's Barisha village and that Baghdadi then killed himself by detonating a suicide vest. Family members were present. According to Pentagon sources, no children were harmed in the raid but two Baghdadi wives were killed after detonating their own explosive vests.
No Proof - Russia Dismisses Trump's Baghdadi Victory Lap As 'Propaganda' --Moscow is dismissing President Trump's celebratory statements on the US special forces raid which allegedly killed Islamic State leader Abu Bakr al-Baghdadi as but premature 'propaganda'. Detailing some of the dismissive statements to come out of Russia hours following the major White House announcement of the terror's leader's death — or what's become the Trump administration's own "bin Laden moment" — The Daily Beast cites Russian state TV correspondent in the United States Denis Davydov as saying "Trump has elections coming up in a year and this announcement of al-Baghdadi's liquidation will add some points for the Commander-in-Chief." And more provocative is that the Kremlin has even rejected the rare praise that Trump personally heaped upon its military for its cooperation in Baghdadi's killing, as we noted previously. Trump said in his Sunday morning 'victory' speech: "[The Russians] were very cooperative, they really were good... Russia treated us great. They opened up, we had to fly over certain Russia areas, Russia-held areas. Russia was great."However, Russian Defense Ministry's spokesman, Major General Igor Konashenkov, shot back soon after the praise, stating in part: "The Russian Defense Ministry has no reliable information about U.S. servicemen conducting an operation for 'yet another' elimination of the former Daesh leader Abu Bakr al-Baghdadi in the Turkish-controlled part of the Idlib de-escalation zone." The Kremlin has rejected the assertion that it had any kind of involvement in the "daring nighttime raid," as the White House describes it.
US Merely Killed It's Own Creature - Iran Reacts To Trump's Baghdadi Speech - Just after President Trump's major Sunday announcement of ISIS terror chief Abu Bakr Baghdadi's death as a result of a successful and complicated special forces raid in northwest Syria, Iran's first reaction was to dismiss it as "not a big deal". In perhaps the most interesting reaction of an enemy of Washington moments after the news broke Sunday, Iranian Minister of Information and Communications Technology Mohammad-Javad Azari Jahromi declared that Baghdadi's elimination was not "a big deal" and that Washington had simply destroyed its own "creature." "Not a big deal! You just killed your creature," Jahromi posted on Twitter in reaction to Trump's initial tweet reading "Something very big has just happened!"Iranian state media has for years since Islamic State terrorists flooded Syria and established their 'caliphate' produced stories suggesting Washington 'created' ISIS, whether directly or indirectly.After the CIA and Pentagon flooded the Syrian battlefield with advanced weaponry during the early years of the war, such as the BGM-71 TOW anti-tank missile, more and more of these very weapons were documented ending up in the hands of ISIS, which they used against Syrian government forces.
Trump may have claimed to kill al-Baghdadi, but he has brought Isis back to life - Usually, the Lord giveth and the Lord taketh away. But in the heavenly White House this weekend, it worked the other way round. Lord Trump took the life of Abu Bakr al-Baghdadi and then gave life back to Isis by telling us all that he'd promised to send its surviving murderers to the borders of the UK and other European nations. How the Isis lads must have chuckled at this extraordinary offer. How their comrades still gestating within our frontiers must have taken heart at such a suggestion. We have raged mightily and for years against the vicious cult of Isis. But we counted without the Trump cult. True, Trump's particular insanity is not as costly in innocent lives as that of Isis (unless, of course, you happen to be Palestinian or Kurdish or one of Sisi's 60,000 political prisoners). And given that the Americans and the Russians have both claimed to have killed Baghdadi before, it might be wise to let the statutory three days pass just in case the wretched man pops up on yet another video. We killed Osama four times before we actually got him, you may remember. But this time Trump even thanked Russia, Syria and Iraq – Syria, perhaps, being the Assad regime? If so, certainly something to be debated in the presidential palace in Damascus whose army has been fighting Isis – among many others – for more years than the US military.But for Trump to say that the support of European nations was a "tremendous disappointment" because they wouldn't take back their Isis members and adding that, "I actually said to them, if you don't take them, I'm going to drop them right on your border and you can have fun capturing them again ... They could walk back – they can't walk to our country. We have lots of water in between our country and them".Well, that was not just bizarre or weird or simply the language of the lunatic asylum. That was a real motivation for the Isis survivors. If it was like "watching a movie'", then of course we had to have the Trump Hollywoodian touch. And sure enough, Trump told us that Baghdadi "died like a dog, he died like a coward ... crying, whimpering and screaming". Well, maybe. That sounds more like how children die. His three children, to be precise. As for claiming that the world "is now a much safer place", well let's wait and see. These Islamist cults usually have a chrysalis leader waiting to take the place of the dead. Or an even worse version of their own cruel institution. As usual, we'll also have to wait another few days to find out how many other innocents were killed in this raid. To suggest that they were all Isis members is also a bit Hollywoodian.
Washington threatens to fight Syria and Russia for oil - The Pentagon has explicitly stated that US troops being redeployed to occupy Syria's oil fields are prepared to unleash "overwhelming force," including against troops loyal to Syria's own government and the Russian and Iranian forces that support it. "The United States will retain control of oil fields in northeastern Syria," US Defense Secretary Mark Esper told a Pentagon press conference Monday. He claimed that the deployment of American troops there was aimed at denying oil resources to ISIS—which has already been defeated—and assuring that they remain a source of funding for Washington's erstwhile Kurdish allies in the SDF. He added that US forces will "respond with overwhelming military force against any group that threatens the safety of our forces there." Esper was asked by CNN, "What do you want to do with in the oil fields, does that include denying access, preventing Russian or Syrian forces, which now have changed the battle space?" The defense secretary responded, "So the short answer is yes, it presently does," going on to claim that the objective was to assure a funding stream for the SDF so that it could continue to guard the prisons where alleged ISIS fighters numbering in the thousands are being held under appalling conditions, many of them wounded, starving and on the brink of death. These prisoners, including children, have been packed like sardines into makeshift jails. Trump's demagogic claim earlier this month that he was putting an end to Washington's "forever wars" in the Middle East and withdrawing US troops from Syria touched off a political firestorm. The Democratic leadership in Congress was joined by the majority of Republicans, as well as recently retired senior US commanders, expressing the view of the current top brass, in denouncing the move as a "betrayal of the Kurds" and, above all, an impermissible ceding of ground to Russia and Iran in the oil-rich region. The re-deployment of US troops to the Syrian oil fields and the killing of al-Baghdadi were both aimed at quelling this criticism. The sending of soldiers and tanks into the oil fields is meant to deny the Syrian government access to energy resources needed to reconstruct a country that has seen half a million people killed, half of its population displaced and the bulk of its infrastructure destroyed. More broadly, it is aimed at continuing the protracted military campaign to assert US hegemony over the region in order to deny its energy resources to US imperialism's principal global rivals, in particular China. This act of international piracy—Moscow has released videos of US forces providing security for the smuggling of Syrian oil—places US troops on a front line facing both Syrian government and Russian forces. With other state and non-state actors, including Turkey, Iran, the Kurdish militias and the Turkish-backed Islamist militias, all operating in the same small region, the threat of a localized clash sparking a region-wide or even global conflict is greater than ever.
Media Silent as Nobel Prize Winning OPCW Found "Fixing" Its Own Findings on Syria — Dozens of people die in a suspected chemical weapons attack in the eastern suburb of the capital Damascus. The United States and many European countries immediately identify President Bashar al-Assad as responsible for the attacks, and respond with deadly violence of their own, starting a bombing campaign against his forces. Yet new evidence leaked from whistleblowers suggests that not only is the Western story on shaky ground, but the report into the incident from the Organization for the Prohibition of Chemical Weapons (OCPW) deliberately suppressed evidence and testimony that contradicted the U.S. narrative. Founded in 1997 to represent the collective position of its 193 member states, the OPCW oversees and verifies adherence to the strict rules that regulate the use of chemical weapons, which it hopes to eliminate.After its fact-finding mission was complete, the OPCW issued a report on the alleged Douma attack. While far from conclusive or damning (it refused even to speculate on who was responsible for the attacks), it did suggest there was "likely" a chlorine attack carried out by dropping gas canisters from the air. This seems to contradict its interim findings that stated, "No organophosphorus nerve agents or their degradation products were detected, either in the environmental samples or in plasma samples from the alleged casualties." Nevertheless, some insinuated that the new report implicated government forces, the only groups likely to possess both the chemicals and the helicopters necessary to carry out such an attack. But others criticized the findings. Piers Robinson, Co-Director for the Organization for Propaganda Studies and formerly Chair in Politics, Society and Political Journalism at Sheffield University claimed the OPCW report contained "significant anomalies" and was "unpersuasive, to put it mildly", noting contradictions on analysis of chemicals used, the method of delivery, and more.
U.S. Spies: Turkish-Backed Militias Killing Syria Civilians - Three weeks after President Donald Trump ordered U.S. forces to pull out of northern Syria, American spy agencies are seeing disturbing intelligence. Turkish-backed militias, armed by Ankara, have killed civilians in areas abandoned by the U.S., four U.S. military and intelligence officials tell TIME. The officials say they fear that the militias committing those potential war crimes may be using weapons that the U.S. sold to Turkey. These officials say they are concerned that worse could lie ahead. Turkey and its allies are deploying larger forces and bringing more significant weapons to the field than would be necessary to complete their publicly-stated mission. They have said that they plan only to maintain a security zone along a 18-mile wide ribbon of land south of Turkey's border with Syria. "They're far more than the Turks need to conduct the operations they're supposed to be conducting," one of the U.S. officials told TIME. Fighting between Turkish and Syrian forces continued on Monday in the security zone as members of the Kurdish forces built defensive positions along the zone's border inside Syria, one U.S. official told TIME. Two officials confirmed that those trenches and observation posts appear to be preparations for any Turkish-led advance into Kurdish-held territory after the ceasefire expires on Tuesday. This intelligence has led some U.S. analysts to conclude that Turkey and its allies may be preparing to clear civilian populations from the area, which has largely been controlled by the Kurds, Ankara's long-time enemies in the region. Turkish President Recep Erdogan told the United Nations on Sept. 24 that he planned to establish a safe zone across the border in Syria, and to resettle some of the 3.6 million Syrian refugees currently sheltered in Turkey. On Oct. 26, Erdogan said Turkey planned to "clear terrorists" from the so-called safe zone if Kurdish forces aren't gone by 3 p.m. Greenwich Mean Time on Oct. 29. U.S. officials are worried that a full collapse of the ceasefire on Tuesday, combined with a broad Turkish campaign to remove Kurds from the security zone, will result in wide scale war crimes. They are also worried that a humanitarian crisis, combined with renewed fighting, could accelerate the return of ISIS, which thrives on disorder.
Death Toll Mounts As Syrian Army & Turkey Engage In Heavy Clashes On Border --In an intensifying situation which could mean major war between two state powers is on the horizon, Syrian state news agency SANA has reported "heavy" ongoing clashes between the Syrian Army and Turkish forces since Sunday. Turkish authorities also confirmed the clashes on Wednesday. Fighting has centered around the northern Syrian town of Ras al-Ayn on the border with Turkey, which initially broke out last last week, resulting multiple reported deaths of Syrian troops, according to Reuters. At least six Syrian military personnel were reported killed by Turkish fire on Tuesday. Underscoring the reality of a crowded battlefield with multiple actors, from which US forces just partially extricated themselves, both pro-Assad and Syrian Kurdish forces have come under Turkish attack. There's also been fighting reported around Manbij. Turkey's military has accused the Kurdish YPG of launching attacks on its forces using mortars, drones and light weapons, which has resulted in at least five Turkish soldiers wounded. Early this week multiple videos surfaced online via Syrian jihadist accounts showing Turkish-backed 'rebel' groups bragging about executing Syrian soldiers, as many as 20. This is what the ceasefire in North Syria looks like today. Civilians in Tal Tamer which is controlled by SDF/ Syrian army are fleeing. There is fear that Turkey & its Syrian proxies are heading from Ras al-Ayn in southern direction towards Tal Tamer.pic.twitter.com/e3KgmrK9kh Clashes at Ras al-Ayn illustrate the scramble to secure territory by each side in the wake of US withdrawal from the border area — Kurdish YPG forces hold the town under Turkish assault, while Syrian troops have reportedly been invited in with agreement of Kurdish forces. The Syrian Army entered the area in northern Hasakah province just days ago for the first time in seven years
Turkey Close To Purchasing Russian Su-35 Jets After Lockheed Deal Blocked - Turkey's Daily Sabah reports that Ankara is close to purchasing an initial round of Su-35 fighter jets from Russia, in what would mark a huge reversal of course following the heated Lockheed F-35 fighter and Russian S-400 saga with Washington, which has sunk US-Turkey relations to a low point over the past year. Citing Turkish defense sources, the report reveals: Turkish and Russian officials are discussing the details of the sale of a total of 36 Su-35 fighter jets to Turkey, two months after President Recep Tayyip Erdoğan's visit to the International Aviation and Space Salon (MAKS) aviation show outside of Moscow.This after the US blocked transfer of some 100 F-35 Lockheed Martin produced stealth fighters, at a loss of hundreds of millions to Turkey's aviation industry, given it was slated to be a joint participant in making the F-35s ready for Turkey's armed forces. "Sources added that officials are also discussing Turkey's possible involvement in the production of some components of the fighter jets, including its precision weapons and ammunition," the Daily Sabah reports further. The Su-35S is Russia's latest most advanced fighter, a derivative of the Su-27 plane, having been in service with the army since 2015.
Reports of clashes, suicide attacks across Afghanistan, as China, Russia host peace talks – Afghanistan is witnessing intense clashes between government forces and Taliban insurgents, even as various countries are trying to reinvigorate peace talks in different world capitals, Anadolu Agency reported Friday. In a major security advancement, Afghan forces on Friday said they have recaptured Darqad district from the Taliban, after killing over 50 insurgents. The Taliban, on the other hand, claimed to have executed 56 attacks, over past 24 hours in 21 provinces of the country. On Friday, a suicide bomber blew himself up next to a convoy of security personnel in Jalalabad city, the capital of eastern Nangarhar province, claiming five lives, including two civilians, an official told media. Separately, Afghan government officials in eastern Nangarhar province claimed having captured 70 Daesh also known as ISIS terrorists, including some foreigners. A defense ministry statement said security forces conducted a clearing operation in Darqad, located in northern Takhar province, bordering Tajikistan. It was overrun by Taliban last month. The statement said that 50 Taliban insurgents were killed and dozens more were wounded in the operation. The ministry claimed that security forces have seized a number of vehicles and recovered huge cache of arms and ammunition. Earlier on Wednesday, Afghan forces had captured the Taliban's long-held strategic bastion of Dand-e-Ghori, in northern Afghanistan after killing scores of insurgents.
Russia Deploys S-300 Missile System Near Afghanistan for First Time - The Moscow Times - The Russian military has for the first time deployed the S-300 surface-to-air missile system at its military base near Afghanistan, the Defense Ministry has announced. Russia maintains troops at its military base in the ex-Soviet republic of Tajikistan, near the Afghan border, as a bulwark against the threat of Islamist radicals and drug trafficking. The United States fields 13,000 troops in Afghanistan as part of a NATO-led support mission. Russia's military said Saturday that it had sent a battalion of 30 launchers and other vehicles from central Russia to the base in Tajikistan to protect it from attacks. It said the S-300PS deployment also aims to provide air defense capabilities to the wider Central Asian region. "This is the first [S-300] missile system that will be on the border with Afghanistan, where international coalition forces are active," an unnamed military source told the RBC news website. Russia's Defense Ministry-run Zvezda channel published footage of the S-300 being loaded and transported to Tajikistan by rail.Russia has in recent months stepped up its role as power broker between the Afghan government and the Taliban. U.S.-led forces ousted the Taliban in 2001, but the group has staged near-daily attacks and is either in control of or contesting districts across nearly half the country. The Moscow-hosted talks between the Taliban and Afghan politicians underline the increasing role that Russia is playing in Afghanistan, decades after Soviet forces withdrew from the country. Russia has also increased its shipments of S-300 and S-400 missile systems around the world, including to China, Iran, Egypt, Turkey and Syria.